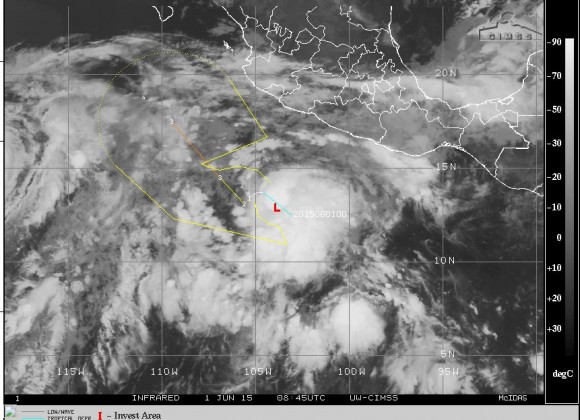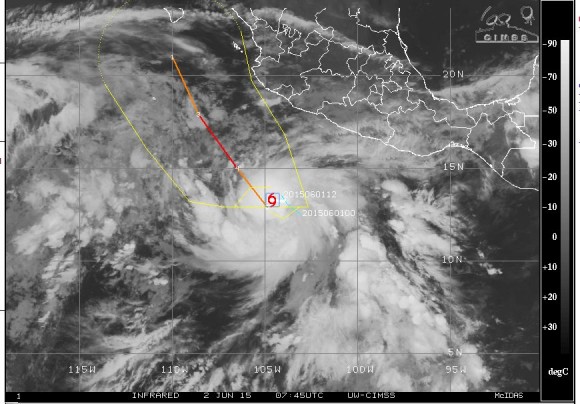 The eastern Pacific Ocean south of Baja California and Mexico and east of Hawaii is currently in an active phase for storm or hurricane development.
Currently with the weakening of Hurricane Andreas to a category 2 storm, a second Hurricane is currently taking shape closer to Mexico but south of Baja California. The second storm was today named "Tropical Storm Blanca". The storm is very close to having the shape of a hurricane. The storm is currently located at latitude 13.3 degrees north and 104.6 degrees east. Given its location, limited data is available as it is out in open ocean. Wind speeds close to the centre have increased over recent hours and currently based on satellite photos and oceanic buoys, winds are estimated at between 45 and 50 knots with a central pressure of 996 HPA.
The forecast plot suggests movement closer to Baja California which is typically a dry region.
The satellite photo from 31 May and 1 June 2015 shows the storm and its development. Assuming this storm develops further, then there would be two hurricanes in reasonably close proximity of one another. Currently, no population centre is threatened by this storm or the other storm further to the north west.
Related Terms: