One week ago, Tropical Depression 16 which was located east of the Philippines was expected to strengthen into a significant storm and a typhoon that would have threatened either the Philippines or Taiwan.
However, the storm broke apart which was not expected to occur. The storm reformed a second time over the past 24 hours as a moderate to strong tropical storm. The storm has now been named Omais.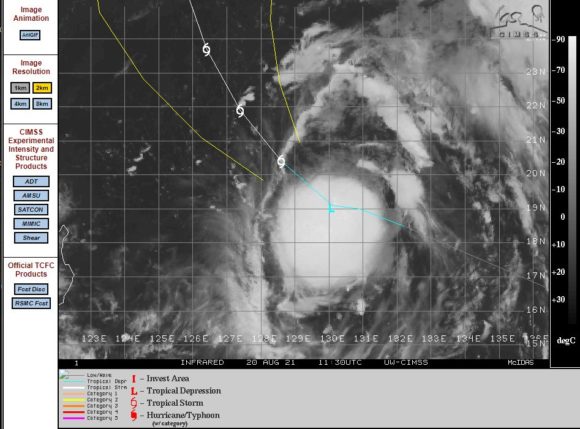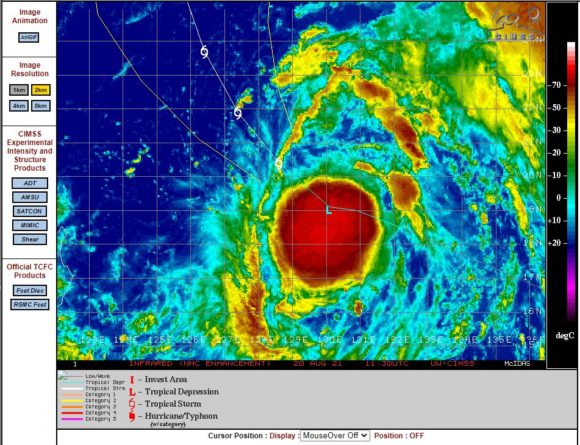 Given its current location, the storm is only now expected to approach typhoon strength but not exceed such thresholds. The maximum peak winds are now only expected to reach 50 knots or 93 km/h at its core before weakening as it moves further away from the tropics (CIMSS 21/8/2021).
Landfall is now not expected.
So far this season, the area where the storm is located has been relatively benign and there have not been any intense storms to note. This is unusual given that the north west Pacific Ocean is regarded as the most productive regions globally for the development of typhoons. Most years intense storms usually occur within the region. Sea level temperatures are still around the 30 to 31C just east of the Philippines but cooler waters prevail further offshore (29C) which may be contributing to a quieter typhoon season.
This area will continue to be watched for such storms in coming months.