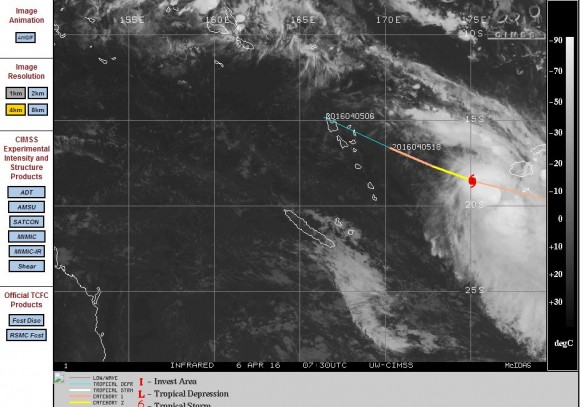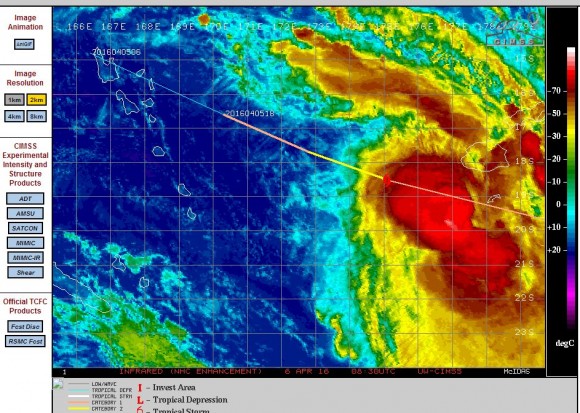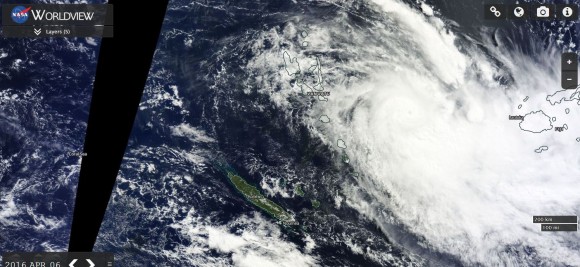 The islands of Fiji are still recovering from the aftermath of Tropical Cyclone Winston which reached Category 5 on the Saffir Simpson Scale at peak intensity. This storm impacted Fiji around February 20 2016 with estimated sustained winds of 180 miles per hour (Approximately 289 km/h) and became the strongest storm to hit the islands.
During Wednesday 6 April 2016 and with the islands still in recovery phase from that storm, another tropical cyclone has given the Fiji Islands a glancing blow although in this case, the storm was much weaker. Unlike the first tropical cyclone, much of the activity passed just to the south and west of the main islands and was out to sea.
The storm was named Tropical Cyclone Zena.
The storm formed to the west north west of the Fiji Islands and tracked east south east. The storm had a short life span and it dissipated over waters south of the islands. At peak strength, the storm reached Category 2 on the Saffir Simpson Scale with peak wind gusts of approximately 170 km/h but its peak strength occurred mainly across open ocean.
The storm weakened as it approached the islands and passed to the south. Notwithstanding this, some damage occurred although the main impacts were flooding from passing storms and or rain bands.
With no eye visible and with the storm becoming disorganised, the storm weakened.
The Fiji islands had been affected by bursts of heavy rain and flooding from storms between Sunday and Wednesday and with Tropical Cyclone Zena impacting the area, a rain gauge at Nandi collected 474.5 mm of rain within 4 days (Source Accuweather rainfall data for Nandi 8/4/2016). The latest storm has added to the overall disaster affecting the islands.
On April 6, the NASA satellite image of the storm showed Zena a fully fledged storm west of Fiji and with a small visible eye.
As seen on the CIMSS plots of late Wednesday 6 April, tropical Cyclone Zena had reached a peak intensity of Category 2 but the storm was going into decline as it brushed the islands. The storm was becoming disorganised and at 7.30 pm 6/4/16, an eye was no longer visible on the satellite photos. The storm continued its decline and by the 7/4/2016, the storm was downgraded to a tropical storm and the storm soon broke apart.
CREDITS
1 - ACCUWEATHER - Rainfall data for Nandi Airport dated 3 to 6 April 2016.
2 - CIMSS (Images and plots of Tropical Cycloen Zena) dated 6/4/2016.
3 - NASA MODIS Worldview – Image of Tropical Cyclone Zena dated 6/4/2016.
Related Terms: