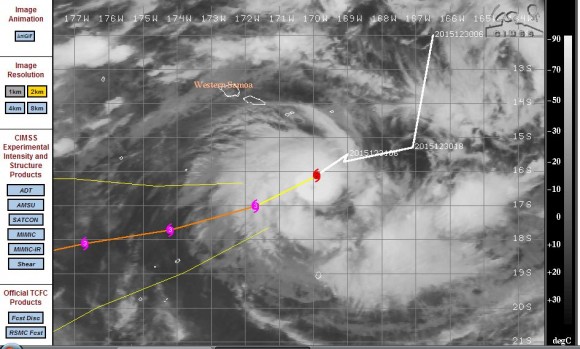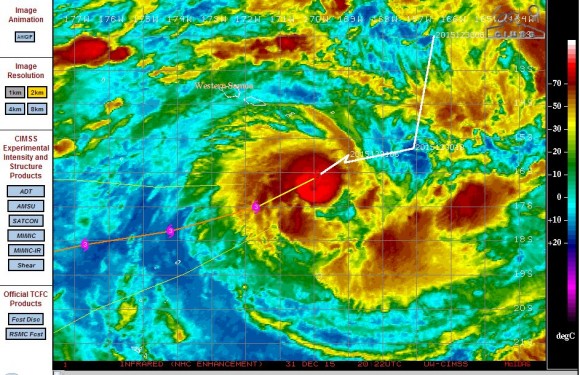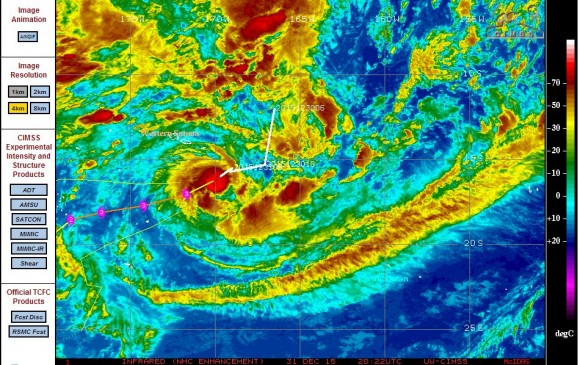 During the New Year period, a tropical storm within the south Pacific Ocean south, south east of Western Samoa has transitioned into the first tropical Cyclone of the season. The transition has occurred at latitude 16.1 degrees south and 169.9 degrees east.
The storm is expected to track south west towards north east Australia over the next 48 hours then slowly weaken. The storm is expected to remain well out to sea, at least for the short term.
Synoptic charts throughout the next 7 days will show the tropical storm encroaching towards Australian waters or making an approach towards north east Queensland but it is far too early at this stage to verify what occurs in the longer run as the storm continues to track south west.
It is identified that:-
1 - The storm is formally named Ula.
2 - The storm is forecast to reach a Category 3 Tropical Cyclone within 24 hours with projected wind speeds of 110 knots (204 km/h) with stronger wind gusts to 135 knots or 250 km/h. This makes it an intense storm.
3 - The storm is not threatening any population centre.
Should the storm approach north east Queensland, it would intensify the south easterly winds onto the coastline especially during the latter part of the forecast period.
The models from CIMSS and dated 1 January 2016 shows the storm in its early stages. The core is relatively small and compact but a small eye is visible in the imagery. The storm will be watched over coming days to determine what it does.
Related Terms: