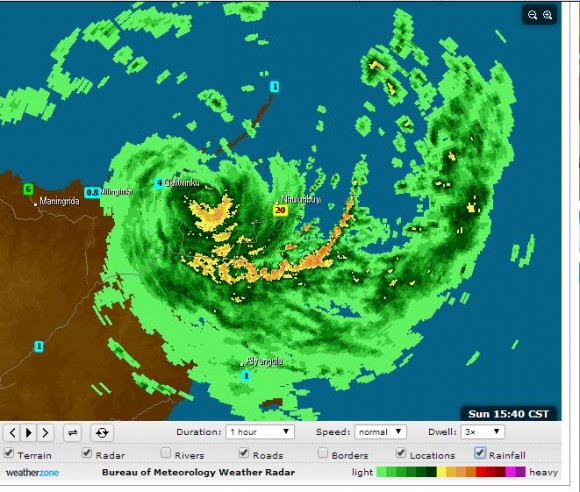 Tropical Cyclone Nathan is one unusual cyclone. After crossing the Queensland coast Friday morning and breaking apart into a tropical depression over Cape York Peninsular, the storm continued to track west over land and entered the Gulf of Carpentaria during Saturday. The storm redeveloped and intensified again into a weak tropical cyclone.
This tropical cyclone has now had three lives. The storm crossed the Northern Territory Coast near Nhulunbuy and has brought wind gusts to 95 km/h.
The local weather station recorded gales of between 93 km/h and 95 km/h from 9.30 am to 11.30 am 22/3/2015.
The storm is now partially over land and partially over water traversing west along the Northern territory coast. It is not a strong tropical cyclone but it is bringing with it thunderstorm activity.
The weather station at Nhulunbuy recorded a low pressure of 995.1 hectopascals at 10 am. Rainfall has not been heavy at this weather station being 20.2 mm from 9 am to the present time.
The weakened storm is now impacting Elcho Island where its local weather station is recording wind gusts to 80 km/h.
The attached radar image shows the shape of this storm as it passes west along the Northern Territory coastline.
Related Terms: