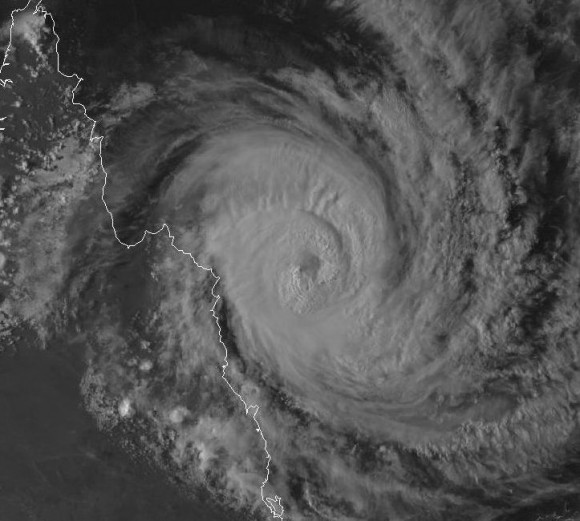 As seen in the satellite photo late 19 March 2015, Tropical Cyclone Nathan is now a well formed storm, highly compact and clearly edging closer to the Queensland Coast. Throughout Thursday, the first outer rain bands have reached the coast although rainfall totals are not high but that is expected to change overnight.
Models suggest the storm impacting an area near Cape Flattery and Bureau of Meteorology Models suggest landfall north of Cairns but near Cape Melville and or Cape Flattery during Friday.
Media reports are suggesting peak wind gusts to 195 km/h near its core with sustained winds of 140 km/h although such winds are yet to be recorded because the storm has not passed directly over a weather station.
The eye of the storm has passed some 60 km north of the Bougainville Reef Weather Station which has been recording wind gusts exceeding 100 km/h since 10 am 19/3/2015 with the highest wind gust to 111 km/h at 4 pm from the east south east. Since 2.43 pm, peak wind gusts here have reached from 104 km/h to 106 km/h. The storm is now NW of this weather station and moving west. At the present time, this has been the closest weather station to the core and these are the highest wind gusts recorded. This provides some idea as to what is occurring closer to the storm core.
It will be interesting to see what occurs over coming hours given that the outer edges of the storm has now reached the North Queensland Coast.
Related Terms: