As shown on the various satellite photos, data sets and prepared graphics, Tropical Cyclone Ilsa will go down in the record books as being a storm that appears to have produced the highest successfully recorded wind gust by an Australian weather station.
This will certainly be checked over coming days and weeks for verification. It should also be noted that the weather station that recorded such high winds went offline at around 9.30 pm Thursday evening suggesting that it was damaged / destroyed by what was occurring.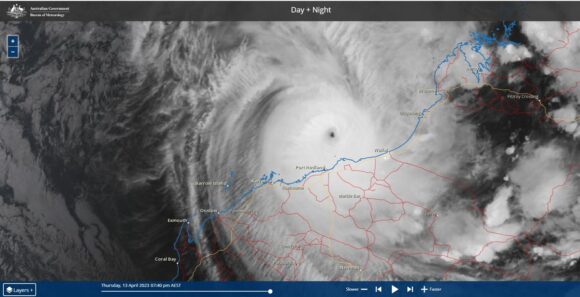 Key features of Tropical Cyclone Ilsa are:
The storm was relatively short lived being approximately 5 days.
The storm passed over two weather stations, one of which survived and one of which was damaged or destroyed with both weather stations able to document wind gusts of greater than 230 km/h on two separate islands.
The storm made landfall over a relatively uninhabited part of the east Pilbara region and thus the closest major towns of Broom to the east and Port Headland to the west were spared any significant impact or damage.
The storm would be rated a Category 4 system under the "Saffir Simpson Scale" and a 5 under the "Australian Tropical Cyclone Intensity Scale 1989" (Which is a scale that has lower thresholds).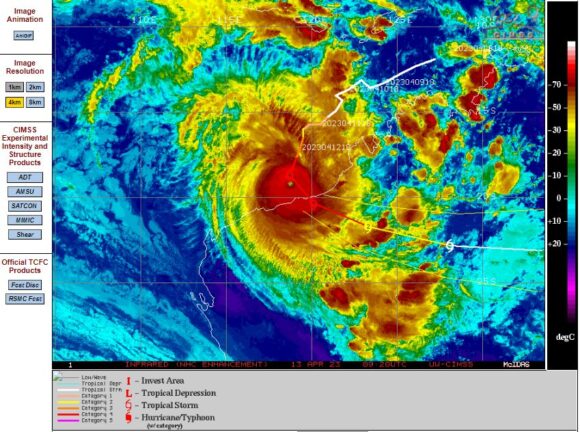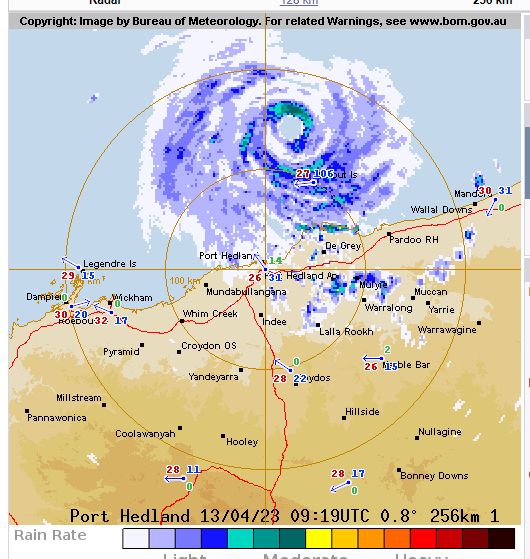 Rowley Shoals (3 low lying atolls)
The Bureau of Meteorology operates an automatic weather station weather station on Rowley Shoals which is a trio of atolls north west of Broom. These are very low lying atolls free of any significant obstructions such as trees, hills or buildings. The weather station survived what appears to be a near direct hit by the eye. The wind and air pressure data set is attached between 5.46 am and 7.17 am Thursday morning which shows some remarkable data including:
The only concern here is that the 7.17 am reading only shows wind gusts to only 17 km/h. It is not clear whether the station has suffered damage or was providing inaccurate data at this point.
Still the station successfully recorded peak winds to 235 km/h and a low pressure of 942.3 HPA generally close to the eye.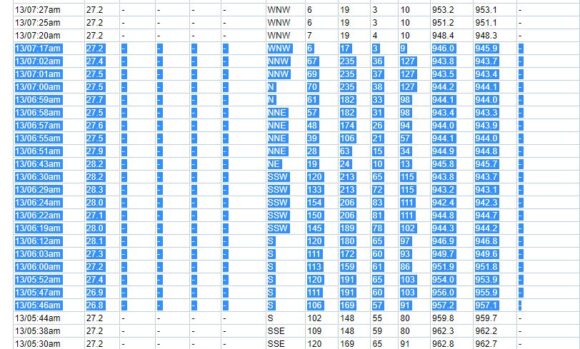 Bedout Island Thursday evening
It is known that the storm continued to intensity because an automatic weather station at Bedout Island to the south which is nothing more than a tiny island without obstructions has recorded remarkable wind speeds.
In particular between 8.13 pm and 8.18 pm, the weather station was recording peak wind gusts to 278 km/h with sustained winds of up to 206 km/h. The winds eased off as the eye wall passed barely to the east of the tiny island. Air pressure by 8.18 pm had dropped to as low as 935.9 HPA.
However, the weather station continued to record to 9.30 pm (Another 72 minutes after 8.18 pm) where wind gusts to 289 km/h occurred with sustained wind speeds increasing above 211 km/h reaching 219 km/h. It appears that this is the highest wind speeds ever recorded at an Australian weather station. This is remarkable and has provided invaluable data of the storm at the eye.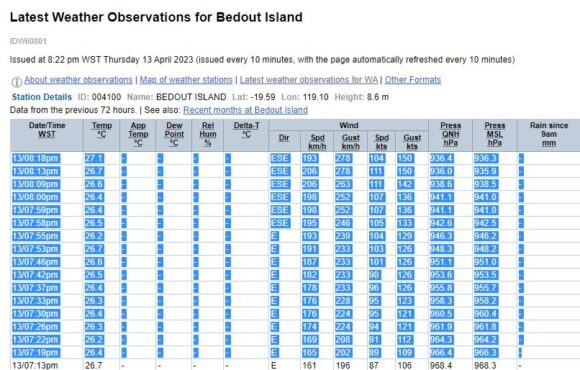 Looking at the last known records available off the BOM Twitter:
9.23 pm to 9.30 pm peak wind gusts to 289 km/h for 7 minutes.
9.24 pm sustained winds of 215 reaching 219 km/h.
The last known data to 9.30 pm is uplifted from The Bureau of Meteorology Twitter. It is possible that there were higher wind gusts at this time but that is not known as the weather station failed.

This is enough to demonstrate a storm of Category 4 on the Saffir Simpson Scale and a Category 5 under the Australian Tropical Cyclone Intensity Scale 1989.
The lowest air pressure recorded is one reading of 931.7 HPA. Lower readings may have occurred prior to landfall.
The storm made landfall near Pardoo Roadhouse which has suffered severe damage from the storm. Fortunately, no towns were in the path as this part of the Pilbara is sparsely populated.
The system passed over the Telfar Weather Station inland producing damaging winds of 126 km/h between 10.30 and 10.37 am Friday morning. The storm weakened and has now become embedded into a cold front and rain band tracking east across southern Australia.
The CIMSS infra red image of the storm close to landfall is attached.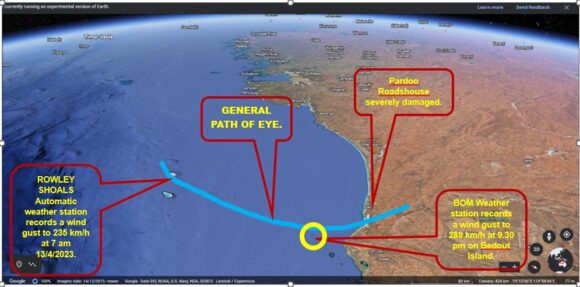 A remarkable image from VIIRS (Sensor) on the NASA NOAA SUOMI NPP Satellite taken at 1.45 pm April 13 (Feature image) shows an incredible storm with a very small eye. Embedded thunderstorm and cumulonimbus clouds can readily be seen with a tiny clear eye.
The Himawarri image of Thursday afternoon shows a tiny clear eye at the centre.
The additional graphics have been superimposed over Google Earth Experimental (NASA / Google Earth) showing a close up view of the impact zone with the view looking ENE towards Rowley Shoals, Bedout Island and Pardoo Roadhouse.
Related Terms: