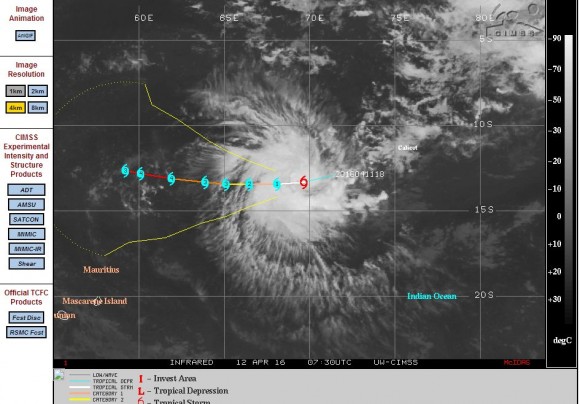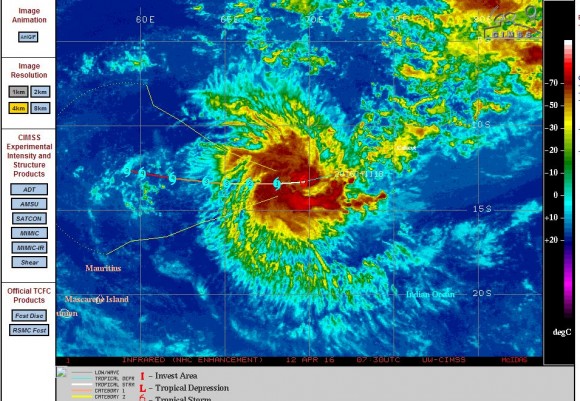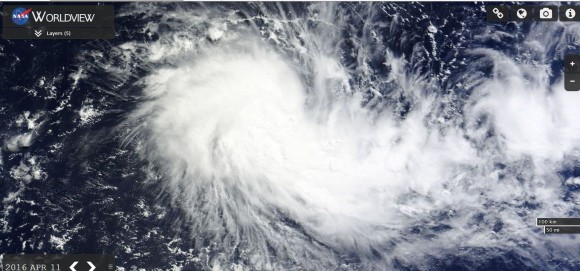 A tropical storm is rapidly transitioning into a potentially strong tropical cyclone across a remote area of the Indian Ocean. While there have been a few tropical cyclones this season across the Indian Ocean, they have either been weak or have had short life spans and have had no impact on any land masses.
However, this storm appears to be different because it is headed towards the west according to models prepared by CIMSS. The latest model suggests the storm passing to the north of Mauritius but there would be concern if the storm continued to track further west as it could potentially impact the north east coast of Madagascar.
What makes this storm different from other Indian Ocean storms this season is that this one is transitioning rapidly from a tropical storm into a tropical cyclone over waters of 31C between latitudes 13.3 degrees south and 69.7 degrees east and 13.4 degrees south and 68.1 degrees east. Wind speeds have rapidly increased near the centre from 35 knots to 60 knots (65 km/h to 111 km/h) within a space of a few hours. Within 12 hours, this storm is expected to be above the threshold of a tropical cyclone with wind speeds of 75 knots (Approximately 139 km/h) close to the centre.
The late season storm could potentially reach Category 4 on the Saffir Simpson Scale with winds of 120 knots (Approximately 222 km/h) within 3 days.
The NASA Worldview satellite photo of the storm of the 11/4/16 shows its development and convection is visible. More up to date satellite photos shows a storm that is in an advanced state of transitioning into a strong storm.
Generally it has been a quiet season for such storms across the Indian Ocean. However this is one storm that does have potential to strike a landmass especially if it follows its current course.
CREDITS
1 - CIMSS (Satellite photos and forecast plots of Tropical Cyclone Fantalia) 12/4/2016.
2 - NASA Worldview (With overlays) 11/4/2016.
Related Terms: