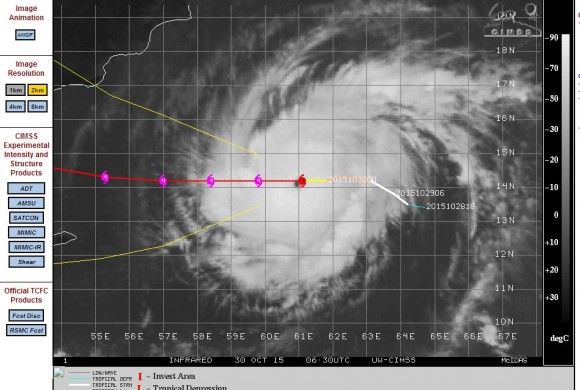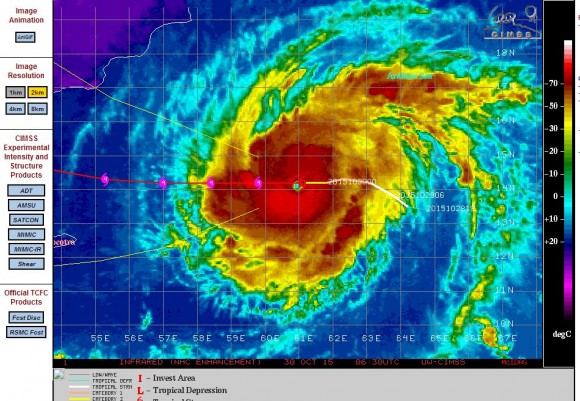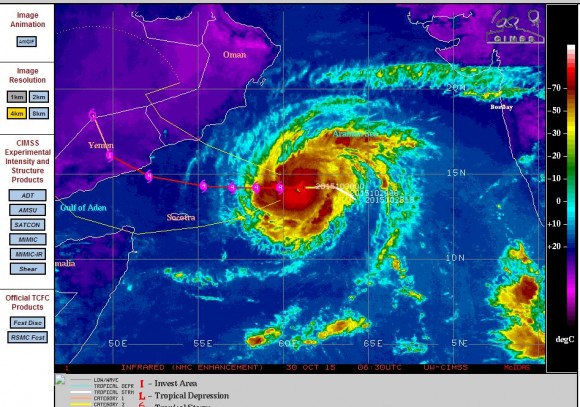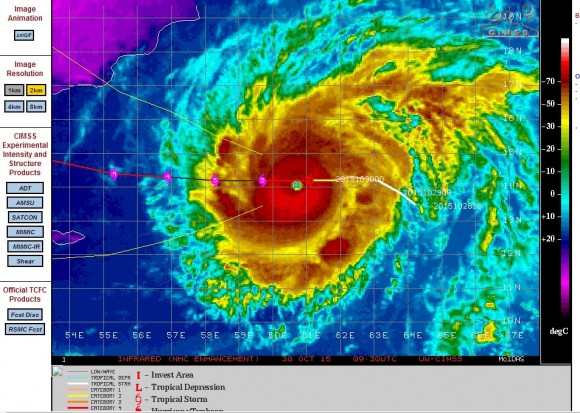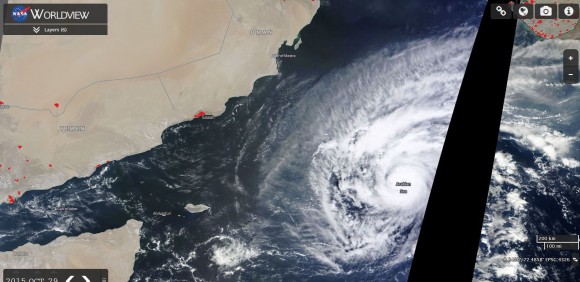 A tropical storm has developed rapidly into a small but intense tropical cyclone within an area of the Indian Ocean that receives few such storms per year.
Named Tropical Cyclone Chapala and supported by oceanic temperatures of 29C to 30C the storm is travelling west and is predicted to make landfall on the east coast of Yemen within 72 hours.
The storm appears to have reached Category 4 on the Saffir Simpson Scale with winds according to CIMSS reaching 135 knots (Approximately 250 km/h) at the core. This makes it a significant storm in terms of strength but it is not a large storm. The storm is relatively compact and has a small but well defined eye.
The storm reached Category 4 at latitude 14.2 degrees north and 61.1 degrees east and is forecast to make landfall over the coast of Yemen as a Category 3 or 4 storm. Most of the east coast of Yemen is desert and as such, there are few urban centres threatened by the storm. There is one city that is threatened called Salalah close to the Oman / Yemen border (In Oman) but should the storm follow the path shown, then it would make landfall south of the city.
Using the model, the storm would impact Sayhut, or Ash Shihr or Al Mukalla although they are not major urban centres.
A more recent model is suggesting the storm possibly reaching Category 5 on the Saffir Simpson Scale with winds of 145 knots (Approximately 268 km/h) with stronger peak gusts of 160 knots (Approximately 296 km/h) at peak intensity making it a powerful storm.
The attached Worldview image of the region is showing the storm clearly within the Arabian Sea and the urban extents overlay is showing a region with few major cities that could be impacted should it make landfall.
The tropical cyclone is expected to have a short life span due to its location.
Credits
CIMSS - Model plots of the storm acquired 30/10/2015.
NASA - Worldview with overlays of the storm and urban extents.
Related Terms: