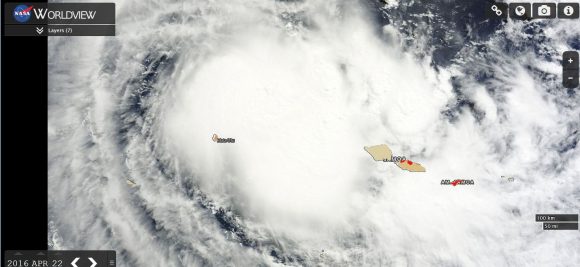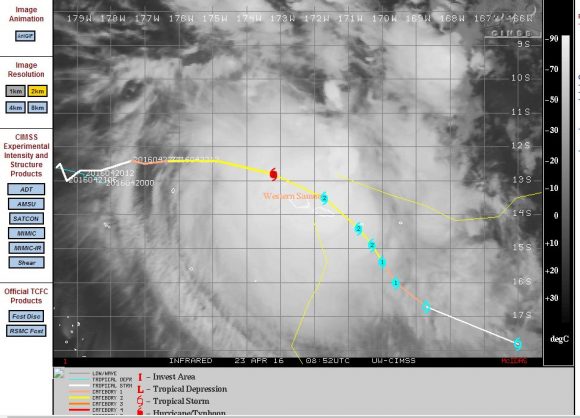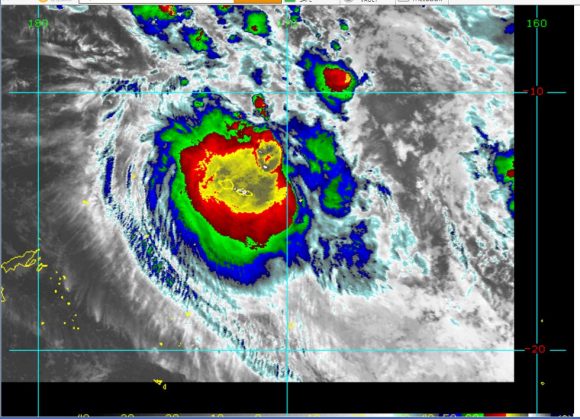 Tropical Cyclone Amos has taken a slightly altered path when compared to the forecast model suggested by CIMSS dated 22/4/2016.
As a result, the core of the tropical cyclone is either likely to brush the north coast of the Western Samoa or pass right over one or both the islands.
The satellite photo from CIMSS shows the storm directly over Western Samoa as a category 2 storm on the Saffir Simpson Scale with winds reaching 90 knots (Approximately 167 km/h) with higher gusts to 110 knots (Approximately 204 km/h). Heavy rain is a feature and forecasters are predicting as much as 500 mm of rain over certain areas. Given the mountainous terrain of the islands, rainfall is likely to vary in places and rainfall may be enhanced on the windward side of the mountains while the leeward side has less rainfall.
Flooding, storm surge and some property damage is certain.
The storm as forecast appears to be reaching maximum strength at the point the storm makes its influence felt across the islands.
Using NASA's Worldview,Satellite image, the population centres of Western Samoa (Shown in red) have been overlaid across the image. Given that the storm appears likely to now pass / brush across the north coast, the capital Apia would be significantly impacted by the event.
Another island being American Samoa is also likely to be significantly affected by the storm.
The satellite image does not show a defined eye but strong convection showing storms is identified.
The image from NOAA (CIRA) shows the storm directly over Western Samoa suggesting either a direct hit or very close to one.
Once the storm moves away from the islands, it is expected to weaken as it tracks south east over colder waters.
CREDITS
1 - CIMSS (Images of AMOS) dated 23/4/2016.
2 - CIRA (NOAA) Image dated 23/4/2016.
3 - NASA (Worldview) Population overlays provided dated 23/4/2016.
Related Terms: