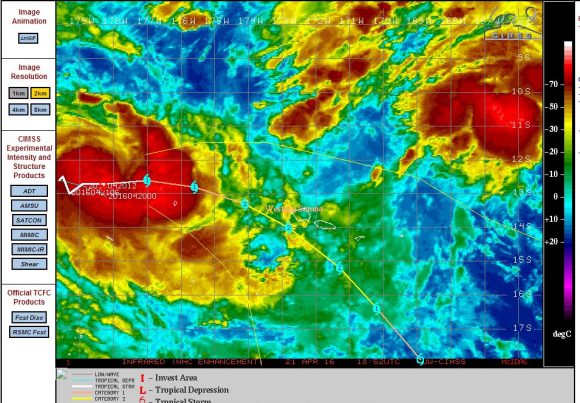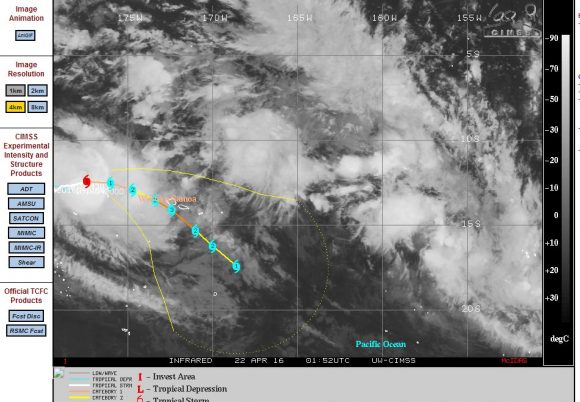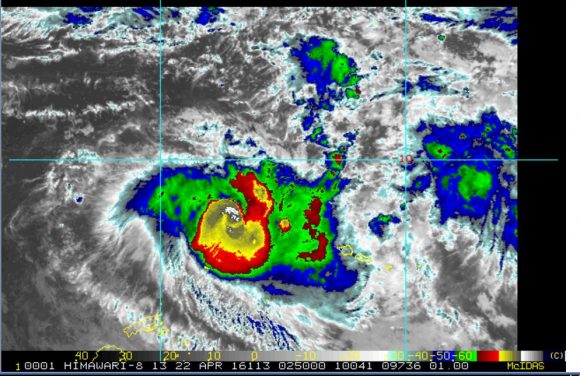 A new storm is gathering strength just to the west north west of the small South Pacific Islands of Western Samoa. This storm has been named "Amos".
Considering its location and forecast track, it appears that this storm could threaten or significantly impact the islands in coming days. If the forecast models are correct and the storm maintains its forecast track then the western and southern side of Western Samoa could be impacted significantly by the storm. This would include towns such as Samataitai, Taga on Savai and Falelatai on Upolu.
On the island of Savai, Mt Mauga Silisili at 1,858 metres in elevation would serve to enhance rainfall while providing for rain shadows in other areas depending on the location of the storm.
The capital of Apia is located to the northern side of Upolu Island and may be spared the worst of any such storm due to a small mountain barrier lying to the south of the city.
The storm has just completed its transition to a Category 1 tropical cyclone on the Saffir Simpson Scale west north west of Western Samoa. The forecast model from CIMSS is suggesting peak strength being a Category 3 storm at the point where the storm makes its closest approach to Western Samoa.
A tropical cyclone must sustain winds of 65 knots (120 km/h) to be classed a category 1 storm. Forecast winds at the core may reach 105 knots or 194 km/h (Category 3) at the closest point the storm makes to both islands making it a dangerous storm and a storm that deserves attention.
Strong convection is occurring as the storm develops further. The environment is favourable and its position over seas of 30C to 31C in temperatures makes the location highly favourable to sustain such a storm. Its location so close to Western Samoa makes it a potentially dangerous storm for the islands.
Following its passage across the Western Samoa region, this storm is expected to track south east taking it over cold oceans where it will decay.
Note:- Due to the current location of the tropical cyclone, a direct satellite image of the storm is not available as it appears the location of the storm at 12.4 degrees south and 182.6 degrees east does not lie within the direct viewing range of NASA's TERRA or AQUA satellite networks.
CREDITS
1 - CIMSS (Forecast plot) for Tropical Cyclone Amos dated 22/4/2016.
2 - CIRA (NOAA) Satellites and information - Image acquired 22/4/2016.
Related Terms: