The days leading up to the winter solstice 2023 is best described as being cold for large areas of southern Australia.
It is the time of the year when the nights are at their longest and days between sunrise and sunset are at their shortest. With the winter solstice occurring at 12.58 am on Thursday morning, Thursday 22 June was the shortest day of the year for 2023 for daylight hours.
A series of cold fronts preceding this resulted in low level snow across north east Victoria and the ranges of southern New South Wales with light snowfall even reaching the Central Tablelands around Oberon on Monday night / Tuesday morning 19 / 20 June. The snow melted after sunrise Tuesday morning.
Some exceptional cold nights and early morning temperatures have eventuated during the mornings of the 19 to the 21 June as follows:
Armidale
Northern Tablelands of New South Wales at an elevation of 980 metres. The coldest recorded temperatures include:
16 June - Minus 6.4C.
17 June - Minus 6.9C.
18 June - Minus 4.6C.
19 June - Minus 5.5C.
20 June - Minus 0.7C.
21 June - Minus 7.6C.
The town of Armidale sits in a valley with North Hill and South Hill forming an east to west valley. Cold air drainage is common at this time of air with cold air sinking at night into the valley. It can be colder within the valley than on the hilltops north and south of town.
Cooma
Monaro region east of the Snowy Mountains.
20 June - Minus 7C.
21 June - Minus 9C.
22 June Minus - 7.6C.
The nearby airport which is at an elevation of 930 metres above sea level recorded Minus 9.8C on the morning of June 21C.
Other significant cold minimums include for June 21 2023:
Bathurst - Minus 8.5C.
Dubbo - Minus 4.7C.
Forbes - Minus 4.4C.
Goulburn - Minus 7.4C.
Mudgee - Minus 6.9C (Also Minus 6.1C on the morning of the 19/6).
Generally any locality on the tablelands and ranges during this time would have experienced minimum morning temperatures well below 0C with morning fog and frost being a feature.
Even in Western Sydney, overnight minimum temperatures have dropped to near 0C or just below the freezing level. At Doonside, light frost was observed in open areas during the mornings of the 19, 20 and 21 as minimum temperatures dropped to 0C to 2C.
The coldest maximum temperature so far for winter for Western Sydney was 13C to 15C on June 22.
During the same period, maximum daytime temperatures reached barely 8C to 9C around Albury for 2 days in a row. On 1 day, morning fog and low cloud played a role. A similar maximum occurred at Wagga Wagga on the 20 June.
A rain event on Thursday and into Friday brought useful 10 to 20 mm of rain across large areas of the inland. While not significant, it did conclude a cold winter outbreak for southern areas and for much of Victoria.
Images obtained from NASA Zoom Earth for the period from GFSC / GEOS / EOSDIS / TERRA MODIS shows the following:
June 20 - Image 1
Visible snow barely 2 hours west of Sydney south east of Bathurst and centred on the Central Tablelands around Oberon (Elevation 1,000 metres to 1,300 metres).
Visible snow across the Snowy Mountains.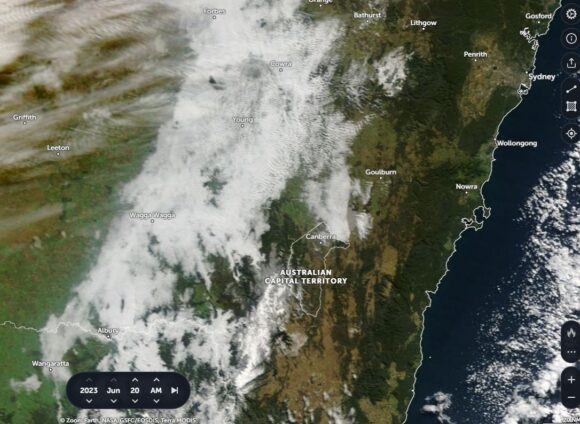 June 21 - Image 2
The snow around Oberon having melted.
Visible snow across the Snowy Mountains of New South Wales.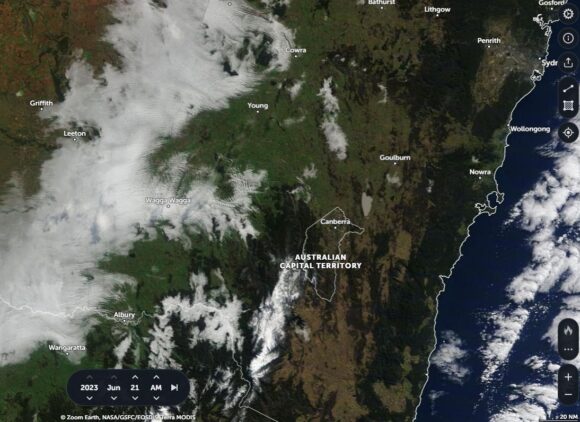 June 21 - Image 3
The zoomed in picture of North East Victoria demonstrates a wintry scene with fog visible within the Murray Valley region and trapped between the ranges.
Visible low level snow is evident across the elevated regions of North East Victoria. Snow is visible across any range exceeding 1,000 metres in elevation.
This is a typical winter appearance following the passage of the cold fronts and weather systems. It is interesting to note the amount of snow that has fallen across the Snowy Mountains and the rain shadows that have existed east of the man range.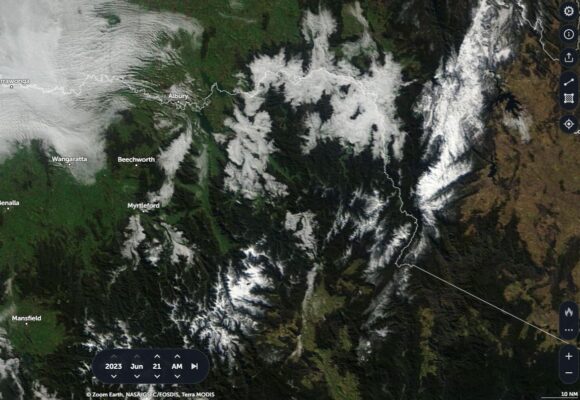 Attached to the post are minimum temperature plots generated on the Water and the Land site for the period showing how cold it became across New South Wales.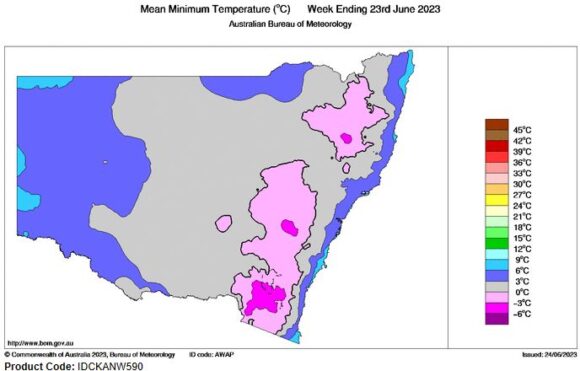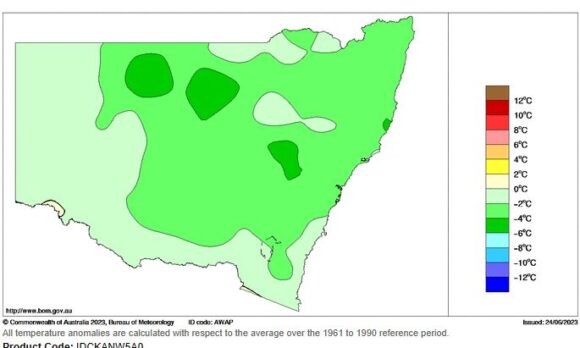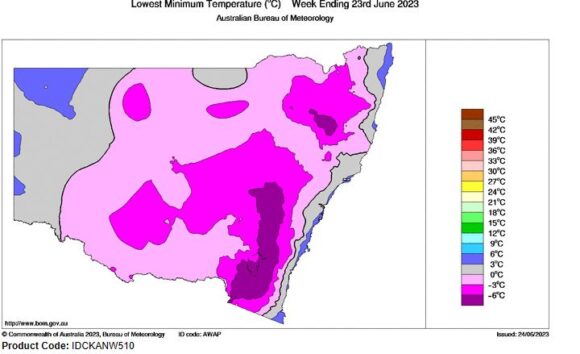 Related Terms: