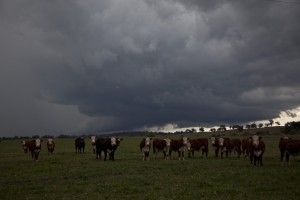 What a chase day! The forecast for this event was one of those difficult decisions - interrogating inconsistent models on the day trying to work out what was happening. Harley and I were even almost going to talk ourselves out of chasing! With a day off, we just decided to "check it out" - "what the heck". Check it out alright - 1200km later...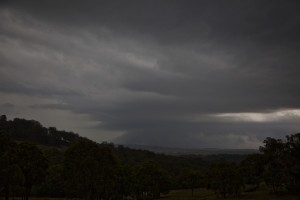 Targeting the region in the southern Northern Tablelands for storms that might venture across as the winds turned north westerly. Well storms of course decided to developed west of Scone! I felt bad because Harley had already suggested that was one of his targets. We continued on to our target and at least hoped that this cell headed for Scone would make it across the range. We could intercept it and any cells that may develop near it if it died. Well the infamous right mover anvil did it again - the first Scone cell died before even making it to Scone. So we decided to head for the mess heading for Tamworth. It was a mess up this point. To put things in perspective, straight distance wise we were only 100km from Tamworth. On the Great Plains, excellent viewing and awesome road network, we would have easily seen the structure within the time it had made it to Tamworth. For whatever reason, perhaps outflow or some local effect, the cell near Tamworth exploded and separated moving left of the of the mess of cells. And the day began. We could see most of the structure but not the base of the Tamworth cell - the hills just sufficiently annoying that we had to drive NNE to Walcha and then WNW towards the cell. But then I could see it happening, two cells developed to the north of the Tamworth cell. It would die before we even got a chance to see it. Based on the massive side anvil shield, I knew the Tamworth cell was not mucking around!
On approach to Woolbrook, we finally saw the structure! It was not the perfect position but it would have to do! We could see cow catcher and inflow bands. Lightning strobing out the empty separation between the mesocyclone and the hail precipitation core. The cell was not as strong as the explosive size at Tamworth but nicely structured! Finally rain began to fall from the cells encroaching us from the NW. We were about to experience a merger near Walcha. Which we did! Seeing a cell on radar behind this mess, we eventually headed towards Uralla, A nice anvil with impressive structure was unfolding but again, the low bases kept the main structure hidden. Finally, up close and personal, the beautiful wet classic structure similar to what we had observed from the "weaker" Tamworth cell revealed itself.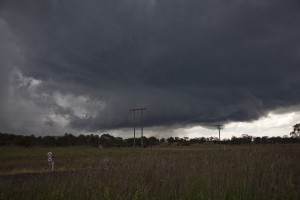 Timelapse was in order. I never felt the weight of the Manfrotto I can assure you. If I was on worker's comp, I would have been caught out on this day as I ran 40 metres through high grass to the fence line. One more problem - dumb f... cows! Get out of my way! I tried to shoo then off - to no avail! I could hear Harley laughing in the background.
The structure was beautiful, a nice separation and visual rotation was evident around the back side of the base! Lightning began to strobe from the anvil. But it was the rain that scared me due to the equipment. Another dash for the vehicle and we headed up the road. This position was not the best but had to do! The storm at this point was getting angry dropping bolts within a kilometre followed by crackling booms! Harley popped straight back in the car. Thanks buddy - now it was now clearly evident who had the highest probability of getting struck.
I hear a call from Harley, I don't want the car to get dented as the hail core encroached! With a false smile I said "No problems Harley". That metal smashing instinct can never be erased. We did clear the core in time. We came back but the storm I recall
had gone into a weakening phase and the hail sizes were not large at all.
What remained now was mass of cells mostly developing near Tamworth! In the end, we decided it was time to head back home and see what would come through if required chase it. It this point our time of arrival would have been 11:30pm. A cell was coming through from Quirindi and only less than 40km from our position. We decided to just check it out. Bad move from a good night's sleep perspective! That single move updated the time of arrival for me to 1am!
But the structure and behaviour of this cell was incredible. We were at 1400 metres elevation so the moisture was streaming up to the base like the streaming fireworks off the Harbour Bridge in reverse. A powerful anvil ensured this storm meant business. More timelapse as its structure approached. The lightning at this point was persistent with a constant rumble from thunder intermittent loud crashing thunder echoing in this quiet sleepy neighbourhood! A black core occurs on radar. Although it was relatively linear, the storm still dumped hail to probably 2 to perhaps 3cm. A beautiful "plastic" shelf cloud preceded this barrage - obviously a local effect.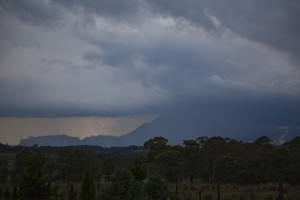 We left this location set for home. The lightning shots we could have captured were at times stunning but we had to head for home. I thank Harley for his patience and understanding on this matter - but unfortunately had no work today so we could have stayed there after all! We were content though from the afternoon's chasing. It was Harley's longest distance chase and I assisted in driving on the way home! Lightning strobing behind us at irregular intervals - similar to the clear lightning structure on Kane's photographs but from rear or side perspective!
Harley will write something once he recovers. It has been a relentless episode of chasing. What makes it more difficult is the return trip. But the pain is sure worth it. I owe Harley a steak! Anyone that wishes to join us on Friday feel free to do so. Perhaps we can exchange storm stories. Call me for details if you are interested or if there is a great steak place you know of.
To save some money on steak, should have taken hold of one of the cows from the paddock for ruining my timelapse!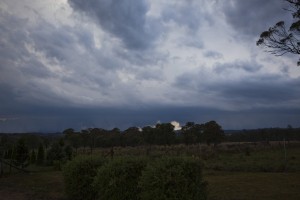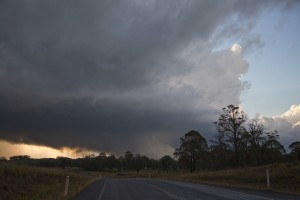 My phone number 0408020468.
Related Terms: