Sydney Storms and Lightning 14th December 2017
Western Sydney sweltered in temperatures up to 43,4C near Penrith. The intense heat provide the energy to break the cap and produce some thunderstorms during the late afternoon into the evening. The Sydney storms and lightning were not severe and the storms moved briskly towards the coast.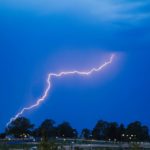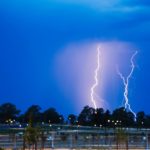 These eventually cleared off the coast but not before a display of lightning across the northern suburbs. High based storms are not the best for structure but definitely do offer opportunities for staccato or branched lightning.
The storms and heat are the beginning of a series of warm and thundery days across eastern New South Wales. Unfortunately,higher based storms can trigger lightning strikes with insufficient rain to put out the fires.
It was not until late afternoon before high based cumulus began to organise with rippled bases to produce storms.
Related Terms: