Storms and Deluge hits Sydney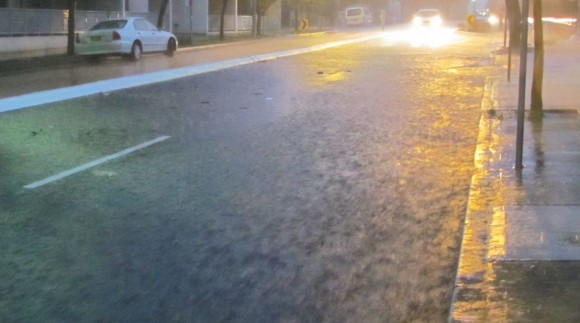 Whilst travelling to Auburn for my work day, I noted sheet lightning from storms flickering across the sky but due to light rain, storms and cloud I was not sure where it was coming from. It was only when I reached Auburn did I realize that I had driven underneath a thunderstorm cell.
Storms Dump Heavy Rainfall
Initially the rain was light but around 6 am, very heavy rain passed through the suburb. Some thunder with the storms was audible including a few rather bright lightning flashes.
Between the period of 6 am and 6.40 am, a period of torrential rain passed over Auburn causing localised flooding. This was accompanied with some very strong south east winds which made conditions treacherous.
The rain was so heavy that the local drainage system was unable to handle the deluge and soon Susan Street became a shallow river of water lapping over the kerb and onto the footpath.
In such difficult conditions, I managed to take the photos shown in addition to getting soaked. These are the best photos from this particular event without losing my camera.
Rain eased after 6.40 am although more heavy showers occurred which lead to flooding further afield. The rain started easing after 1 pm.
In addition to the rain that had already fallen, the storms caused further water damage to the Auburn City Council building in which the roof leaked at many locations including within the fire escape stair. Several portions of the ceiling suffered water damage at the height of the storms.
At daybreak, I was fortunate enough to head down to nearby Duck River and took photos of the river in flood.
This is one individual event being part of a much larger event that has had broad impact across the Sydney region. In addition to flooding and power loss and trees down, a landslide had occurred at the railway bridge underpass at Granville on Woodville Road with emergency crews working out how to repair the damage. This is affecting traffic on that road. However, there are many more SES call outs. I am aware of some 200,000 residents having lost power and many rescues undertaken.
While conditions are now easing, it has been a day of contrasts and now the clean up commences. Please feel free to add any photos of the storms to this post.
Related Terms: