A strong cold front has passed through southern Australia which is now progressing into north eastern New South Wales.
Ahead of this change, a warm to hot air mass surged southwards which resulted in temperatures reaching into the low to mid 30S however the air behind the change is relatively cool to cold.
This is a significant change due to the temperature changes that are occurring ahead and behind the change. For example, it reached 32.6C in Blacktown on Saturday but it has struggled to reach 20C on Sunday (Maximum being 20.2C).
Similar conditions are being felt across New South Wales ahead and behind the change.
A feature of this change is the large slow moving north west to south east cloud mass and rain band that marks the change. A closer look at this reveals a band of cloud that marks the presence of thunderstorms / embedded thunderstorms that is occurring at the leading edge of the rain band.
The change reached Western Sydney including Blacktown after 4 am Sunday morning. Some thunder was audible on the leading edge of the rain band between 4 am and 5 am with heavy showers. More general rain followed thereafter before easing into lighter showers.
Some rainfall figures include:-
Victoria (For the 24 hours to 9 am 14/3/2021)
42 mm at Mt Baw Baw.
40 mm at Mt Donna Buang.
20 to 29 mm across parts of the outer eastern suburbs of Melbourne in areas close to the Dandenong ranges.
New South Wales (For the 24 hours to 9 am 14/3/2021)
53 mm at Orange.
48 mm at Putty.
47 mm at Kulnurra (Jeavons).
46 mm at Wyee.
37 mm at Nowra.
30 mm at West Pennant Hills.
(For the 6 hours between 9 am and 3 pm)
The impacts are more noticeable as the system moves towards and into north east New South Wales. Rainfall figures for the 6 hours include:-
72 mm at Tangary Mountain.
60 mm at Elderslie.
49 mm at Tocal.
40 to 44 mm around Maitland.
The satellite photo from Himwari clearly shows the cloud mass that features this change with cumulonimbus clouds visible on its leading edge. The radar image of Sydney early Sunday morning shows the structure of the change with heavier rain evident on its leading edge with the change encroaching onto the Hunter Valley by 8 am.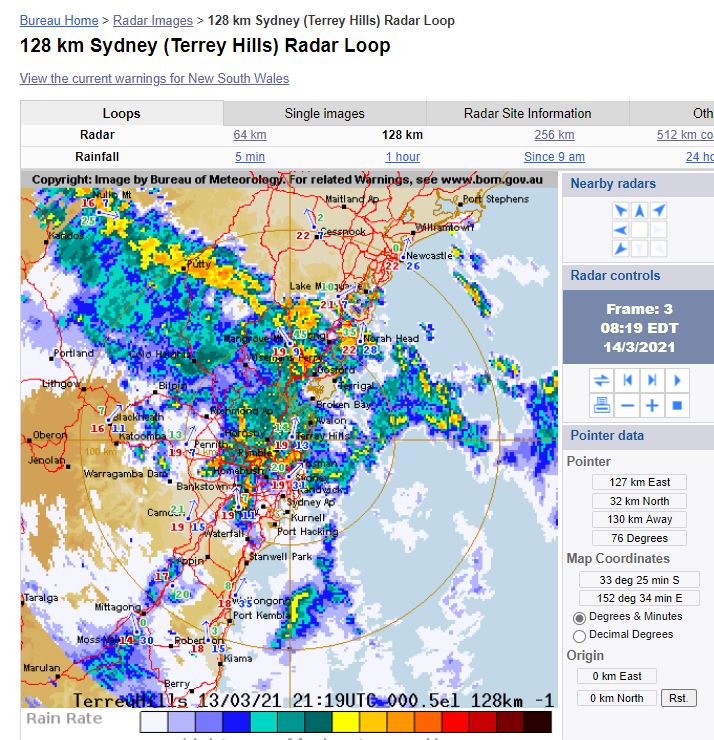 The photo attached is showing one of the heavier showers that occurred Sunday morning at Blacktown.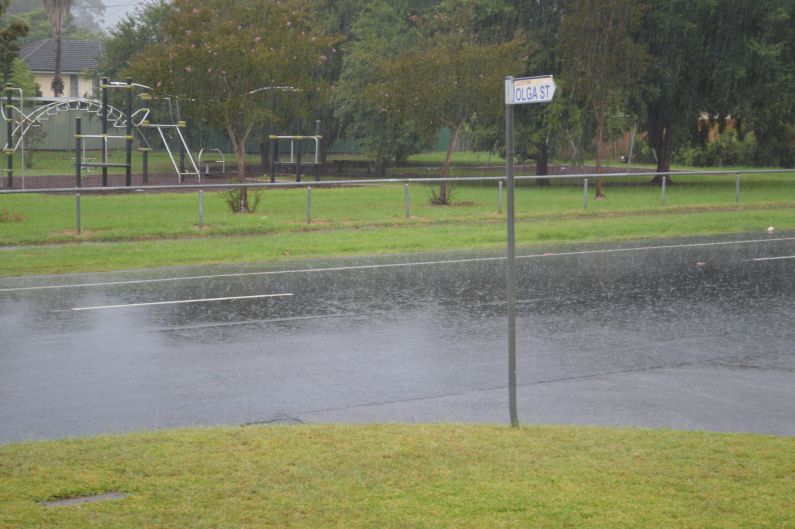 Related Terms: