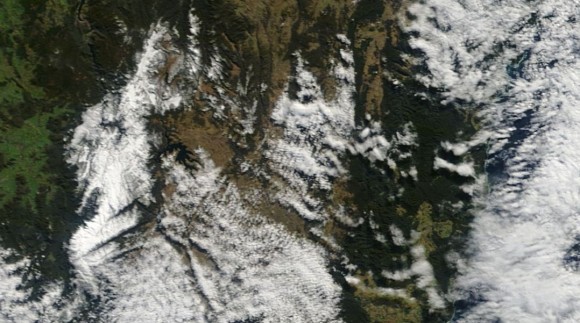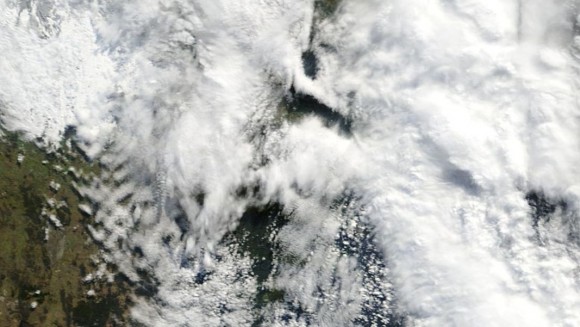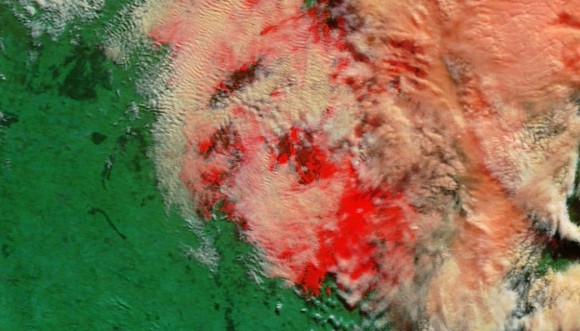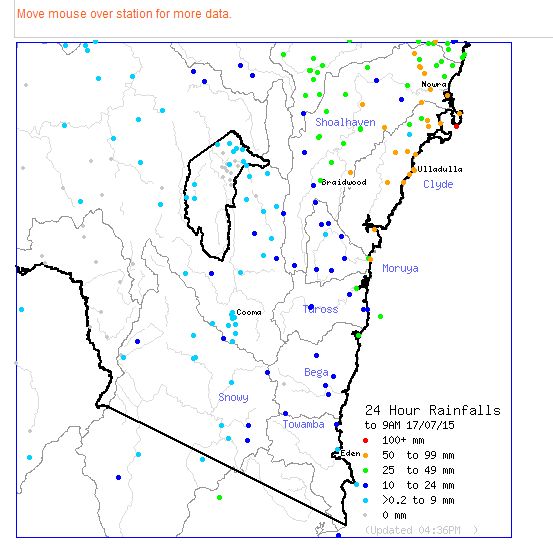 Over the past two days, a significant weather event has unfolded across New South Wales that has brought a variety of weather conditions including:-
1 - Thunderstorms.
2 - Snow events to low elevations.
3 - Heavy rain.
4 - Cold.
In addition to this, two satellite images are provided which are acquired from NASA from Rapid Lance and dated 17 July 2015. Of interest is the satellite photo showing the area south west of Sydney. The normal real colour image appears to show snow on the ground south west of Sydney although much of the area is obscured by cloud. The infra red picture is showing what appears to be a snow cover identified as red in the image. This image is from TERRA at a bandwidth of 3-6-7 and a resolution of 250 metres.
Another satellite photo is showing a solid snow cover across the Snowy Mountains following the last two snow events. There is now an official snow cover of approximately 55 cm at Spencers Creek (Thursday reading by Snowy Hydro).
The past two days has seen a cold outbreak across the state with below normal maximum temperatures, heavy rain, snow and even a thunderstorm across parts of Sydney. Each weather event is briefly described:-
1 - Thunderstorm
Thursday morning a band of moderate to heavy rain moving south over Sydney included a thunderstorm at least on the coast. A loud thunderclap was audible at Auburn where I work during this period. It is understood the storm was centred more towards the coast. This event makes it the third thunderstorm to pass over Sydney in 7 days during July.
2 - Snow events
Much of the elevated areas across the central Tablelands, Southern Tablelands and Blue Mountains experienced some significant snow falls overnight 17 July. From reading newspaper articles and viewing photos and the attached satellite photos, it is clear snow has fallen to low levels. Snowfalls occurred around Goulburn, Bowral, Moss Vale, Oberon, Lithgow, Katoomba, Bathurst and Orange. It appears snow fell as low at 700 metres cutting the major highway linking Bathurst and the Hume Freeway around Bowral. It is also understood snow has fallen on parts of the Northern Tablelands.
The city of Orange in the Central Tablelands had a snow event during the morning of 16 July and another event on the morning of the 17 July.
3 - Heavy rain
Along the coast, a heavy rain event from an east coast low swept the area around the southern Illawarra and south coast regions. The highest fall included 111 mm at Point Perpendicular to 9 am 17/7/15. There were other big totals including Vincentia 93 mm, Broonan 89 mm, Currawang 84 mm Ulladulla Airport Weather Station 82 mm and Ulladulla 76 mm being the highest figures.
4 - Cold.
The same weather system has brought some cold conditions although in some areas, maximum temperatures for the 16 and 17 July were not as cold as Sunday. Some cold temperatures include for Thursday as examples:-
Orange - Min 0.3C and max of 3.9C.
Bathurst - Min 3.3C and max of 5.8C.
Penrith - Min 7C and max 12.7C.
Sydney Observatory Hill - Min 8.4C and Max 12.9C.
For Orange this is not as cold as Sunday.
Some cold temperatures for Friday include:-
Oberon - Min Minus 1.5C and max of 3C.
Goulburn - Min 0.8C and a max of 9.6C (Even though snow fell here during the early part of the day, conditions cleared to enable some warmth to occur which would have melted the snow fast.
Blackheath - Min Minus 1.4C and a max of 3.6C.
Orange - Min Minus 0.5C and a max of 3.6C.
Bathurst - Min Minus 0.2C and a max of 5.9C.
Penrith - Min 6.1C and a max of 14.2C.
This is certainly an amazing array of weather resulting from the current low pressure cell and east coast low.
Related Terms: