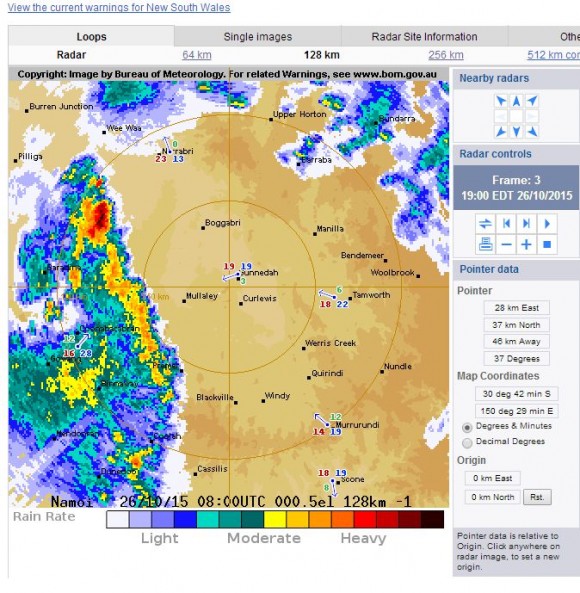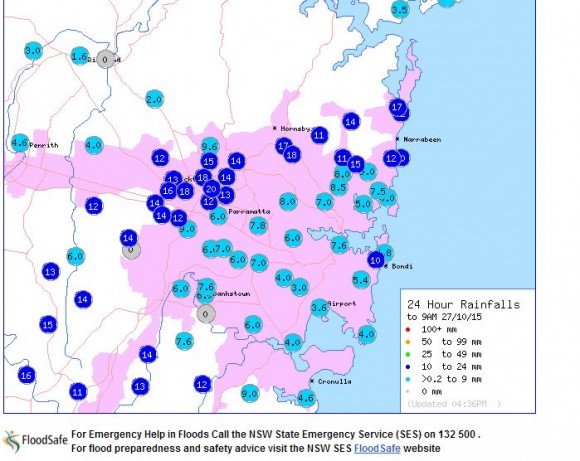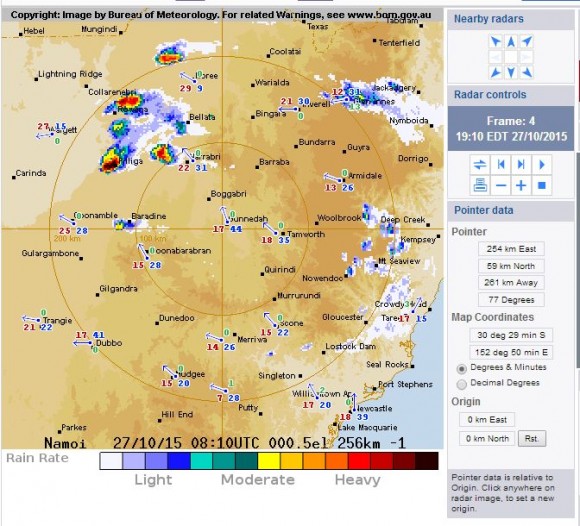 During Monday and early Tuesday 26 and 27 October 2015, fast moving storms and heavy showers passed through parts of eastern and north eastern New South Wales.
Between 1 pm and 2.30 pm, a storm cell passed to the south of Sydney and another passed to the north of the city.
I contemplated a storm chase but upon viewing the weather from Auburn, I decided not to chase only because the cells did not exhibit much structure as they were passing across Western Sydney. Cloud bases were high and storm cells were embedded within a mid to high level cloud layer.
There was some cloud base development but this only occurred as the cells were nearing or crossing the coast and south east of Auburn.
Depending on location, storms and showers were hit and miss however some interesting rainfall totals were recorded.
Across Sydney, the storms only brought light rainfall totals. However at Sydney Airport, a wind gust of 82 km/h was recorded at 2.12 pm and 2.13 pm as the first storm passed over.
It appears a line of storms or a squall line moved across areas north of Sydney, across the Hunter Valley, North West Slopes and parts of the New South Wales North Coast. As the system developed later during the afternoon, stronger rainfall totals were observed including:-
Norah Head - 30.8 mm to 6 pm including 20.8 mm between 3.08 pm and 3.30 pm 26/10/15.
Taree - 17.6 mm to 7 pm 26/10/15.
The system brought strong wind gusts as it passed over including the following:-
Cessnock Airport - 78 km/h at 3 pm and again at 3.01 pm.
Nobbys Head - 67 km/h at 3.39 pm.
Norah Head - 63 km/h peak gust at 3.08 pm.
Taree - 76 km/h peak gust at 5 pm.
An image of the storm system from the Namoi Radar is attached. This is showing part of the system that crossed north east New South Wales.
Overnight, following the southerly change, further moderate shower activity passed over Sydney with the heaviest falls being 20 mm at Northmead, 18 mm at Baulkham Hills, Toongabbie and Turramurra and 17 mm at Mona Vale.
Overnight a rain storm passed over Blacktown and I noticed on my way to work, a large tree branch had fallen down and lying across the road in Mantaka Street and blocking part of the road.
Up until 9 am 27/10/15, the highest rainfall within New South Wales fell at the following locations:-
Lower North Coast
Markwell 68 mm, Cabbage Tree Mountain 62 mm and Wootton 61 mm all located near Bulahdelah.
Richmond Tweed
Mullumbimby 73 mm, Kyogle 63 mm and Cawongla 58 mm.
There is also an isolated fall of 81 mm at Binna Burra Alert located just north of the Queensland / New South Wales state border.
Such rainfall was isolated in nature.
Late afternoon 27 October further storm activity has occurred over north east New South Wales and South East Queensland. As shown on the attached radar image (Namoi), there are three or four intense and interesting storms within an area bounded by Narribri to the east, Pilliga to the south, Collarenebri to the north west and Mungindi to the north. They appear to be occurring over isolated regions of the state. An intense cell appears to have passed over Pilliga although there does not appear to be a weather station to record what has occurred.
Related Terms: