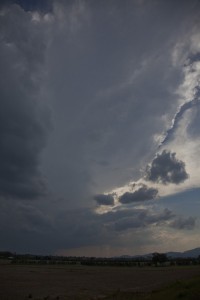 Having some urgent business to attend to in Toowoomba, my chase plans suddenly were out the window. I decided to head down the ranges after I was finished in Toowoomba.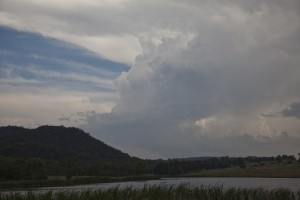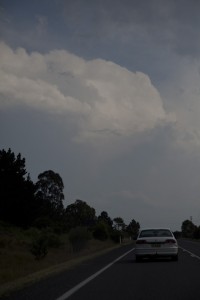 I was still one hour away from Tenterfield as the first towers exploded with a nice bubble in the upper atmosphere. By the time I got there, there was not much structure left of the original two cells. What I did not want to let go of was this set of developing tours to its north west.
This cell literally exploded in 15 minutes from the time I entered Temterfield, parked briefly in the south eastern part of town and then decided to head off after it! I was a well behaved driver as I passed the highway patrol in town guarding the 50km/h zone. But the road towards Bonshaw was open country! The side anvil showed a powerful pulse had occurred and the storm had tried to organise already. I had to travel at least 20km to be in a position to see the base clearly. The storm became quite lightning active with some dense rain and likely hail shafts dumping to the south and west. It was about 10 to 15 minutes after this that I could hear and felt out flow. It did not really last long so at leas the storm did not get undercut totally.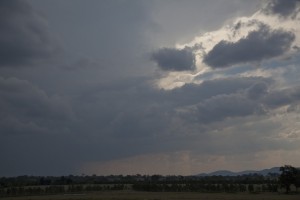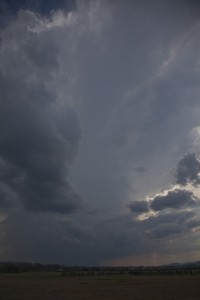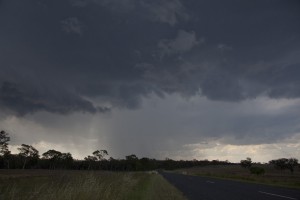 This storm eventually collapsed and I found a hill nearby and chatted to Nick for a little while. I then noticed that a cell to my north that I had shrugged off began to produce thunder. It also took on some inflow. So as I headed east the storm strengthened and was able to get a better view.
On the road to the border, the storm was still organised and the inflow cloud extended at least 15 to 20km to the northeast of the storm. There were some flanking line cells training ready to be ingested into the storm. But alas, although I had hurried Nick to a possible lightning show, it collapsed as he arrived!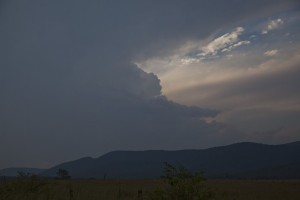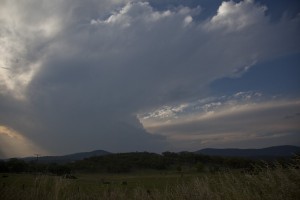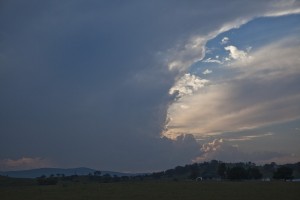 Related Terms: