While media reports are focused on the damaging storm that impacted the Dee Why area of the Northern Beaches of Sydney on Sunday afternoon and the resultant fatality that occurred, another region of New South Wales was also impacted by significant weather that has barely made the news headlines.
Significant thunderstorms have impacted an area stretching from Rutherglen to Corryong in North East Victoria and adjacent areas of New South Wales Sunday afternoon and some of the storms were significant especially for an area that rarely experiences such events.
On Sunday afternoon, a narrow line of thunderstorms developed across country south west New South Wales. The storm system impacted Deniliquin where 37.2 mm of rain fell.
At Yarrawonga, 32.2 mm of rain fell but the weather station recorded wind gusts of 100 km/h between 12.40 pm and 12.48 pm.
As the system passed over Rutherglen, it dropped 48 mm of rain including 33.6 mm between 2 pm and 2.30 pm.
The storm then hit Albury with 72 km/h peak wind gusts and 12 mm of rain falling in 5 minutes between 3.10 pm and 3.15 pm at the airport - A rare event in terms of intensity being more than 2 mm per minute at peak intensity. Storms brought 24 mm of rain to this weather station.
As the system passed further east, rainfall totals reached 50 to 100 mm along the western spine of the Great Dividing Range.
This was a damaging event as several local news articles have appeared in local newspapers showing damage across various towns and cities including damaged buildings, fallen trees and downed powerlines.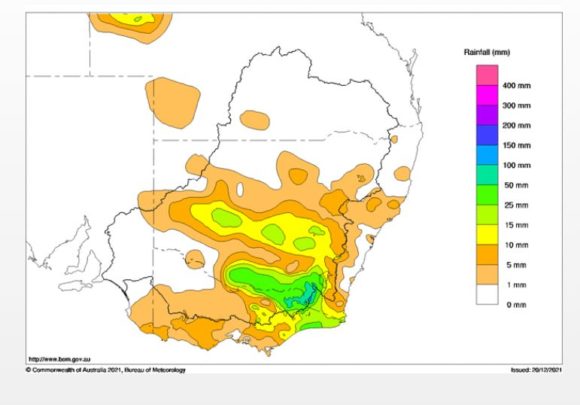 As shown in the rainfall plot for Sunday, the south west area of New South Wales clearly stands out with 25 to 50 mm of rain being common totals mainly due to this single event. Generally, storms of this calibre affecting the region are less likely to occur when compared to coastal areas but such storms are not unheard of.
Related Terms: