Golf ball sized hailstones Hunter Valley 26th October 2017
Severe thunderstorms including a few supercells produced golf ball sized hailstones or larger in some of the more intense storms. Radar indicated a few left and right mover classic splitting associated with supercell behaviour though most supercells were not long lived or incredibly intense.
Today's chase started out via the Putty Road to avoid traffic. This meant that the Mid North Coast was out of the question and targeting the Hunter Valley the only option.
With a boundary hanging along the Putty Road, it was all ready to explode as the moisture and dryline convergence coincided with the advancing upper trough. Temperatures associated with this upper trough were anticipated to continue to cool to -20C by 10pm. Such a cooling in October would mean that even elevated storms would persist and produce hailstones. We could see even within 15 to 20 minutes the change in the base behaviour as we exited the Putty Road.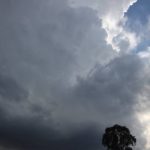 We then headed to Branxton. It was simply incredible to observe absolutely clean structure just off the dryline. Storms were already erupting near Bulga as the area tapped into the moisture and split into left and right mover. This was the left mover with exploding towers. Inflow was from the east-southeast which slightly favoured the right movers but still allowed left movers to flourish. The atmosphere slightly further east was cooling which meant that storms would not persist for too much longer as surface based storms.
Later during the evening another storm developed and weakened. After our evening meal, lightning flashes. Just out of town, we watched as the cell near Singleton approached us from the NW and then dumps hail to 3cm in diameter.
We followed this cell SE on the Newcastle Expressway only to catch up with another developing cell ahead of this one - producing hailstones - some in the sever range!
Came home in time for the lightning show of the squall line approaching from the west! A great day!
Related Terms: