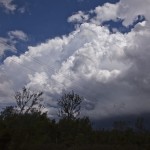 Kane, awesome supercell! Shows the nice inflow features. We were at the MacDonalds on the south side of Coffs Harbour where this supercell headed. Shane and I ended up going with our forecast and chasing the storms further north.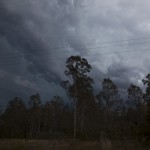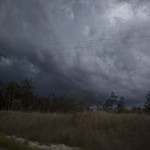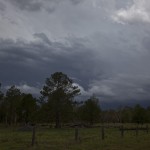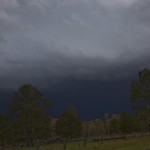 The trees blocked most our view and to our astonishment, it turned back ENE missing us at Whipore. We ended up tracking the storm in the forest and finally exited near Coraki. There was exciting structure amongst the trees but when outside the trees, we were a little distant to see the structure.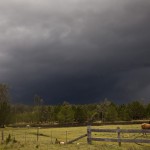 Furthermore, I exhibited one of my small professional moments. In an attempt to grab a quick picture of the structure, we both agreed a quick stop would suffice. So I reversed into the driveway - and it sunk! We found ourselves looking upwards! I had completely missed the driveway reversing into a ditch! I cannot repeat the words the passed through my mind nor re-exhibit the embarrassment! We simply got out of the car. Entering the driveway, I shouted to Shane, take photographs whilst I continued on into the property with images of the "Beware of Dogs" sign I had passed. Thank God the dog was friendly and I did not have to struggle up a tree! Anyway, thanks to the farmer who went out of his way to get chains and pull the car with his reliable four wheel drive.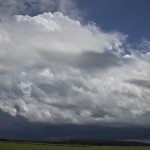 How do we repay this farmer - $10 - can you believe all I had was $10 - I felt like the world's biggest tight ass! After a brief enduring moment (believe me I placed myself beyond an arm's length from this man), the farmer uttered - "No worries, I'll buy myself a beer'. I deserved every bit of sarcasm that came out of his mouth and for the wrecked jeans ( I somehow managed to find the only melted patch of tar on the road that ended up on my jeans!). Shane's words of encouragement, 'Come on Jimmy - you gave all you had' brought very little comfort. Nor did I enjoy the comfort that it was "chase over". For what it's worth, included are some images. Shane can also post the 'car image'.