Following a warm spell which has seen temperatures reach into the low 30s across parts of Western New South Wales and north west Victoria, a strong cold front is now making its way across southern Australia.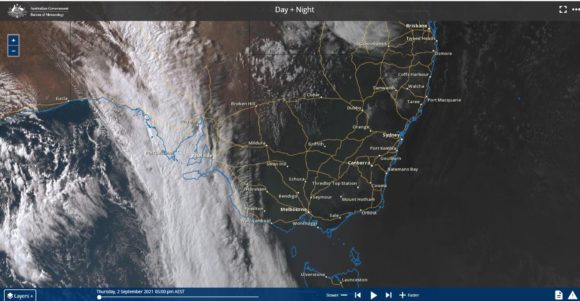 Much like a similar recent frontal system, the air ahead of the change is relatively warm. In Mildura (NW Victoria), it reached 32.7C on the 2 September 2021 and an overnight minimum of 21.7C was recorded at 8 am 3/9/2021. The weather station here recorded a maximum peak temperature of 25.1C at 10 am for the 3/9/2021. By 3 pm after the change has passed, the temperature had fallen to only 13.3C.
Other warm temperatures for early September (September 2 2021) has included:-
• Loxton (South Australia) - 33.2C.
• Swan Hill (NW Victoria) - 31.2C.
• Broken Hill (Far Western New South Wales) - 31.3C.
• Deniliquin 28.2C and 28.5C on the 3/9/2021 before the change arrived.
The cold change is having a strong impact on maximum temperatures ahead and after the change. A rain band with some thunderstorm activity is being pushed east with the front which has brought some reasonable rainfall of between 30 mm and 40 mm within areas north and north east of Melbourne.
The change will progress further east reaching Sydney Saturday afternoon.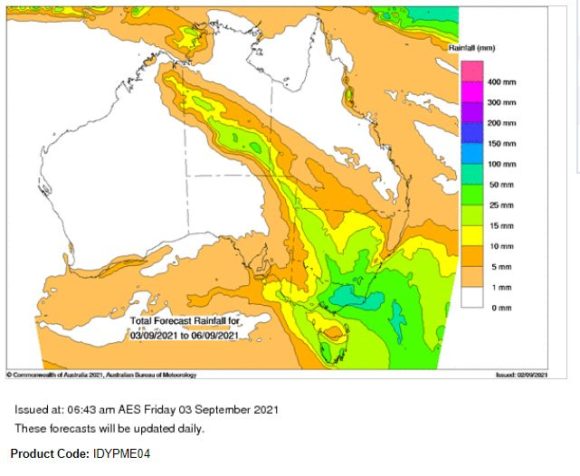 The change has brought wind gusts to 96 km/h at Falls Creek and 104 km/h at Mt Buller at 1.12 pm 3/9/2021.
Maximum rainfall from this event are not expected to be significant for Sydney but for North East Victoria and Eastern Victoria, maximum rainfall figures are forecast to be in the range of 50 mm to 100 mm and 25 mm to 50 mm within adjacent areas including southern New South Wales.
The main concern is snow melt as a result of the rain. This could result in some flooding of rivers and with Lake Hume at close to 95% full, there is a risk of some riverine flooding along the Murray River in coming days from this event.
Addendum
The change brought some significant rainfall across the hilly areas of North East Victoria, the South West slopes close to the Great Dividing Range and Eastern Victoria.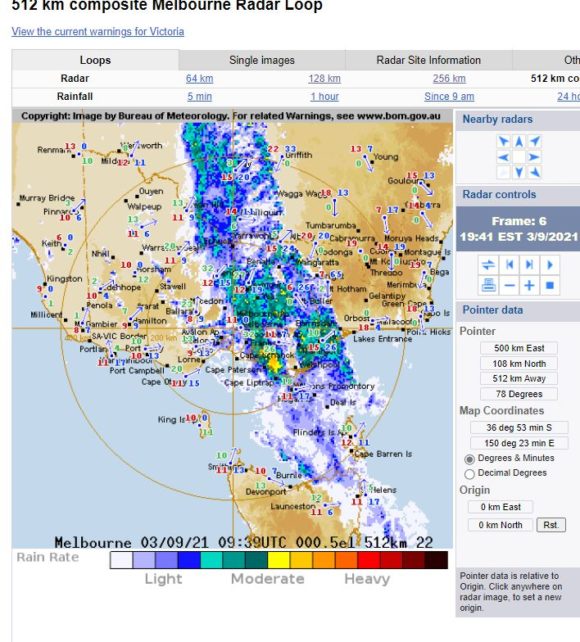 Within these areas, daily rainfall totals topped between 50 mm and 100 mm. It is identified that the rain coupled with the snowmelt has generated minor flood warnings along certain rivers including the Kiewa and Ovens River and Murray River upstream of the Hume Reservoir dam wall. This will require water releases from the Hume Reservoir which is at 95% capacity. This will benefit farmers downstream including irrigators.
The change reached Sydney during Saturday afternoon however its impact was relatively mild. It brought rainfall of between 3 mm and 20 mm with the lesser totals being around Penrith and Richmond.
Related Terms: