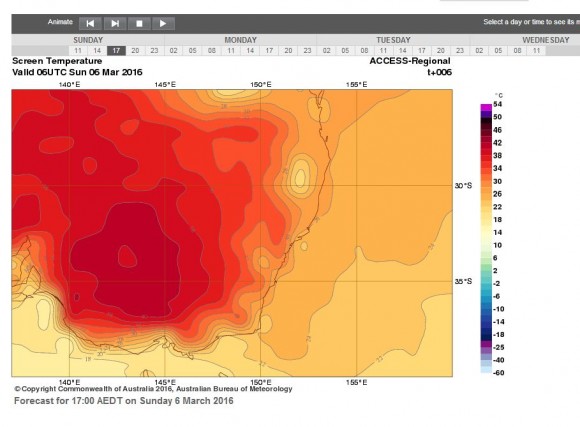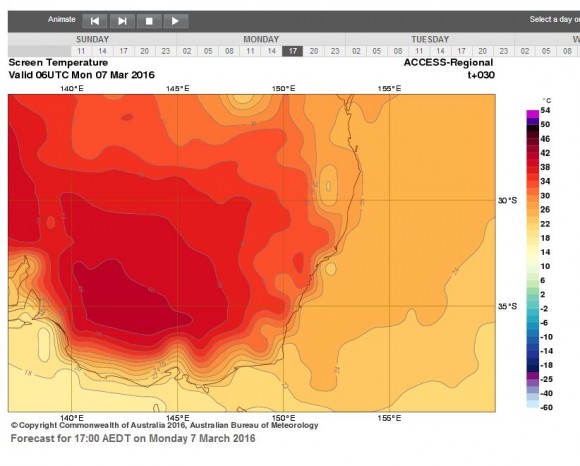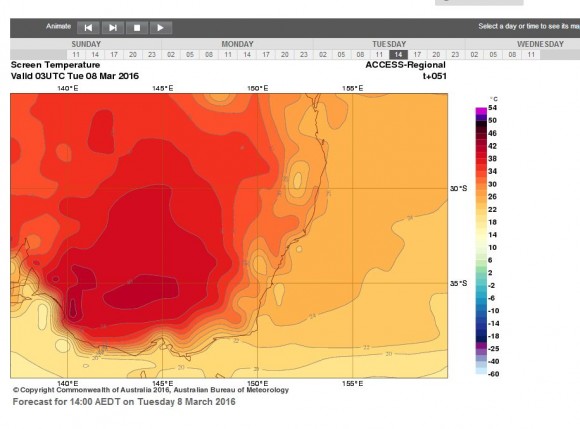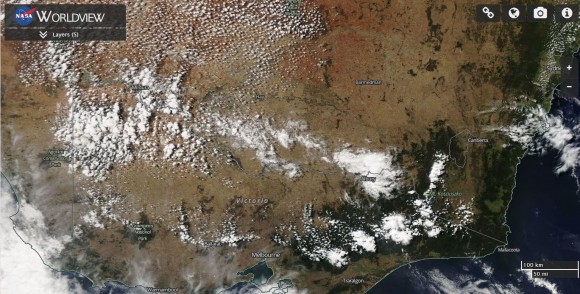 Another heatwave is unfolding across Southern Australia during the first few days of March. This heatwave is likely to be the last for the summer 2015/2016 season.
The heatwave is covering a large portion of inland Australia and several inland centres are experiencing temperatures in the high 30s and low 40s. There are signs that the current heat will be waning in intensity late in the week as temperatures start to moderate. However for the time being, it is expected to be quite hot at least until Friday or Saturday in some centres.
As shown in the satellite photo of southern Australia dated 6 March 2016, a few clouds exists across the inland but for the most part, clear skies predominate. It is also dry again especially across more northern areas.
I have recently flown across the wheat sheep belt of Central New South Wales and it is clear that the regions near Forbes and Parkes are incredibly dry and in need for desperate rain.
Some exceptional temperatures recorded for early March 2016 include:-
1 - Hay - It has reached 40C on two consecutive days being 39C on the 4/3, 41.1C on the 5/3 and 40.5C on the 6/3.
2 - Deniliquin - 39.4C on the 5/3/2016 and 39.1C on the 6/3/2016.
3 - Fowlers Gap - 39C on the 6/3/2016.
4 - Albury - 38.2C on the 5/3/2016.
The worst of the heat is affecting the inland regions but it is noted that much of Western Sydney has enjoyed 5 days in a row where maximum temperatures have reached into the low 30s.
Some forecast maximum temperatures for Monday to Saturday include:-
Albury - Mon (38C), Tue (38C), Wed (37C), Thu (36C), Fri (36C) and Sat (35C).
Blacktown - Mon (32C), Tue (31C), Wed (35C), Thu (33C), Fri (32C) and Sat (31C).
Broken Hill - Mon (39C), Tue (39C), Wed (38C), Thu (38C), Fri (37C) and Sat (34C).
Cobar - Mon (38C), Tue (37C), Wed (37C), Thu (37C), Fri (37C) and Sat (37C).
Dubbo - Mon (35C), Tue (35C), Wed (35C), Thu (35C), Fri (35C) and Sat (34C).
Goulburn - Mon (33C), Tue (31C), Wed (34C), Thu (32C), Fri (31C) and Sat (30C).
Ivanhoe - Mon (40C), Tue (40C), Wed (40C), Thu (40C), Fri (39C) and Sat (39C).
Penrith - Mon (34C), Tue (33C), Wed (36C), Thu (34C), Fri (33C) and Sat (33C).
Tibooburra - Mon (39C), Tue (38C), Wed (39C), Thu (39C), Fri (38C) and Sat (38C).
Wagga Wagga - Mon (37C), Tue (38C), Wed (37C), Thu (37C), Fri (37C) and Sat (36C).
As shown, there is evidence of maximum temperatures moderating towards the end of the week which is suggesting some form of a change approaching or passing through. Hot weather in early March is common but generally after the middle of the month as Autumn takes more effect, a cooling trend will commence.
Credits
Bureau of Meteorology 6/3/2016 - Water and the Land maximum temperature plot.
NASA (MODIS Worldview) Southern Australia acquired 6/3/2016.
Related Terms: