The most significant weather event of spring has impacted the whole of southern Australia during the period. The highlights of the event are:
Thunderstorms and heavy rain impacted large regions of inland New South Wales and Victoria with some widespread 50 mm falls occurring.
Low level snowfall has occurred across southern states with snowfall reaching the higher parts of the Central Tablelands.
Most inland rivers are currently in flood ranging from minor to major.
There are three flood events passing along the Murray River.
Sydney escaped the worst of the weather event.
The event has led to a cold outbreak lasting for days with below average daytime maximum temperatures occurring.
Tuesday 1 November 2022
A significant rain and storm event impacted many regions and for the 24 hours to 9 am Tuesday morning, some impressive rainfalls include:
Mt Barrington - 124 mm.
Mount Sandon - 105 mm.
Coonabarabran - 82 mm.
Orange - 76 mm.
The following towns, cities and regions received totals exceeding 50 mm:
Albury and areas to the east, Canberra, Temora, Wagga Wagga and Young including nearby towns and localities.
At Ulludulla on the New South Wales South Coast, 21.4 mm of rain fell from a storm between 6.30 pm and 7 pm Monday night.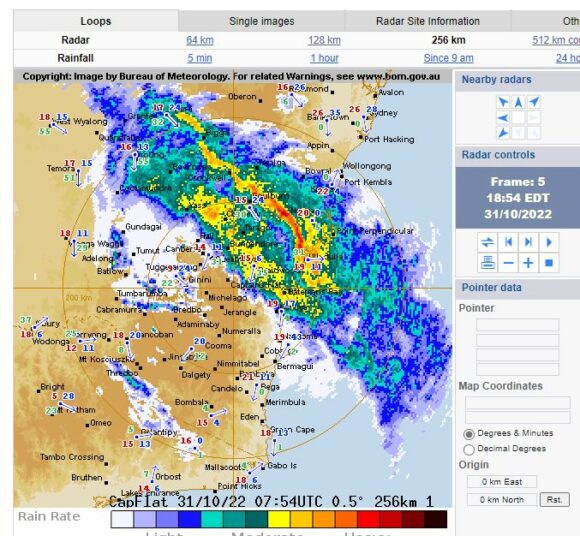 Radar image showing storm and squall approaching Sydney 31/10/2022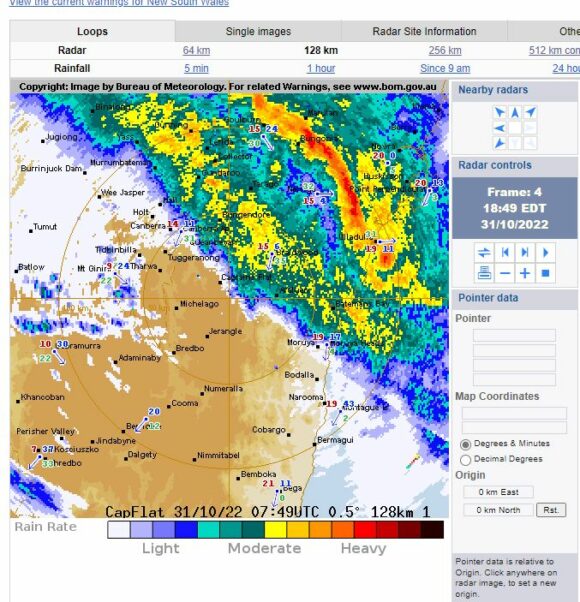 Wind gusts - Monday
Peak wind gusts topped 80 km/h at Braidwood and 70 km/h at Condobolin during Monday.
Central Queensland
Another region to receive notable falls from the same event was an area south of Emerald where widespread falls of 50 mm occurred. The highest total was 107 mm at Pindari Alert.
Inland flooding of Rivers
The result of the rain plus the events leading up to this include significant flooding of inland rivers. Most inland rivers are experiencing flooding varying from minor to moderate. Currently, three flood peaks are passing along the Murray River with major flooding now occurring around Swan Hill.
Major flooding has impacted the town of Forbes in the Central West of the state.
The floods are causing havoc with the transport links and road networks with damaged roads and road pavements a serious issue.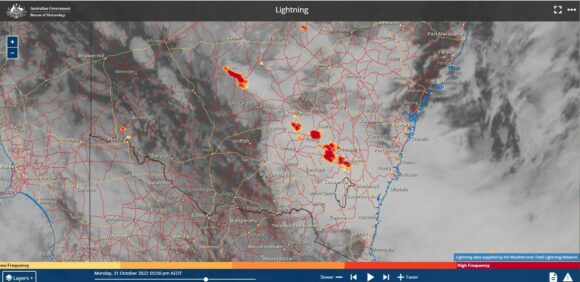 Damaged country roads
There are numerous roads within country New South Wales that are damaged.
As a strong word of advice resulting from the rain events, I recently travelled the roads between Goulburn and Braidwood following the most recent rain event and the telltale signs of flooding is evident. This road is badly damaged in places and speed limits have been reduced to 40 km/h over the worst sections. This is being repeated across many rural roads and drivers need to be aware of this especially if driving at night.
Even the Kings Highway linking Braidwood with Canberra is damaged in places with speed limits being reduced to 40 km/h in sections. Drivers need to be aware of this to avoid damage to their vehicles.
October Rainfall
As a result of the event plus the rain events leading up to it, some of the rainfall for October 2022 is impressive with many rain records fallings. Monthly rainfall of 150 to 200 mm is common across large areas of the Murray Darling Basin with some standout falls including:
Bendigo - 239.6 mm.
Moree - 212 mm.
Wincania - 207.6 mm.
Griffith - 203.6 mm
Albury - 198 mm.
Dubbo - 195.8 mm.
Echuca - 196.8 mm.
Rainfall totals of 3 to 5 times the monthly average were common.
Sydney City Observatory Hill recorded 295.4 mm but interestingly, most of Sydney missed the rain event of October 31 and November 1.
Cold outbreak
Following the rain event, a cold south west airflow became established over southern Australia which has lead to light snow falling around Orange and Oberon in New South Wales and even Ballarat in Victoria.
Mornings have been cold and daytime maximum temperatures well below average.
The colder than normal conditions extended to Friday before easing during the weekend. While fine weather has returned, the flood situation will continue for weeks across inland areas as the floods move downstream toward South Australia.
Related Terms: