An intense heatwave has gripped the South West United States for much of the start of July 2021 which has seen near record temperatures occur at certain locations and in one case, a possible new temperature record for the United States being the highest "minimum overnight temperature" recorded.
A weather station at Stovepipe Wells in Death Valley appears to have recorded a minimum overnight temperature of 42.1C which was recorded at 5.25 am on July 12 2021. The temperature recordings for this weather station appear to be:-
2 am - 46.1C or 115F.
4 am - 44.9C or 113F.
5.25 am - 42.1C or 108F.
6 am - 43.6C or 110.5F.
If confirmed, this would break the record currently held at nearby Furnace Creek being 41.7C or 107F recorded on July 12 2012.
I travelled to this location in June 2007 and as shown in the attached photo of nearby Badwater Basin just to the south of Furnace Creek, it is easy to see why such high daily temperature extremes occur here year after year.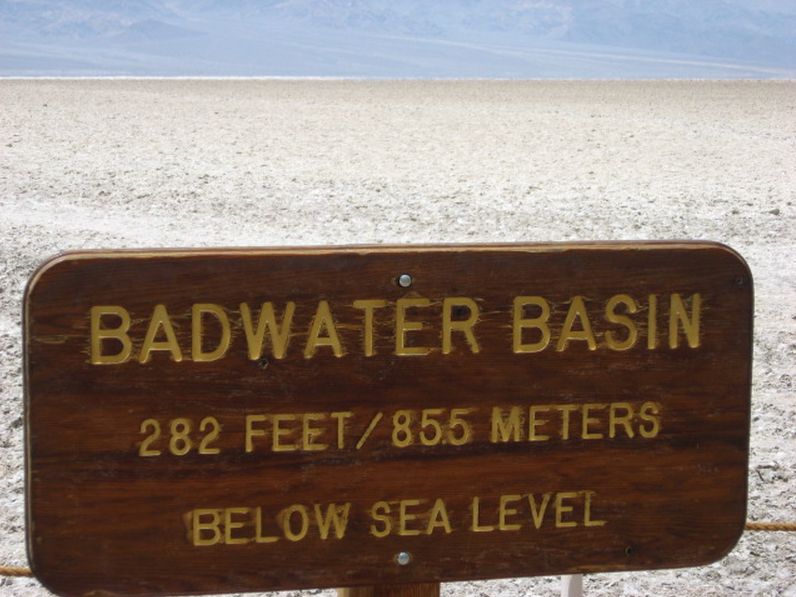 Minimum overnight temperatures of 40C are rare anywhere in the world but Death Valley is one of a very few places globally where this can occur due to the topography of the region. The mountain ranges to the east and west play a significant role in trapping in the heat of the day allowing little to escape overnight.
In addition, this heatwave has seen a maximum temperature reach 54.4C or 130F at Furnace Creek on July 9 2021 at 5.00 pm. At Furnace Creek, it reached 53.5C on the 10/7/2021 and 53C on the 11/7/2021 which is significant even for this desert location. A temperature of 54.4C could be amongst the highest verified temperature ever recorded anywhere however this is now subject to intense review.
The official recording for this station is attached to the post for July 9 2021 with the 5 pm temperature of 130F (54.4C) highlighted in blue for clarity.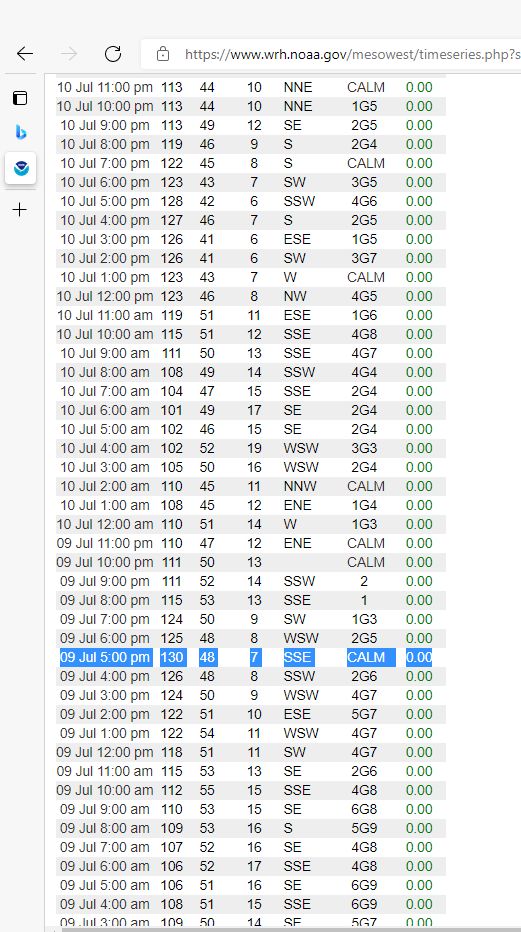 The heatwave has impacted much of the south west United States including inland California, Arizona, Nevada and even into a portion of Utah where the city of St George recorded 46C on the 10 July 2021. What makes this temperature more impressive is that the weather station lies approximately 860 metres above sea level (Almost the same elevation as Orange in New South Wales for comparison).
Lake Havasu City topped 48C or 118F on July 9. Even more remarkable was that at 1.15 am on July 10, it was still 40C (104F) with the overnight minimum dropping to around 36.5C or 97F at 5.15 am and back up to 100F or 37.8C at 7.15 am. This area is also susceptible to intense summer heatwaves due to location and proximity of nearby mountain ranges trapping in the summer heat.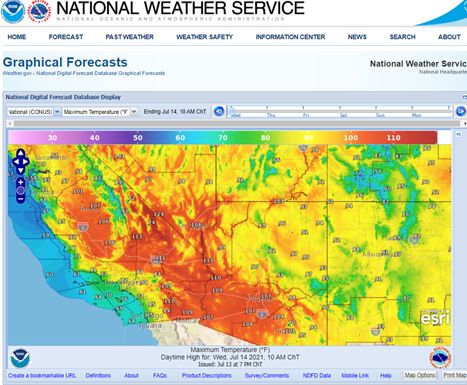 The worst affected cities are Palm Springs, Yuma, Lake Havasu City and Las Vegas. The heat has contributed to fires in California, significant stress to dwindling water supplies and current drought conditions worsening.
Significant hot weather has also occurred across the inland areas of Oregon and Washington States east of the Cascades and across low lying areas of Idaho where several fires burn. There is significant fire activity south east of Crater Lake in Oregon and another significant blaze north of Fresno in California.
The attached satellite photo taken from NASA's worldview dated Monday 12 July 2021 is showing one of the largest fires so far this season near Klamath Falls in southern Oregon with a thick smoke plume extending hundreds of kilometers towards the north east and impacting the air quality over Boise (Idaho).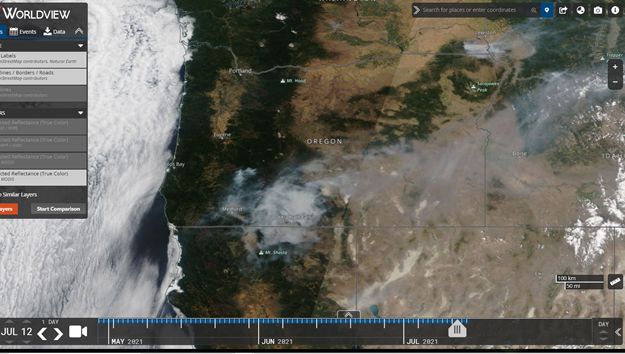 The heatwave is starting to ease across the south west as monsoonal moisture increases bringing with it isolated thunderstorms and the potential for local flash flood episodes.
The current heatwave may have set a few temperature records although such records now need to be proven and reviewed prior to the recordings being confirmed within official data.
Related Terms: