During the period Thursday 27 January and Sunday 30 January 2022, a slow moving weather system has been responsible for a sustained and consistent outbreak of afternoon showers and storms especially across Western Victoria and Southern inland New South Wales.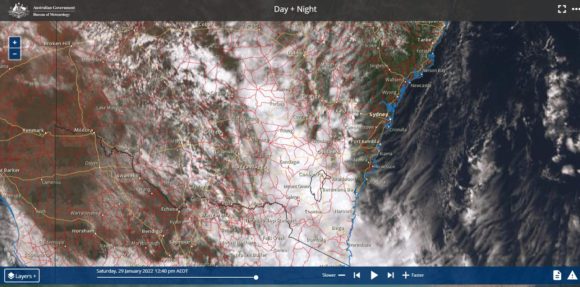 A number of these events have caused significant property damage which is typical of such events.
Some of the more significant thunderstorms have impacted Mildura, Horsham, Swan Hill, Melbourne and an area across North East Victoria extending into Southern New South Wales.
Some of the more notable events are:-
Wednesday 26 January 2022
Mildura - During the evening, thunderstorms dropped 80.2 mm of rain across this regional city. This is a very significant event because Mildura is located on the edge of the Outback and areas to the north are regarding as desert country. Furthermore, nearby Burtundy Station received 56 mm from the same events. This is the equivalent of receiving 3 or 4 months of rainfall during one night or almost one third of the yearly average rainfall.
Warracknabeal (Wimmera) - The same storm complex dropped 49 mm across the town.
Swan Hill - A thunderstorm produced damaging peak wind gusts to 132 km/h between 8.32 pm and 8.37 pm which would have caused property damage.
Horsham - A thunderstorm produced damaging peak wind gusts to 139 km/h between 4.45 pm and 4.52 pm which too would have caused property damage.
Melbourne - The city has been affected by thunderstorms across 2 days with storms of Friday afternoon dropping up to 65 mm of rain across isolated areas. Storms have caused flash flooding, power outages and property damage across the city.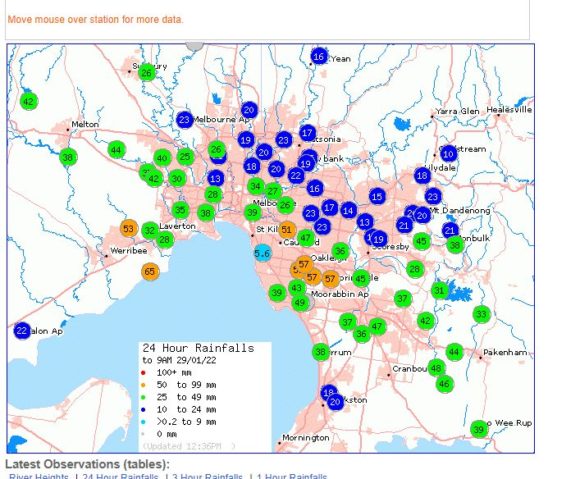 Many areas to the west of Melbourne have been impacted by significant thunderstorms with areas to the south of Ballarat receiving upwards of 70 to 80 mm including Paincalak Creek 99 mm and Bonah 89 mm.
Friday 28 January 2022
North East Victoria - A separate thunderstorm complex dropped upwards of 106 mm at Tonga Bridge and 101 mm at Chesthunt, Furthermore, 98 mm fell at Handcock and 88 mm at Archerton.
This storm would be the fourth major storm event for January. Even Albury received 44.8 mm from the same system plus another 46.8 mm by Sunday morning taking its January 2022 rainfall to a staggering 306 mm. The average January rainfall is just 39.3 mm. This is 7.8 times the January average.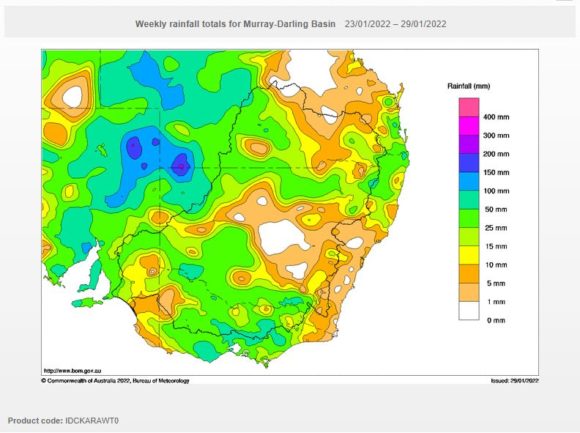 The same storm system during Friday impacted the western side of the Main Range and Kosciusko area producing 50 to 72 mm including 72 mm at Tooma Reservoir.
The same system later moved into the Central Tablelands, Southern Tablelands including Canberra during Saturday producing more heavy rain.
Saturday 29 January 2021
Further downpours impacted Narrandera 55 mm, Nerriga 55 mm and Young 56 mm. However, an area just to the north west of Bathurst received up to 80 mm (Rock Forest).
Some of these falls and others are occurring in areas not accustomed to such events especially for January as usually this is a dry time of year. It appears that a more settled weather regime will become established over much of the affected area with rainfall contracting to coastal areas, at least for the short term.
A satellite photo of New South Wales for Sunday morning is attached which still shows substantial cloud cover across New South Wales. The rainfall figures for 9 am Sunday morning is overlayed across the image (From Weatherzone).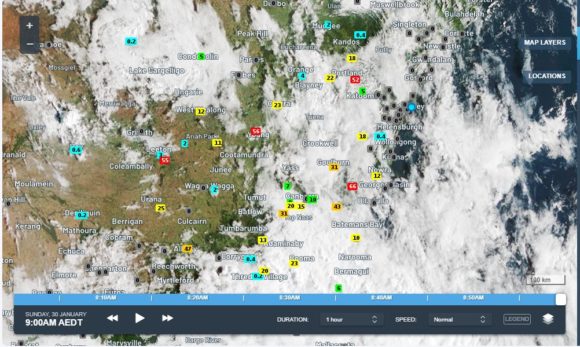 North East Queensland
During the same period, the city of Townville in North Queensland was impacted by torrential rainfall and resultant flooding during Thursday 27 2022. Stoney Creek Alert just to the west of Townville received 381 mm and falls of 100 to 200 mm were common around Townsville city. This contributed to major flooding in low lying areas.
Further, during Friday, similar tropical events have resulted in over 200 mm falling in isolated areas to the west and south of Cairns such as 221 mm at Clyde River Alert and Mt Sophia contributing to seasonal flooding of that area.
Related Terms: