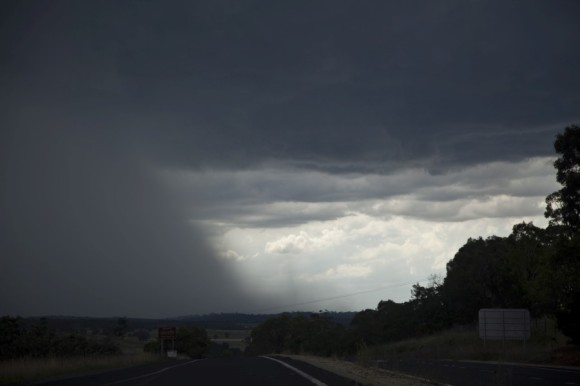 Severe storms hit the Southern Tablelands. I chose a cell south of Gunning. This cell persisted in the same area all afternoon and did nothing. When I left it for other seemingly larger black cores, it went severe with a black core but I was nearby and positioned for a chase. The radar seemed to indicate a hook or inflow notch structure and a possible couplet on one or two frames. It was a reasonable cell and after getting some hail to 2cm verifying its severity, I left the cell and went home. It did persist with black cores for at least an hour afterwards but then weakened near Lake George. At the time of the possible inflow notch, winds were fresh easterly into the cell. I will look at time lapse later.
Radar from this day
See : 128km Radar Loop for Canberra, 21:00 07/03/2014 to 21:00 08/03/2014 UTC
Take a look at the Gandaroo storm which is the one I was on earlier at 8 March 2014 3:42:00 PM AEDT Fresh inflow - there was a little couplet on radar matching this inflow notch feature but it does not archive on the archive website.
Related Terms: