Severe Storms Hits Mildura with Wentworth Supercell 29th August 2022
BRENDON SIMMONS and JIMMY DEGUARA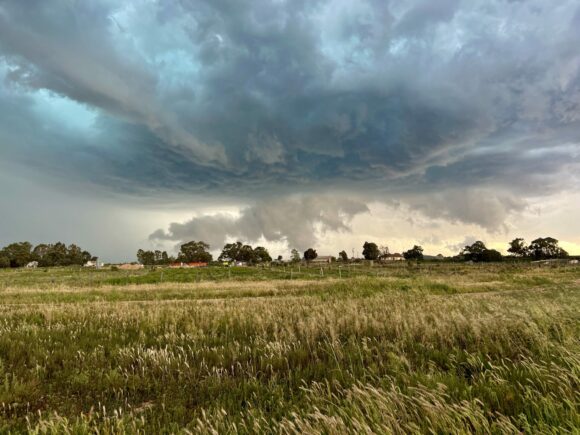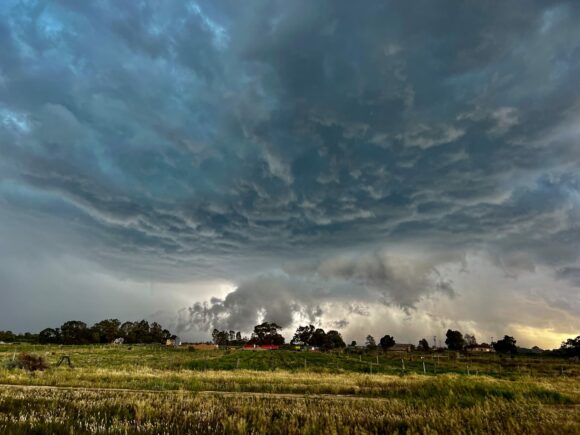 The lead up to the storm chase was alerted by Dave Croan with models showing a strong shear profiles near Mildura. With models shifting the action further east, the targets consistently were in the Swan Hill to Balaranald vicinity. Having positioned the night prior in Renmark, we made our way socking up on a heavy brunch in anticipation of long drives. All was set with no rush to position near Balranald. We stopped short of this region only to find all the model analyses had back-flipped! Alas models decided to re-align the storm development focus in the Mildura targets. This to me made more sense due to the position of the upper trough.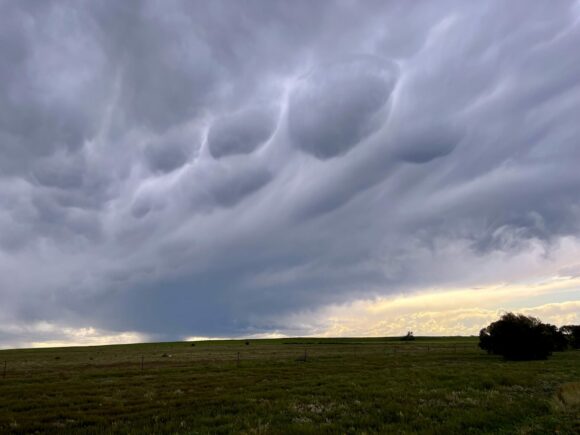 Severe thunderstorms developed during mid afternoon in the Mallee district of Victoria. A squall line formed near the Victorian border providing for a confusing analysis. On close examination, we noticed NE winds in Mildura region. As we drifted to Mildura, the more isolated cells further north into NSW west of Mildura and Wentworth region showed encouraging signs on radar! Visually they look more organised with inflow structures in the distance. With warmer temperatures and sufficient CAPE exceeding 1200j/kg, we targeted the northern most storms west of Mildura but it weakened becoming seeded by another cell NW of Wentworth.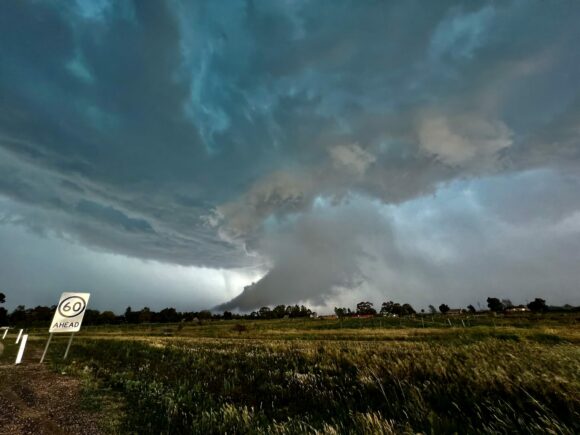 This built a more consolidated and rippled base and seemed to anchor in the low level flow with a path headed for Wentworth.The obvious shear environment and associated
dynamics
still did not prepare us to the rapid organisation that unfolded. As contrast increased and structure more organised, video was captured and pictures indicating the best phase of this developing supercell cycle. It was impressive how the
storm
developed visual real-time rotation. Also spectacular was the
wall cloud
development. Simply astonishing! And with myself totally occupied by video and photography, Brendon updated us on
radar
complete with couplet. And then blurts out, the northern
storm
is also taking on supercell characteristics!
Brendon.... "The town was was impacted by one of two splitting cells that quickly organised to display some incredible features. We targeted the leftmoving

cell

and watched as it approached the area West of Mildura. It was showing supercell characteristics by the time we decided to shoot North for a better view. Rotation was really ramping up at this point and it was clearly visible in the base and incredible

wall cloud

before us."
As the rear flank
downdraft
approached we moved east and then south to keep with the
storm
that was dropping obvious golf ball sized
hail
at this point just to our south or southwest. We experienced intense rainfall, hydroplaning with
hail
to at least 3cm several times in our attempt to navigate east away from the thicker traffic closer to built up areas. Finally breaking through the storms as we headed southeast to east we stopped west of Balranald. The intent of core-punching was a
storm
north of the road.
Radar
finally revealed a more easterly path in no-man's land countryside.
But was what that to our west! Another surprise! We watched and were even initially shocked that an amazing storm complete with beaver tail drop huge bolts from the anvil with a flickering of lightning had emerged from mess of cells we had passed. The scale and power of this storm was quickly realised. With destination work in Adelaide and failing light it the best option was to encounter some of this cell's wrath. Hailstones were driven at us in violent winds and reached 3cm in diameter. Also notable were the turbulent wind change within the storm - was this an rear flank of sorts.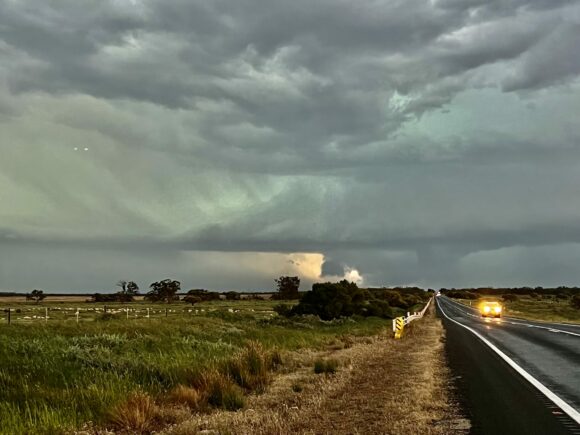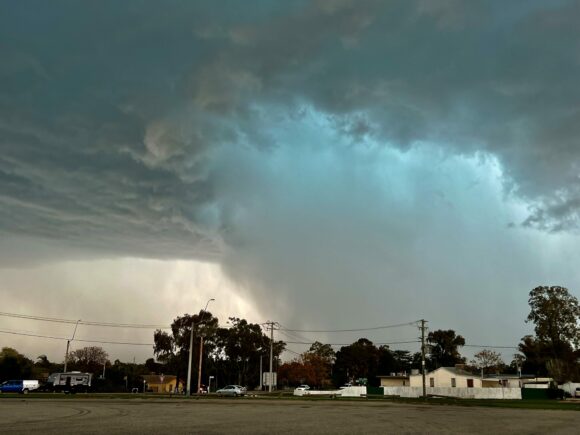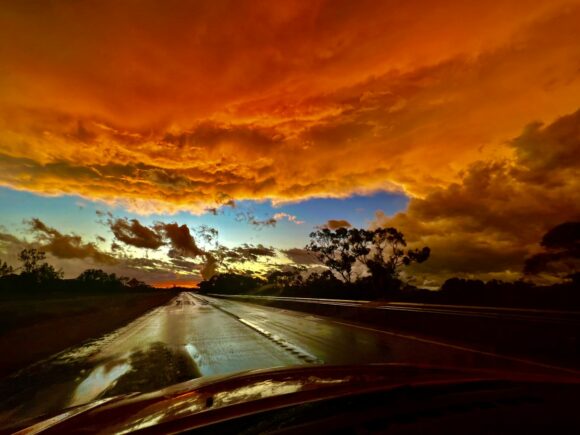 Heading west, we were treated with
lightning
and a beautiful sunset lit reflection on back-shearing anvil and mammals above. The steak went down well. Low and behold, the day did reveal what was highly anticipated well captured a major funnel and possible tornado further south!
Related Terms: