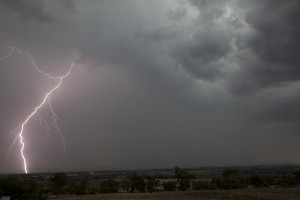 Storms were anticipated on the 9th across most areas of the central and northern ranges. The trajectory of these storms on close analysis though but storm motions north at least for the Northern Tablelands and the eastern Hunter regions with NE tracks in the western Hunter and Central Tablelands. Storms did fire in the Wollemi and then Central Tablelands relatively early with an unstable air mass already present during the morning. Despite the strong cap, the southerly change enhanced convergence and soon, storms became widespread in the region although higher based. Steep lapse rates allowed for rapid development of cells.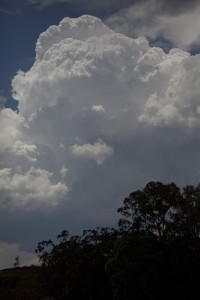 A complex of severe storm cells developed in the northern Putty Road region and this was region I intercepted hailstones to 1cm in 4 separate bursts as I zig zagged in and out of the storm complex and various cells. Both and I and Jeff Brislane noted leaf litter on the road indicative of at least 2cm hailstones. The cars parked on the side of the roads backed up these concerns.
Cell development gradually spread north and cells developed in the eastern Hunter Valley and Northern Tablelands. Some more rather explosive development occurred in the Scone and Murrurundi region but being rather high based, the storms became outflow dominant quickly.
Jeff Brislane and I met up in Jerry's Plains and chased via Muswellbrook and Scone. A nice cell rapidly developed in this region and we passed just ahead of it before it hit Murrurundi with a green tinge evident. We did not sample the core in this case trying to remain ahead of it. the outflow was rather strong and keeping ahead of it proved difficult. This storm complex then exploded to the east of the New England highway and we photographed and filmed sporadic lightning.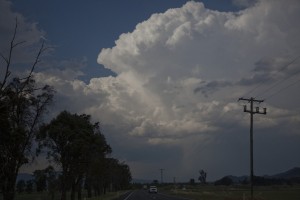 Developing Murrurundi Cell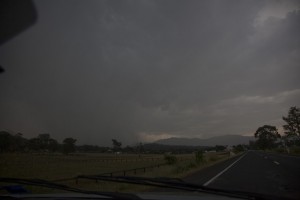 Jeff and I decided to sample this core but became entangled in the maze of roads to Nundle. Time to head out back into Tamworth in time for the storm complex moving in from the south. We did not dare to stop at the enticing big M despite our desperation for food.
The storms gradually weakened though the storms still produced a few lightning bolts. Whilst looking for a specific location for lightning shots, we decided to move out. Suddenly, we became startled by a massive bolt and instantaneous gunshot thunder that almost sent us to get toilet paper!
Jeff may wish to describe the tree he observed before we called it quits for the night. I could tell where Jeff's internal GPS was headed in Tamworth! Macdonalds went down well with two particularly starved chasers.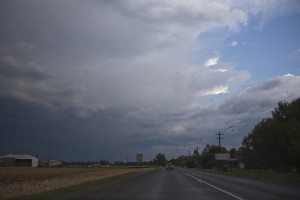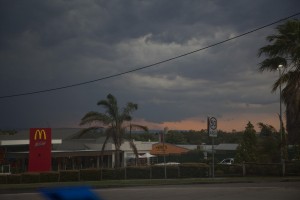 Related Terms: