Just got back from a surprisingly decent storm chase. Was meant to head off with Colin but he was delayed a little so I decided to head off with the intention of meeting up at some point. There were a few stops with me reluctant to continue onwards. But I decided to put in the hard yards and headed for Gloucester. Towers were already on top of the Northern Tablelands and towers to my west over the Barrington Tops were struggling but gradually consolidating.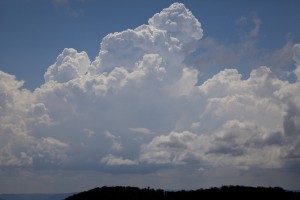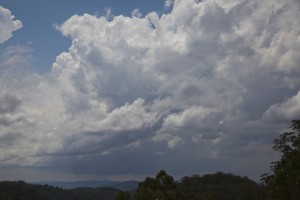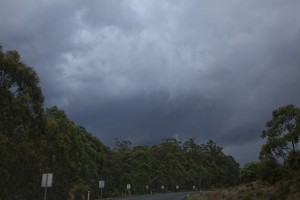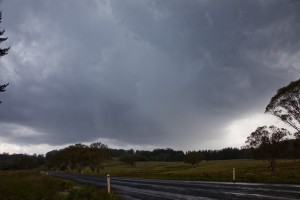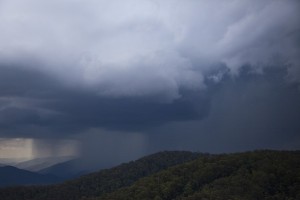 By the time I got to the top of the lookout S of Nowendoc, it was clear storms were towering to the northwest and west. The decent base did not waste time in producing precipitation. In Nowendoc, the cell to my west produced a rippled rain free base. It was this that took my fancy and I followed it gradually southeast back to the lookout. Rather than producing a shelf cloud, it began to organise and maintained a rippled appearance.
Then suddenly the storm organised with some separation. Almost with automatic response - out came the tripod! This separation coincided with increased lightning activity and a dense core of precipitation to its immediate north (most likely containing hailstones). The interaction with the mountains was quite interesting for about 5 or more minutes. This organisation and lighting lasted at least 25 minutes. I was reluctant at first to call this a supercell but timelapse seems to confirm storm scale rotation for at least 20 minutes! This storm seemed to also be under an overshoot and also a backsheared anvil! I did make my way down the mountain to see what else could be intercepted but alas this was it for the day! Storms to the west of this would have taken me 3 hours to get to so I called it a day.
Thanks to Colin for being in position for the external structure - classic back-sheared anvil and overshoot! I do believe this adds to the evidence of being a supercell.
Related Terms: