A feature of October 2021 has been the number of significant thunderstorm events across eastern New South Wales and Queensland which has been unusual. Several of the storms have reached supercell status and most have been well documented by residents partly because they have struck population centres.(If you have experienced hail damage, please contact 0408020468 or go to haidents.com.au)
As such the record of these have not gone unnoticed by residents.
Several of the storms and hail events have caused extensive damage to property such as the Coffs Harbour (Tormina storm) of Wednesday 20 October 2021.
The number of events are growing and now includes:-
1 - Meadow Flat (Between Bathurst and Lithgow), Goulburn, Western Sydney and the Armidale events of Thursday 14 October 2021 (Four separate storm events) previously covered in earlier posts.
I have since learnt that the Goulburn storm of the 14/10/21 produced hail of up to 4 cm in size across the southern part of the town.
2 - Toormina storm (Part of Coffs Harbour City) - The storm of Wednesday 20 October impacted Toormina particularly hard with excessive hail believed to be in the order of 2 to 4 cm in size (Up to golf ball size) which has resulted in hail drifts. Extensive damage is evident at the local shopping centre.
The weather station at the nearby airport recorded a remarkable fall of 69.6 mm of rainfall from the event but what is remarkable is that 24 mm of that fell between 2.18 pm and 2.30 pm which is 2 mm per minute. The airport also recorded peak wind gusts of 87 km/h. Damage is extensive and local media is suggesting damage in the order of tens of millions even as high as one hundred million.
The main feature of this storm was the prolific hail and the resultant hail drifts thereafter.
3 - The previous day on the 19/10/21 in Queensland, the township of Yalboroo north west of Mackay had credible reports of hail up to 16 cm in size which indications are, a new Australian record for size. Images have been seen in social media and other forms of media showing battered cars, buildings and significant hail damage to structures.
The Bureau of Meteorology is also suggesting credible reports of hail of this size.
Location attached using Google Earth Experimental 2021 - Yalboroo is a small town 71 km north west of Mackay as shown with around 170 residents. The town is above the Tropic of Capricorn within an area where hail events would be rare in any given year.
4 - On Friday morning 22/10/21, a significant thunderstorm struck parts of Brisbane with videos emerging of a brief but weak tornado impacting the airport area. This storm too is remarkable for its intense rain at Brisbane Airport with 84 mm of rain falling between 10.30 am and 11.30 am including 68 mm falling between 10.30 am and 11 am. This is just over 2 mm per minute for 30 minutes. The airport recorded 91 mm from the event.
It appears that there were other similar storm events at the following centres:-
Bracewell near Gladstone.
Mackay where a storm generated winds of up to 80 km/h at the airport at 2.49 pm 20/10/2021. However, media reports suggest winds of up to 120 km/h within the city during the event with smaller hail.
The hail that fell in Western Sydney on the afternoon of October 14 (Images attached) has been repeated at a number of other centres in such a short period of time which is unusual. A common feature of all these storms have been the prolific hail being produced with a number of events producing hail to 4 cm in size and the number of tornado incidents being documented.
The events have been documented in Weatherzone and it is suggested that cool dry air in the middle levels of the atmosphere was pushed far enough north even into the tropics and at lower levels, there was an abundance of moisture available to allow major storms to develop (Weatherzone - Weather news "Three maps which explains this weeks severe thunderstorms over NSW and QLD" 21/10/2021)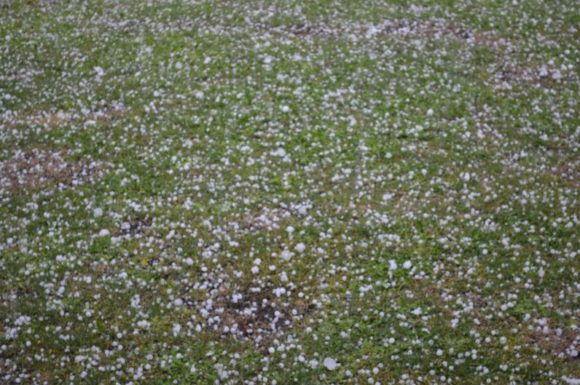 It will be interesting to see whether such a high incidence of significant storms continue into November.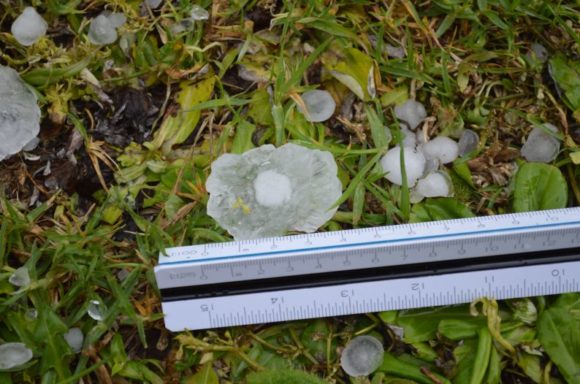 Related Terms: