Rotating Base and Hook Echo Grafton to Yamba supercell 1st January 2018
A spectacular day in north east NSW with a supercell producing a hook echo. With a target of Coffs Harbour to Grafton, everything timed to perfection. I ended up having lunch at Coffs Harbour and ventured north with a full tank of fuel.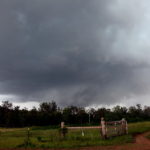 Conditions were meant to be ideal for supercells and low bases. Perhaps the upper levels were a little warmer than ideal but with sufficient heating and dew points, the cap would be over come and storm tops reach high up. Upper level shear was excellent thanks to an upper level sub-tropical jet!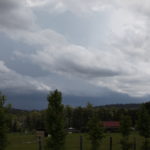 The first cell developed almost in timing when I was near Nana Glen. An anvil greeted me and streamed off overhead. The side anvil although immensely crisp showed signs this storm was not mucking around. At Glenreagh, it became apparent that viewing would be difficult due to the lowered bases! I knew this region and immediately relocated in the region 10 to 15 kilometres north. Although just in sunshine, the base presented itself with a lowering. At first I scoffed it off but within the next 20 minutes it became organised showing rotating wall cloud structure!
Wall cloud and Hook Echo on radar appears!
Fortunately, I had for the first time realised there was a road option and I followed it to the Pacific Highway. Disaster! My camera could not shoot with an error! A base was clearly turbulent and likely rotating overhead! IPhone time! But as if nothing had happened, with a little less panic and fiddling with the camera, it worked and I got the shots.
No enroute to Grafton, radar indicated a direct course to Yamba. And it was possible to keep up! The hook behaviour could clearly be observed with with hail shafts in a circular fashion at the read of the storm. Finally at Meclean, I was in time to observe the low base and inflow streamers. Dew points along the coast including Yamba were 26C! Insane! The combination of this and sufficient heating allowed the storm to traverse the coastline. Added to the spectacle were the pulsating bolts - obviously a new updraft exploding overhead. The bolts were dropping in front of the structure!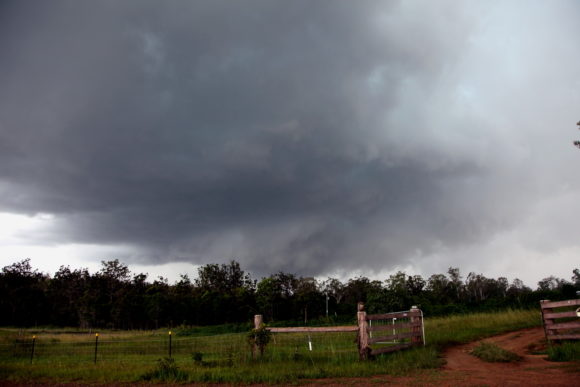 See : 128km Radar Loop for Grafton, 13:00 31/12/2017 to 13:00 01/01/2018 UTC
Related Terms: