During Saturday afternoon, the first showers of rain arrived across Western Sydney. There were no thunderstorm events but the showers later tended to light rain that was sustained overnight Saturday and throughout Sunday.
Sunday in Sydney was a cold day with constant light rain falling and maximum temperatures struggled to reach 20C. Generally, maximum temperatures reached 17C to 19C across the city which is more typical of a winters day.
Rainfall totals for Sunday to 9 am 22/11/2021 across Sydney fell between a range of 5 mm at Sans Souci to 33 mm at Avalon Beach with falls of 10 to 20 mm being widespread across the city.
Across other areas of the state, rainfall became heavy especially across the north west slopes and plains and thunderstorms added to the figures that fell.
For the 24 hours to 9 am 21/11/2021, the heaviest falls were:-
Macintyre River at Wyoming - (NW of Armidale NSW) - 72 mm.
Gred - (Kings Creek) - 70 mm.
An area south west of Glenn Innes received between 50 to 72 mm.
Other falls of greater than 50 mm included Bendemeer (NE of Tamworth) - 55 mm and Uralla - 22 km south west of Armidale - 52 mm.
There were also falls of 50 mm around the Port Macquarie region on the mid north coast.
While this rain occurred, the south west portion of the state remained under clear skies for the day as shown on the Himawari satellite image.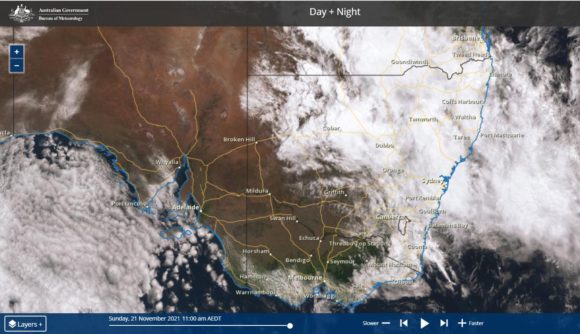 For the 24 hours to Monday morning 22/11/2021, heavier rainfall occurred which included falls of greater than 100 mm at some locations including:-
Mt Seaview - 122 mm.
Carrobrook - 109 mm
Bundarra - 102 mm.
Such high rainfall totals were limited to the Musslebrok region and a small area inland from Port Macquarie. The 100 mm plus fall at Bundarra north / north west of Tamworth is an isolated heavy total of greater than 100 mm.
Widespread falls of 25 to 50 mm fells across the north west slopes and plains, the Northern Tablelands, the Hunter region and the Mid North Coast. Several locations received heavier totals of between 51 and 99 mm across the same regions.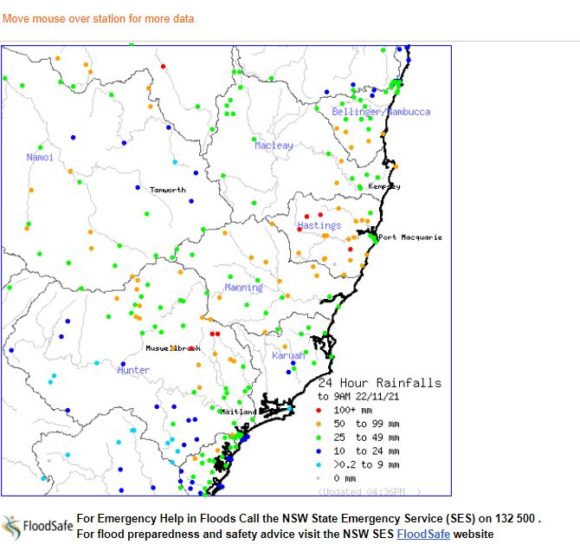 This has been enough to exacerbate the flooding situation with moderate flooding occurring around Tamworth (Paradise Weir) and now major flooding at Breeza Station - Mooki River.
Moderate flooding has also occurred around Musslebrook (Hunter Valley) and at Mandoran (Castlereagh River) south west of Gunnedah. Major flooding is still occurring west of Forbes with moderate flooding still occurring at Forbes.
Another rain event is expected on Wednesday that has potential to worsen the flooding situation across the state. Forecasts are being made for 50 to 75 mm to fall across most of Eastern New South during the next 3 or 4 days and thus the flooding situation is likely to worsen especially for those catchments that are now saturated.
Related Terms: