As shown in the attached photos (Two photos) taken during recent storm events, heavy bursts of rain has been a feature across large areas of New South Wales and Queensland since Monday afternoon.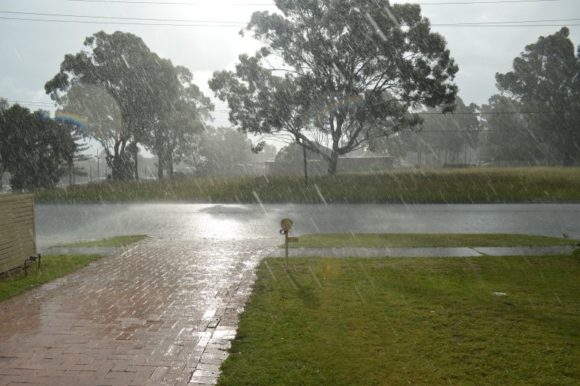 Such totals have resulted in flooding, significant property damage and even fatalities. Eastern New South Wales including Sydney and South East Queensland have been the hardest hit regions from this event.
Initially, forecast models suggested falls of up to 90 mm for the five day period however totals have far exceeded the initial forecasts and daily rainfall totals have even topped 400 mm at a few locations. Further daily totals greater than 100 mm have been common and even daily totals exceeding 200 mm have been widespread.
Some general commentary is provided for some of these events:
Following Monday evening storms across Western Sydney, further intense rain and storms impacted large areas of Sydney during Tuesday resulting in flooding in worst affected locations.
As shown in the rainfall plot of Sydney for the 24 hours to 9 am Wednesday morning, the heaviest falls were:
Marrickville Golf Club - 170 mm.
Randwick - 141 mm.
Bondi Alert - 138 mm.
Abbotsford (Blackwall Points Road) - 128 mm.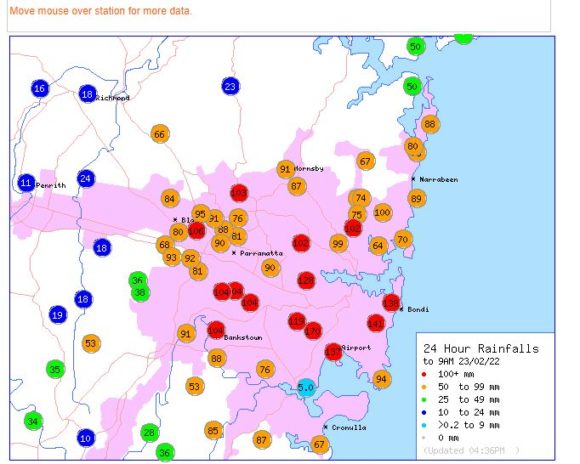 At least 10 other weather stations across the Cumberland Basin of Sydney received more than 100 mm. At Blacktown, falls ranged between 84 mm and 106 mm however falls drop sharply further west.
While I have a rain gauge set up in the rear yard, it is not an official one but does provide an idea of what fell being around 35 mm.
Falls dropped sharply further west to just 11 mm at Penrith.
This does not mean that Western Sydney has missed out as the area between Penrith and Blacktown has experienced at least 2 thunderstorm days, 4 thunderstorm events in recent times, all of which produced heavy rainfall events. The intense storms largely missed Sydney's eastern areas.
Another area that has experienced high rainfall for the same period is Wyong where up to 160 mm fell at one location.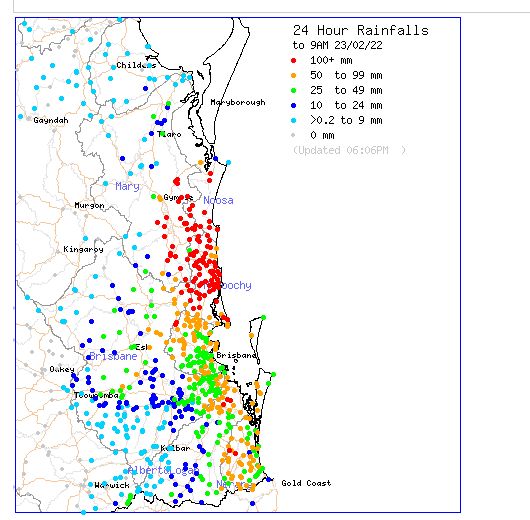 SE Queensland
An area around Noosa and Maroochydore recorded incredible falls with two weather stations recording over 400 mm for the 24 hours to 9 am Wednesday morning. Some incredible totals include:-
Mt Wolvi Alert - 435 mm.
Beenham Valley Road - 419 mm.
Pomona Alert - 361 mm.
Kin Kin Alert - 355 mm.
Cedar Pocket Dam Alert - 354 mm.
Dagun Pocket Alert - 235 mm.
Such totals and intense rain was concentrated into a very small area which has resulted in moderate to major flooding within the Gympie region. It is known that there has been a flood related fatality from this event.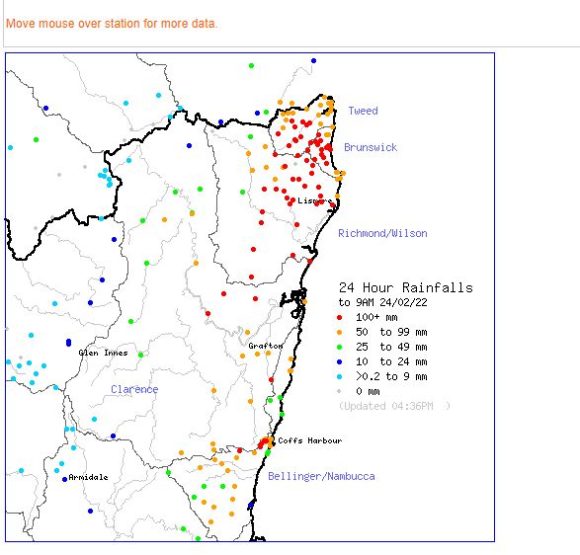 North East New South Wales
A separate event impacted an area between Coffs Harbour all the way to the Richmond Tweed area during Wednesday and into Thursday where numerous weather stations had recorded more than 100 mm of rain. Rainfall totals reached 240 mm at Alstonville (Near Lismore). The heaviest totals included:-
Alstonville - 240 mm.
Shannon Brook - 223 mm.
Whiporie - 209 mm.
Lismore - 153 mm.
Coffs Harbour - Up to 128 mm.
Across small areas of Sydney's east, significant rainfall totals occurred again with Little Bay receiving 85 mm and Rose Bay 65 mm.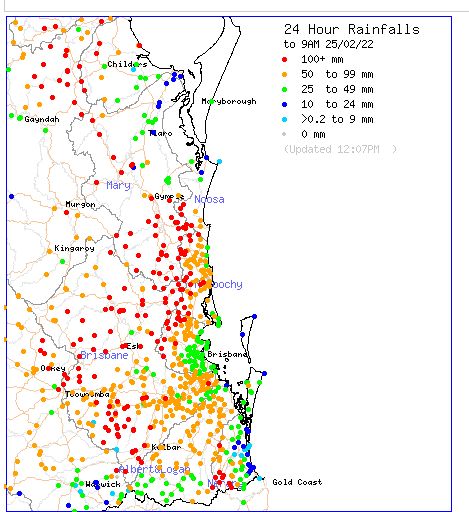 South East Queensland - Friday events
Major flooding is occurring due to a second burst of exceptional rain. The event until 9 am Friday morning appears more widespread and impacting a greater number of people and population centres. Generally, an area from Gladstone in the north all the way to Brisbane was impacted and again some totals reached 300 mm. The heaviest totals included:-
Hill Road Alert - 337 mm.
Paradise Dam Alert - 320 mm.
Mt Rawdon Alert - 284 mm.
Fred Haigh HW Alert - 253 mm.
As this is being written, another major rain event is causing disruption in areas west of Brisbane and a weather station at Gatton has recorded an impressive 190 mm in the 9.5 hours between 9 am and 6.30 pm Friday afternoon which is an average of 20 mm per hour. There is even a fall of 212 mm at nearby Gatton Alert. This is ongoing and likely to lead to major flooding in coming days for the local river system. Already several smaller rivers within this area are at major flood levels. Such flooding has the potential to impact Brisbane.
New South Wales
Bellingen Crystal Creek - 175 mm.
Gosford Up to - 138 mm.
This rain event is sustained with more to come. As a result, cumulative totals are soaring with some parts of the North Coast of New South Wales receiving greater than 300 mm for the week. Across eastern Sydney, cumulative totals have reached at least 150 mm for the week while across the Western Suburbs, cumulative falls of 100 to 150 mm have occurred.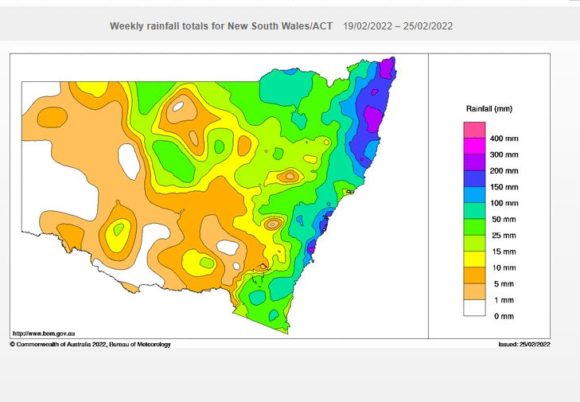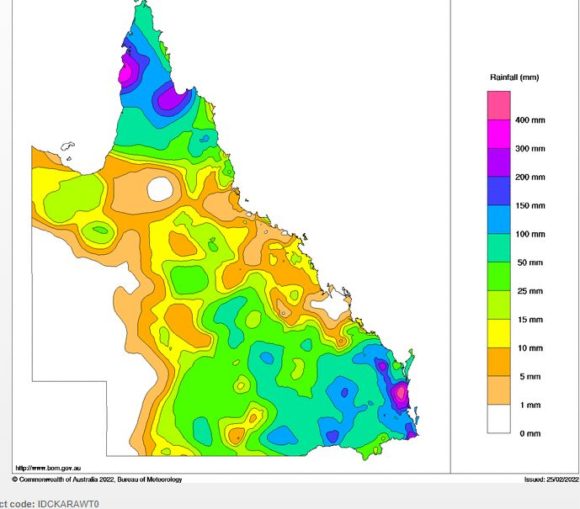 Across South Eastern Queensland, cumulative totals have topped 400 to 500 mm for a small area north of Brisbane mainly within the Maroochydore / Noosa region.
The rain depicted in the attached photos is heavy rain from a recent local thunderstorm but such scenes have been widespread since Monday with more to come.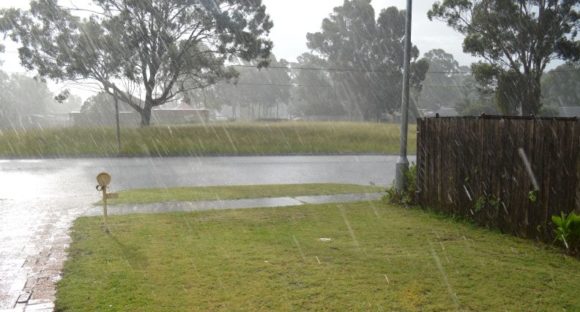 Related Terms: