The region stretching from Sydney northwards into Queensland has again seen another wet week. Thunderstorms, rain events and even flooding has been a feature especially for the New South Wales north coast and areas north of Coffs Harbour.
For the 24 hours to 9 am 25 February 2021, a significant rainfall event impacted a small area north of Coffs Harbour but south of Grafton. A number of weather stations within the region recorded between 100 mm and 200 mm of rain which resulted in flooding along the Orara River. The highest rainfall totals for the event included:-
Wooli Sportsground - 166 mm.
Corindi River (Pacific HWY) - 153 mm.
Woolgoolga WTP - 148 mm.
Glenreagh - 125 mm.
Minnie Water Pump Shed - 109 mm.
There was also an isolated fall of 165 mm at Baryulgil.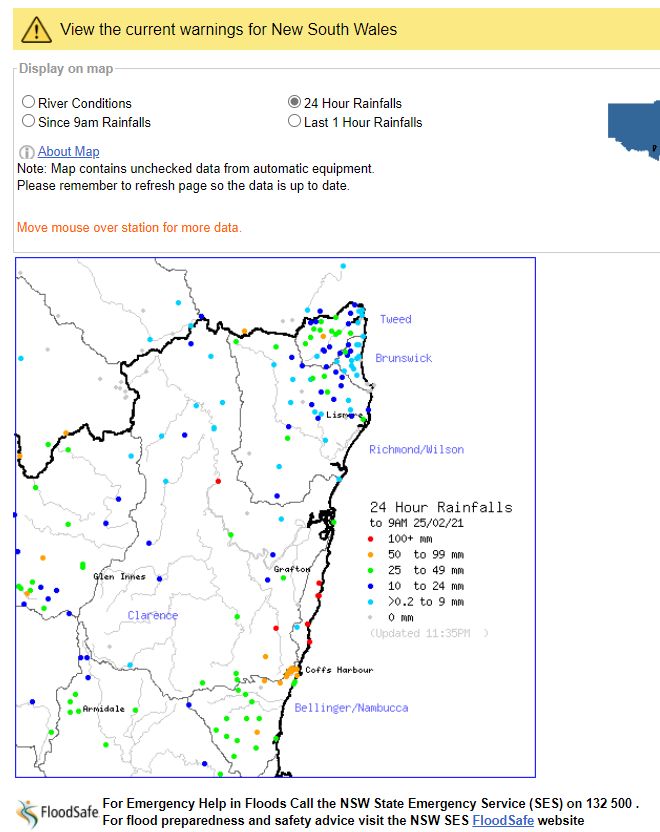 The flooding damaged homes and the major north to south rail link which included the derailment of part of a freight train traversing through the impacted area.
The Orara River at Glenreagh experienced moderate to major flooding During Thursday with a flood peak in excess of 11 metres.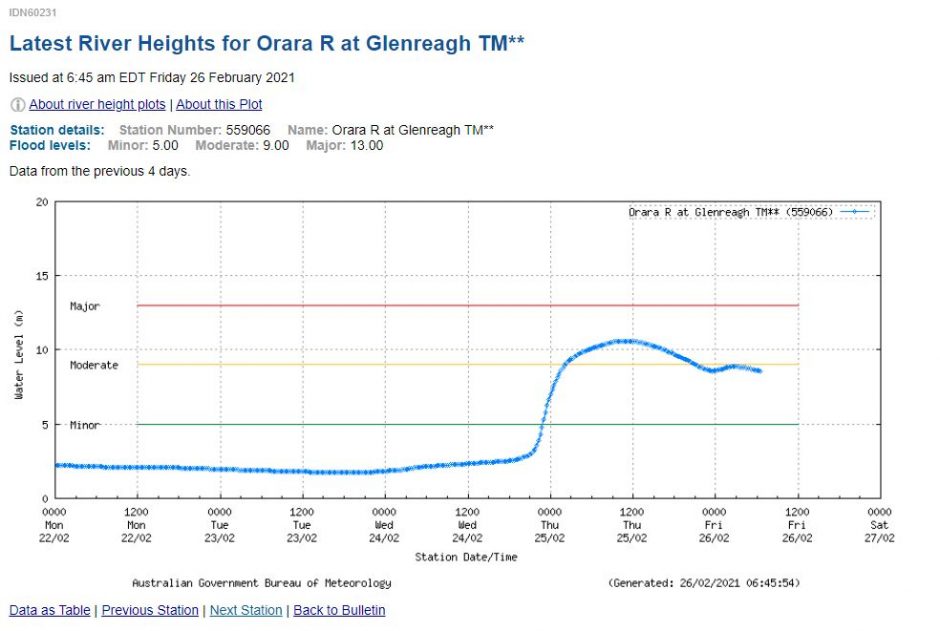 Late morning on Thursday 25/2/2021, a thunderstorm brought moderate rain to parts of Sydney with the heaviest rainfalls occurring around Parramatta and Auburn areas.
Thunderstorms also impacted the Tamworth region on the 24/2/2021 with one particular storm producing wind gusts of 80 km/h at the airport between 4.34 pm and 4.42 pm (24/2/2021).
The satellite images have consistently shown large cloud masses which has resulted in regular back up rain. During Saturday, another cloud mass is impacting eastern New South Wales which has brought 33 mm of rain to Armidale (Northern Tablelands) between 9 am and 1 pm plus 14.6 mm for the 24 hours to 9 am 27/2/2021 at the same location.
The same cloud mass brought 81 mm of rain to Caroda (North of Mt Kaputar - New South Wales) for the 24 hours to 9 am 27/2/2021.
As shown on the weekly rainfall total plot for the week ending the 26 February 2021, parts of the New South Wales North Coast has received between 200 and 300 mm of rain over the past 7 days.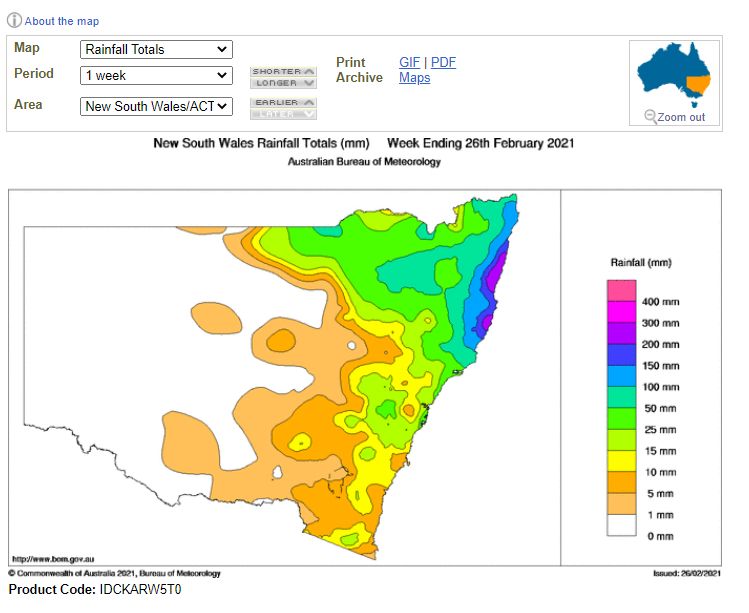 The La Nina event has brought constant cloud cover and regular rain events especially across Eastern New South Wales during January and February. In addition, there has been a lack of hot days and it has only reached 30C on no more than 3 days here at Blacktown during February 2021.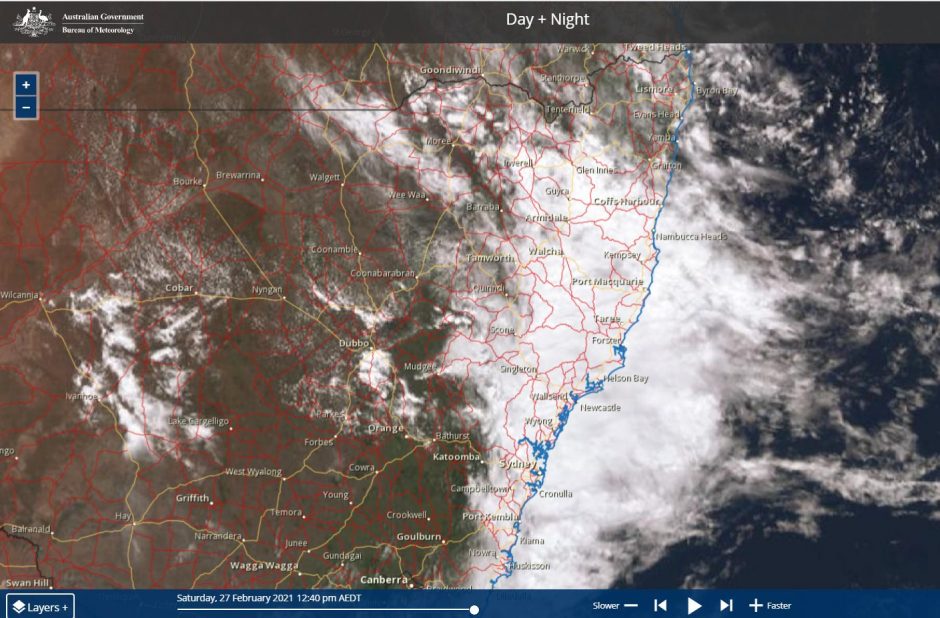 At Blacktown in Western Sydney, rainfall has been recorded on at least 15 days of the past 27 days. Cumulative totals have varied between 97 mm and 147 mm spread evenly across the month. Other than a significant fall of between 34 and 50 mm on the 2/2/2021, this rain has generally been light to moderate in intensity.
Further rainfall is expected over coming days especially across north east New South Wales and it is known that a significant event is now possible along the north Queensland coast in coming days. The CIMSS has a potential storm under investigation for possible development into a tropical cyclone and future rainfall models are suggesting falls of between 200 mm and 400 mm within a coastal area stretching north from Mackay to Cairns. As such, the current wet episode impacting Eastern New South Wales and Queensland will continue and it is likely that more significant events are possible in coming days and weeks.
Related Terms: