There have been two major rain events that have impacted many regions of New South Wales and Victoria that missed the rains of November and December 2020. The events have been significant as they have affected regions that usually do not receive significant summer rainfall.
Much of inland Victoria has a Mediterranean climate described as "Mild but moist winters with dry warm and sunny summers". Typically, within such climate zones, there is little rainfall for four to six months of the year (Usually summer) and most plant growth occurs in spring following the winter rains (Weather - P156). This event has impacted such areas delivering rare but significant summer rainfall.
There has also been another rain event across the inland south west areas of New South Wales centered within an area south of Dubbo to approximately Wagga Wagga including small rural centres of Condobolin and Junee.
Rain event Number one (SW New South Wales)
This event impacted the rural area of the southern central west slopes and plains and northern south west slopes and Riverina areas of New South Wales. Up until 9 am 29/1/2021, the highest rainfall totals include:-
Condobolin - 127 mm.
Condobolin - AWS 98 mm.
Murrumburrah - 87 mm.
Junee - 71 mm.
Wagga Wagga - 37 mm.
This event was confined to these regions.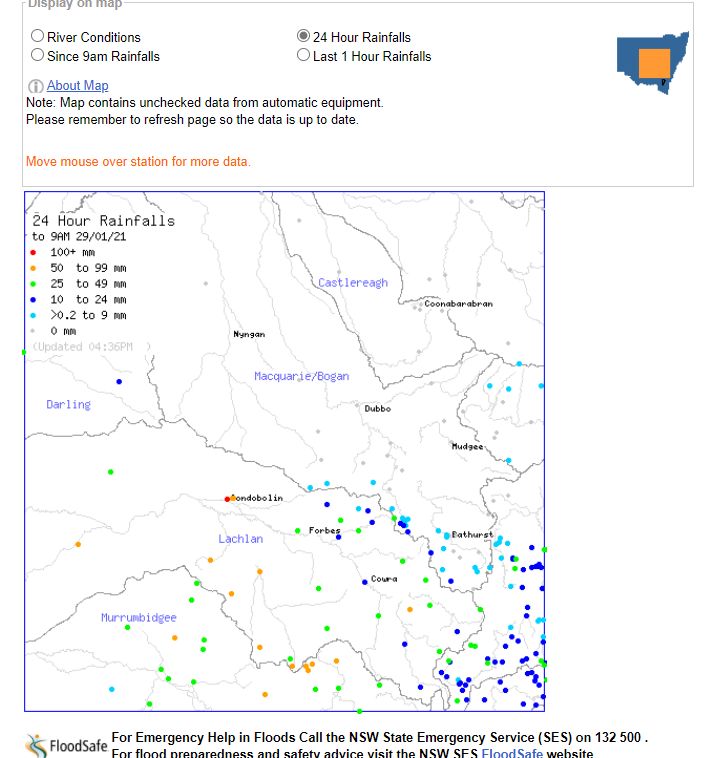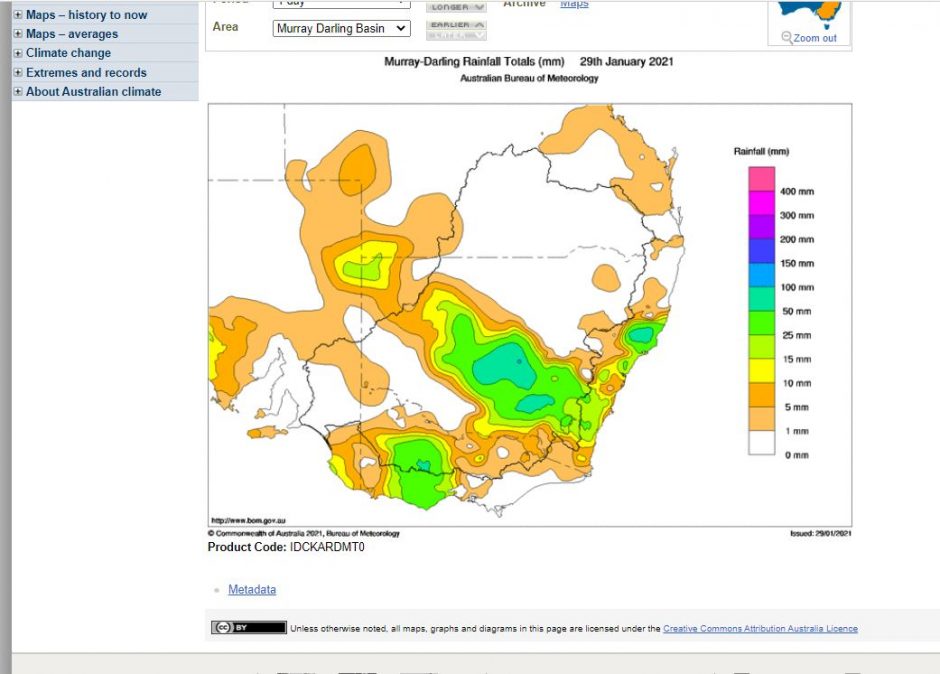 Rain event Number Two (Victoria and southern New South Wales)
This event was more broader across a significant region of Victoria and the southern border regions of New South Wales. Up until 9 am 30/1/2021, the highest rainfall totals include:-
Moroko Park - 144 mm (The highest total).
Charnwood - 135 mm.
Mt Buffalo Chalet - 134 mm.
Barkley Camp (South of Tallangatta in NE Victoria) - 115 mm.
Handcocks - 111 mm.
Falls Creek - 108 mm.
Hunters Hill - 104 mm (Located at an elevation of 981 metres).
Strathbogie - 95 mm.
Harris Lane - 78 mm.
Hume Dam Wall - 74 mm.
Other strong falls include 64.2 mm at Albury Airport and 56 mm at Rutherglen.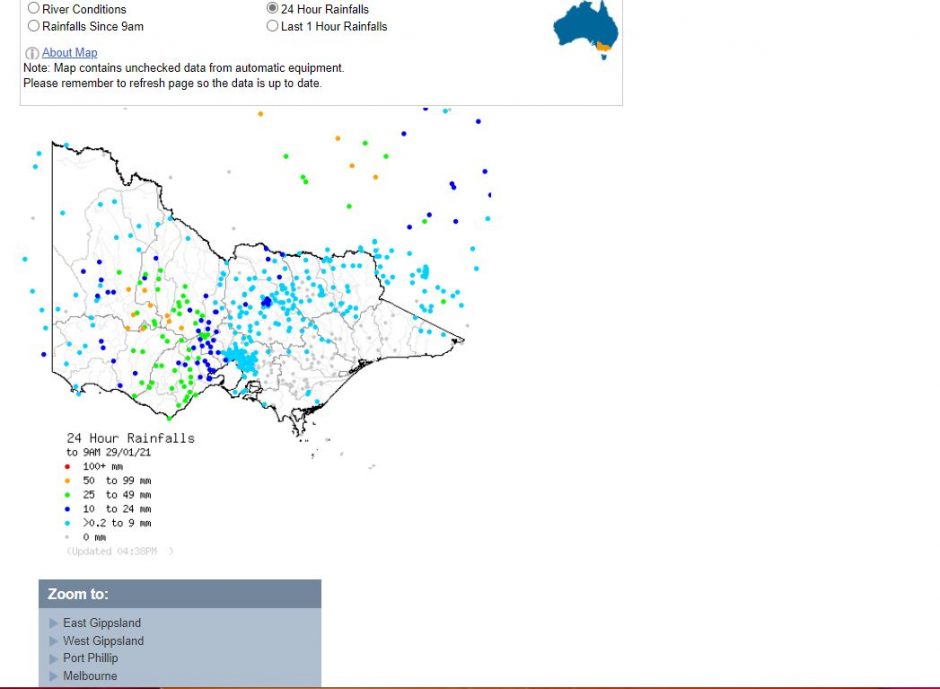 Most areas stretching from north east Melbourne across North East Victoria received between 50 and 100 mm being the catchments of major rivers with isolated areas receiving over 100 mm.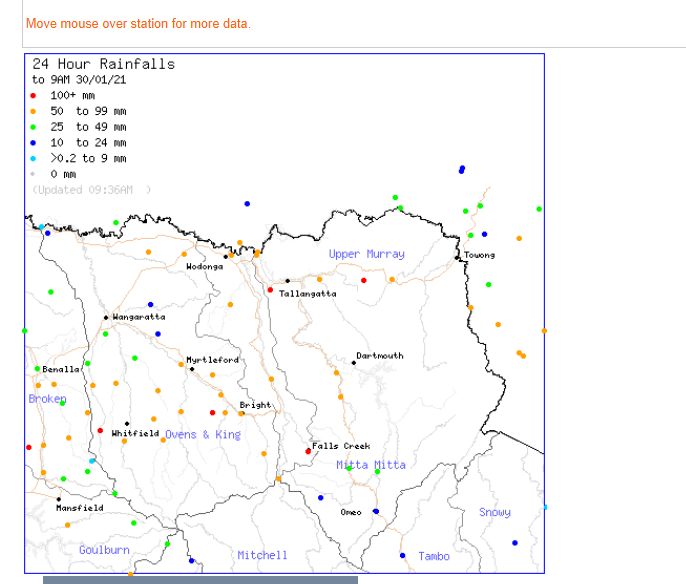 Despite this event, there are no rivers in flood because it has been dry within the regions although localized flooding has occurred in some locations.
Even Melbourne which is usually dry at this time of year received between 30 and 60 mm although the higher totals occurred across the north east regions of the city.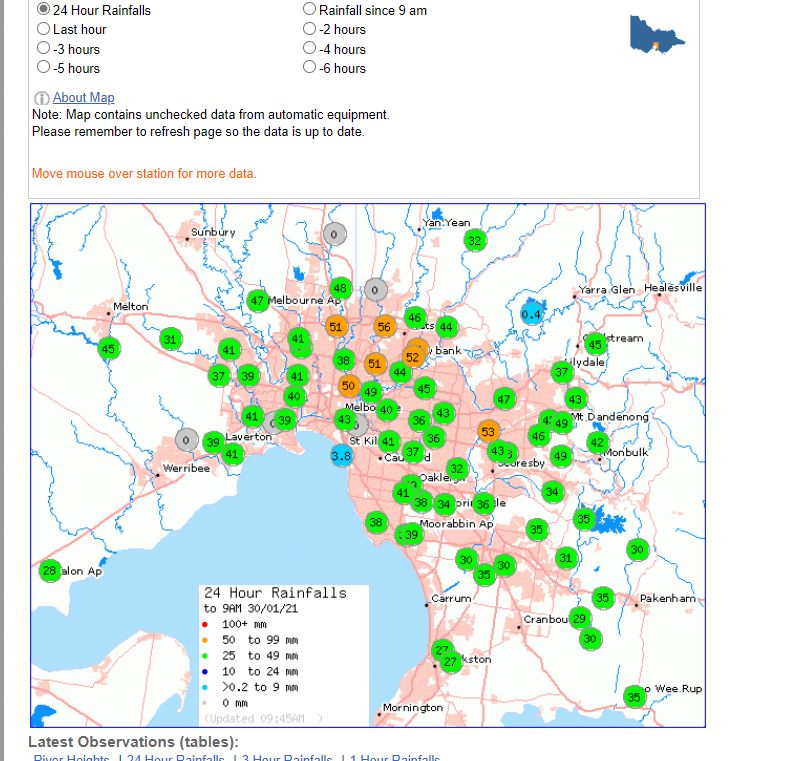 Places such as Ballarat and Bendigo received 58 mm and 65 mm (Combined totals) respectively and such falls do not occur often.
The attached plots from the "Water and the Land" are showing the rainfall events and totals including a satellite image of the cloud mass that contributed to the rain (Taken from Himawari 29/1/2021).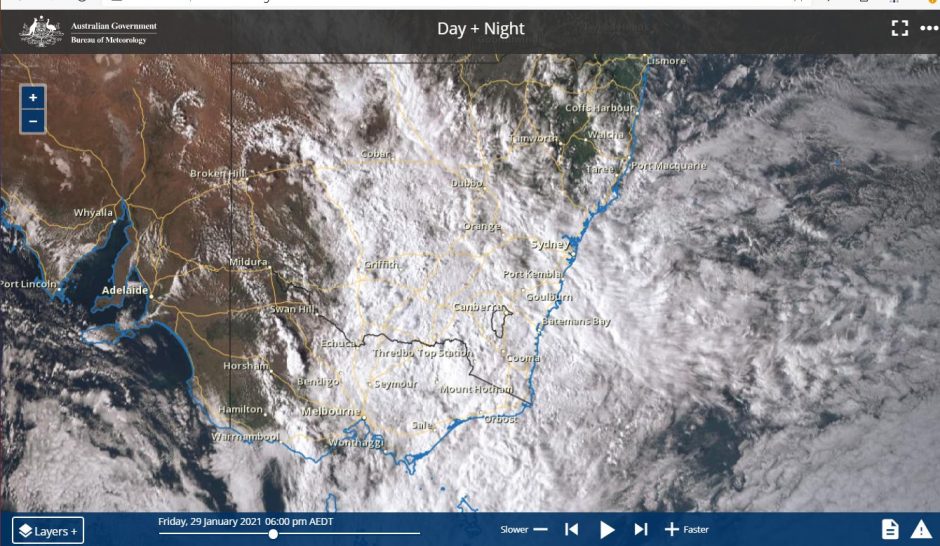 As an addendum, some of the heavier rain has extended to the New South Wales coast during the same period with some areas near Wollongong and Kiama receiving in excess of 50 mm to 9 am 30/1/2021 including Yellow Rock Road - 64 mm, Foxground - 61 mm and Mt Pleasant - 56 mm.
Credits
1 - Weather, Richard Whitaker 1997 (P158)).
2 - Bureau of Meteorology "Water and the Land" and satellite photo 29/1/2021 and 30/1/2021.
Related Terms: