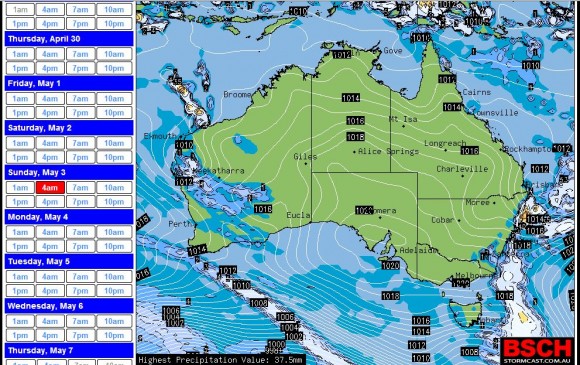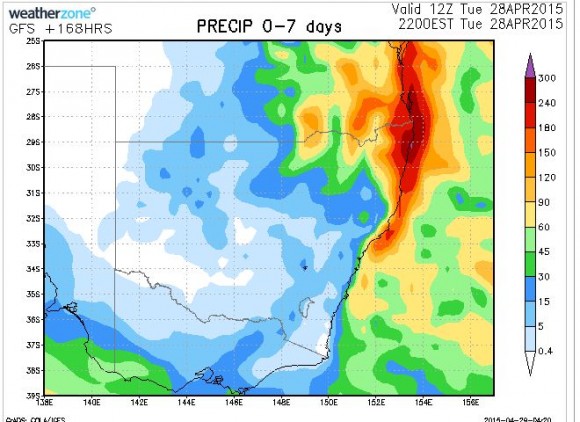 Weather models appear to identify another east coast low forming from Friday 1 May and dissipating by Sunday 3 May 2015. Again, models vary as to its exact location however it appears at this stage that South East Queensland and North East New South Wales (coastal regions) will be most affected.
It seems that coastal showers will increase in frequency and intensity during Friday with a low forming during the early part of the weekend before weakening during Sunday.
Rainfall models suggest falls in excess of 200 mm and maybe 250 mm in some locations. Usually during these events, cloud and moisture coming off the coast is lifted by the coastal ranges of the Great Dividing Range with the heaviest falls occurring within the valleys. Places like the Bellinger Valley inland from Coffs Harbour often has heavy rain events due to orographic influences from such events. It is not uncommon to see small coastal rivers flood during these events.
Weather forecasts suggest some rain spreading south into the Hunter Valley and even Sydney from this event however falls are not expected to be as heavy as the previous system. In some areas, further rain may hamper clean up efforts from the last storm that has now cost some $200 million but some good news, the event is expected to be shorter lived and not as intense.
It is still a system that should be watched especially for the New South Wales North coast and South East Queensland should this event unfold.
Related Terms: