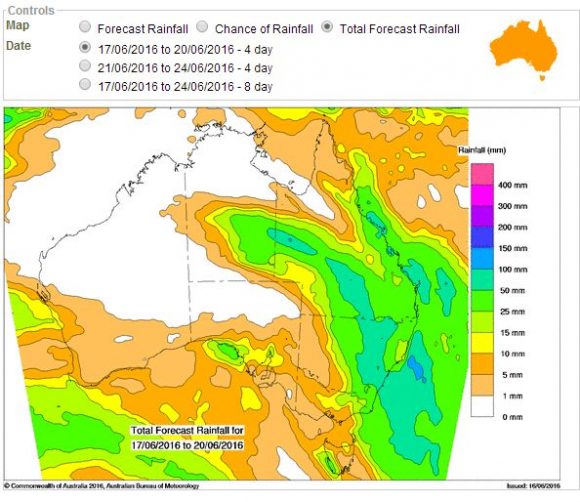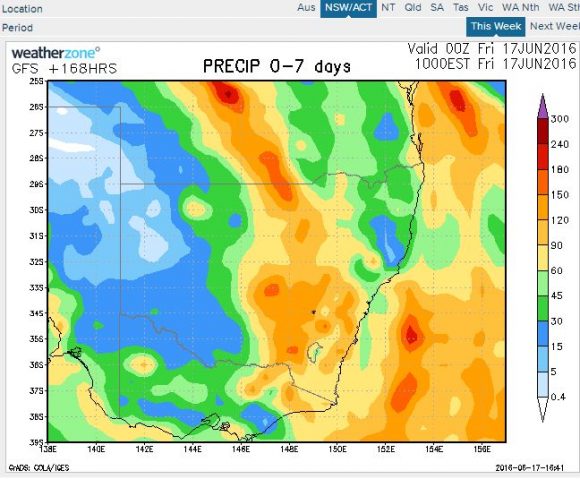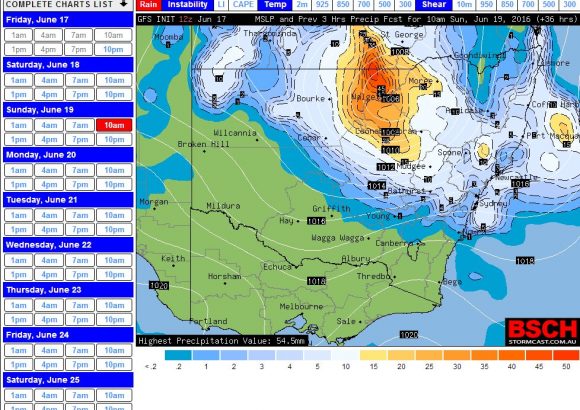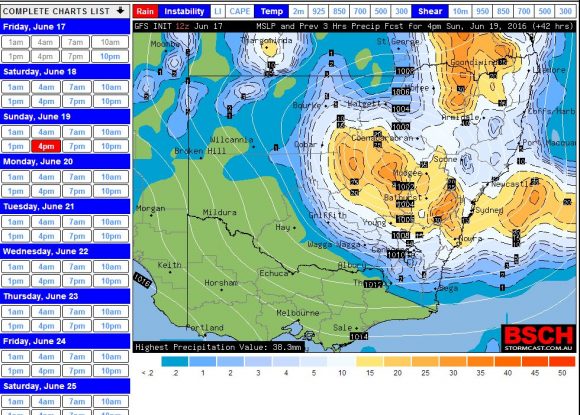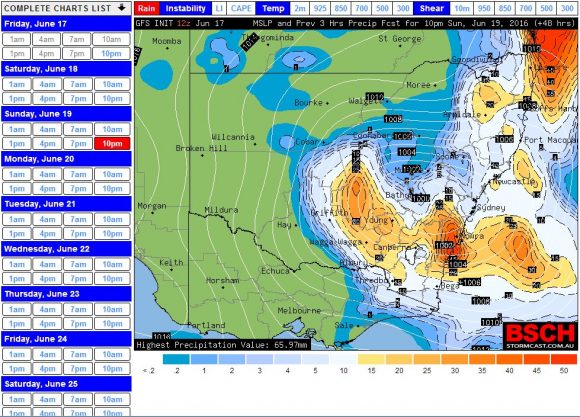 Barely 2 weeks after a major weather event impacted much of Australia's east coast that brought flooding, 5 fatalities and a damage bill that appears to have topped $238 million to date, another event is expected to unfold across the same regions during Sunday and into Monday.
However this event is not expected to be as severe as the first one. A low pressure cell is expected to develop across inland Queensland and track south east and cross the coast to form another east coast low. The low may cross the coast south of Sydney during Sunday.
A large mass of rain bearing cloud has developed across inland Queensland around and to the west and south of Mt Isa which should track south east with the developing system.
Extensive rainfall is expected across much of eastern and northern New South Wales but not to the same intensity of what occurred on the 5 and 6 June.
It is becoming clear that the western and south western areas of New South Wales should miss the event altogether.
The Water and the Land model from the Bureau of Meteorology is suggesting a substantial region of New South Wales and Queensland to receive at least 25 to 50 mm with higher falls of 50 to 100 mm across some regions.
The rainfall model from Weatherzone identifies a large region of New South Wales to receive at least 60 to 90 mm from the event which extends into North East and Eastern Victoria. The same model would suggest falls of up to 120 mm to 150 mm for limited regions of inland Queensland.
Models from BSCH indicate some heavy rain moving south east through New South Wales during Sunday to reach Sydney during Sunday afternoon and the South Coast into the latter part of the afternoon and evening.
There are weather warnings in place for minor to moderate flooding in several river systems including Tweed Valley, Richmond and Wilson River valleys, Bellinger, Nepean and Hawkesbury, Gwyder and Castlereagh Rivers.
There are also gale warnings for the Byron coast, Coffs Harbour, Macquarie Coast and Hunter Coast with strong wind warnings for coastal areas further south such as Sydney and the Illawarra.
There are also flood watches for certain rivers in North East Victoria being the Upper Murray, Mitta Mitta, Kiewa, Ovens and King Rivers but this would depend on the position of the low and how much rainfall occurs.
Flood watches also exist for certain rivers across East Gippsland such as the Cann, Mitchell, Tambo, and Snowy Rivers.
In Queensland, flood watches are in place for areas where rainfall figures are forecast to reach 50 to 80 mm such as the Georgina, Diamantina, Coopers Creek and Paroo River.
The weather system is expected to move relatively quickly through south east Australia.
Overnight 18/6/2016, some areas of inland New South Wales received some useful rainfall totals unrelated to the event described above. Orange received up to 36 mm and areas around Dubbo to Orange had falls of 25 to 37 mm being the highest falls across New South Wales to 9 am 18/6/2016.
Related Terms: