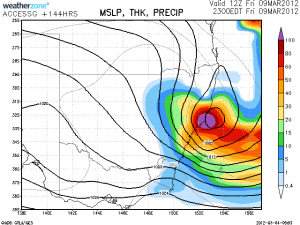 The Bureau LAPS model has another rain event possible beginning about the 9th March for the central coast of NSW. Although a reasonable time frame out, it is anticipated that a low developed off the NSW central coast and this could bring heavy rains once again.
If it does come off I think you may see moderate to major flooding given the Warragamba Dam is at full capacity and spilling over. I can safely say now that the drought including the water supply situation for Sydney and surrounds is over and will be until the next drought.
We shall wait and see what happens.
Regards,
Jimmy Deguara
Related Terms: