This is a continuation of the same weather event capturing the storm activity for the weekend 6 to 8 November 2021.
Friday evening, the remote township of Nullabor in Western South Australia experienced an exceptionally rare thunderstorm being an event that is more likely to occur across the eastern parts of the country.
A thunderstorm produced wind gusts to 98 km/h between 7.10 pm and 7.18 pm and 31.4 mm of rain. When reviewing the weather station, 9.8 mm of rain had fallen to 7.18 pm but 2 minutes later 13.6 mm of rain had fallen. That is 3.8 mm in 2 minutes and by 7.30 pm, 26.4 mm had fallen. For that 10 minute period, 12.8 mm fell or more than 1 mm per minute. This is a semi arid to arid region making this event highly unusual for such a location.
At Renmark Airport in eastern South Australia, a thunderstorm produced damaging wind gusts to 104 km/h at 4.03 pm and again at 4.06 pm. The storm produced 14.6 mm of rain including 4.4 mm in 2 minutes between 4.01 pm and 4.03 pm.
Another thunderstorm impacted Port Augusta in South Australia producing 23.8 mm of rain.
An intense thunderstorm struck the Albury / Wodonga region late Saturday with significant lightning activity producing 11 mm of rain at Albury Airport including 7.8 mm in 6 minutes between 5.36 pm and 5.43 pm. Other weather stations in this area recorded 17 mm to 20 mm from that storm.
It is also known that a hail event occurred at Nagambie in Victoria where it is suggested that hail reached 3 to 4 cm in size.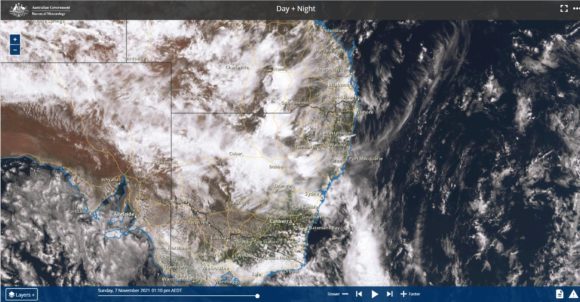 During early Sunday afternoon, a non severe thunderstorm passed over Western Sydney producing a period of moderate rainfall but no wind or hail. While there was much thunder including one close cloud to ground lightning strike, it was difficult to get any meaningful photograph of it because the storm lacked any significant or worthwhile structure.
Another thundery shower passed over Western Sydney during the evening but the amount of thunder soon decreased. This was more of a rain event rather than a thunderstorm event.
Overnight rain and storm activity across eastern New South Wales produced some very significant totals including 131 mm of rain at Ruvigne and 99 mm at nearby Gunnedah on the north west slopes and plains. Other strong totals for the 24 hours to 9 am 8/11/2021 include:-
Dur - 83 mm.
Bendemeer - 74 mm.
Tamworth - 69 mm.
All within the north west slopes and plains of New South Wales.
Around Sydney, Penrith scored 42 mm while Kurrajong scored 52 mm.
Cumulative rainfall totals are now becoming significant in certain areas especially for the western Northern Tablelands regions, north west New South Wales and to areas south and west of Sydney where 50 to 100 mm has fallen since the event started. Many of the storms that have occurred have been hit and miss and thus some areas are still missing out as shown.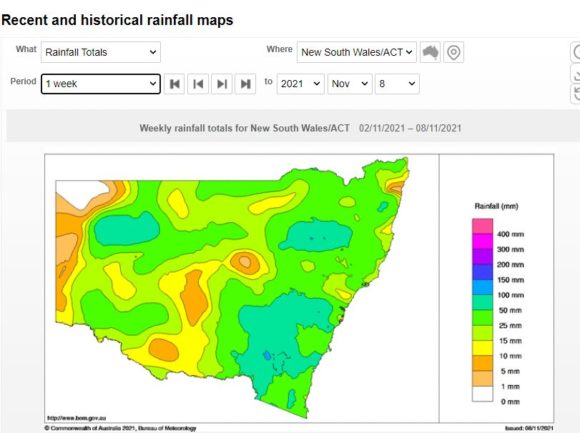 Another rain event is expected during Wednesday to Friday which is expected to boost rainfall totals further although given that some areas are already wet or saturated, the likelihood of inland riverine flooding has increased significantly.
Addendum
As an addendum to this, late Monday, a strong thunderstorm has passed over Penrith producing wind gusts to 95 km/h at the Penrith Lakes Weather Station between 3.24 pm and 3.30 pm and 23 mm of rain at Richmond RAAF. This storm moved north east and did not affect any other part of Sydney. I was unable to chase due to work commitments, but thunder was audible from the cell at Doonside.
The Bureau of Meteorology did issue a specified severe thunderstorm warning for the storm for damaging wind, potential large hail and heavy rain.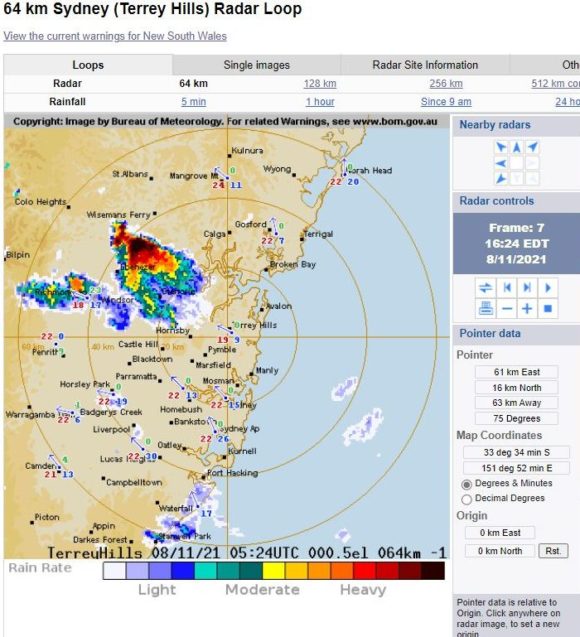 Related Terms: