A dynamic weather system has settled in over southern Australia producing a significant rain event for Southern and Central Victoria. It is rare to see such events moving across Victoria and it is even rarer to see some of the heavier totals occurring throughout Melbourne City.
Wednesday 3 November 2021
During Wednesday, an intense rainband with embeded thunderstorms moved across Central Victoria which impacted Melbourne City. Some of the heaviest falls that occurred for the 24 hours to 9 am 4/11/2021 were:-
St Arnold - 87 mm.
Melbourne's north and east - 24 to 55 mm.
Inglewood - 52 mm.
Melbourne City scored 45 to 46 mm with a weather station at Yarra River Chandler Hwy NE of the CBD recording 55 mm which is the second highest total in the state for the day.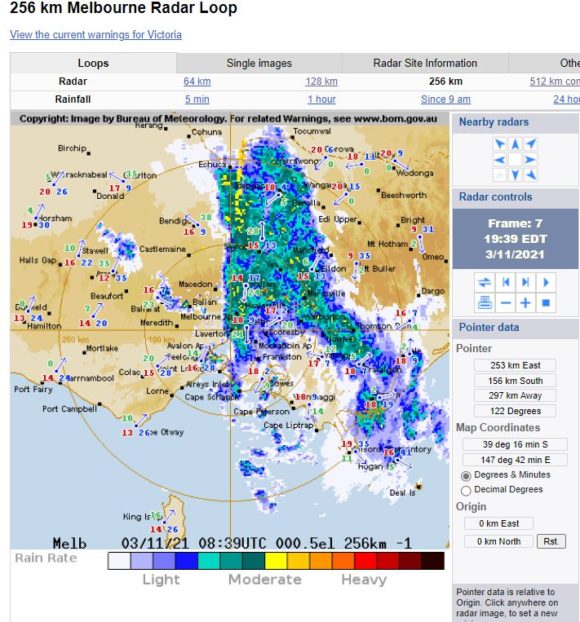 Other strong totals included Navarre 48 mm, Stoney Creek 40 mm and Bendigo 38 mm.
In addition to this, thunderstorms again featured in some areas including:-
Charlton - Recording 22 mm including 14 mm of rainfall between 1.30 pm and 2 pm.
Hopetoun - Recording 16.6 mm between 1.30 pm and 2.30 pm.
Walpeup - Recording 10.2 mm between 12.30 pm and 12.37 pm and another 11.6 mm from 12.37 pm and 12.43 pm (Almost 2 mm per minute) (Total 27.4 mm from the same storm).
While rainfall totals have generally been in line with the models for many areas, the north east received much lighter totals and well below model forecasts such as 7 mm at Wangaratta and 15.4 mm at Albury Airport weather station.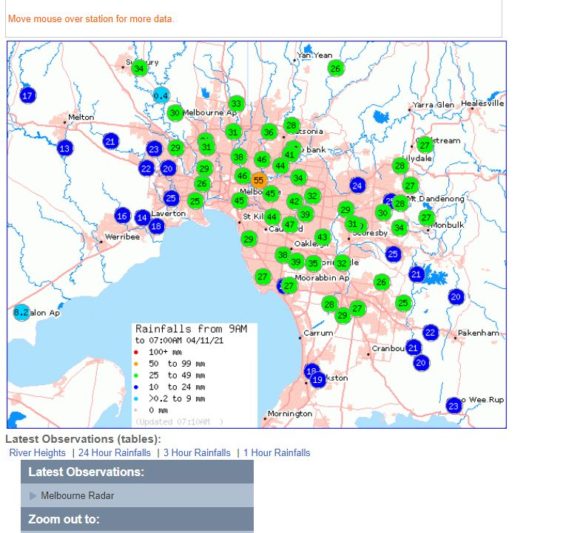 In New South Wales some strong totals of up to 49 mm occurred at Mt Jack, 45 mm at White Cliffs and 44 mm at White Cliffs (Laurel Vale), all along the Paroo River in the North West of the state. An isolated fall of 31 mm also fell at Pooncarie in the south west of the state.
A small area centred on the western side of the Australian Capital Territory received between 25 and 41 mm and a fall of 43 mm fell at Batlow.
It is rare to see the heavier totals occurring in north west New South Wales.
Thursday 4 November 2021
Light to moderate rain passed over eastern New South Wales that reached Sydney. Rainfall totals were slightly heavier than expected across Western Sydney with falls reaching 43 mm at Horsley Park. The heaviest totals were:-
Stone Quarry - 88 mm
ACT PC SI - 62 mm.
Parkers Gap (East of Queanbeyan) - 61 mm.
Captain Flat - 51 mm
Nimmitable - 50 mm.
Some of the figures are heavier than expected given that the cloud mass stalled over Eastern New South Wales.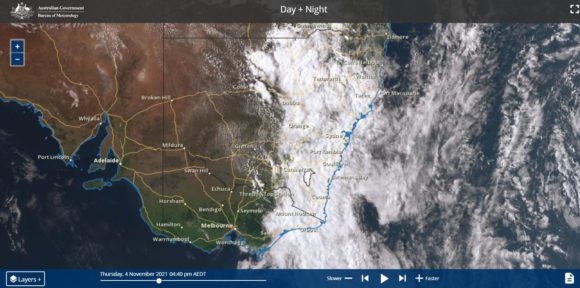 For western Sydney, rainfall was steady but heavier across the south western Suburbs.
After 9 am, rainfall eased considerably.
This event is coming ahead of the next burst of showers and storms expected across Saturday and Sunday over southern areas.
Related Terms: