A complex of storms redeveloped throughout Friday across inland New South Wales which then travelled east. The system reached the Sydney basin after 10 pm Friday night.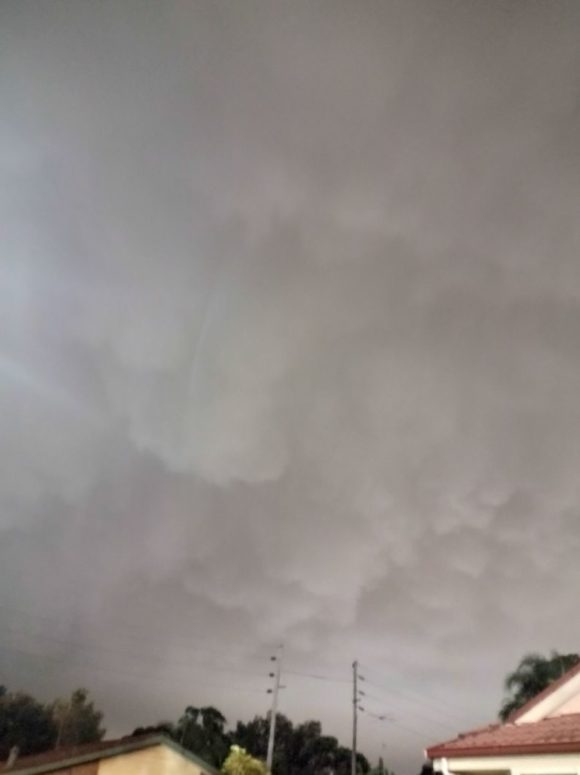 For the 24 hours to 9 am Saturday morning, some significant rainfall figures from the storm events include:-
Goulburn Water Plan (Near Goulburn) - 93 mm.
Walgett - 77.2 mm.
Prossers Crossing (NE of the town of Young) - 72 mm.
Coonabarabran - 66 mm.
Goulburn - 61.4 mm.
The storm system reached Sydney after 10 pm producing as much as 35 mm around Blacktown area. This most likely occurred because a small separate cell developed ahead of the main system producing a torrential shower and possible hail. While standing outside, I was hit on the head by either a very cold raindrop or hailstone which stung the back of my head.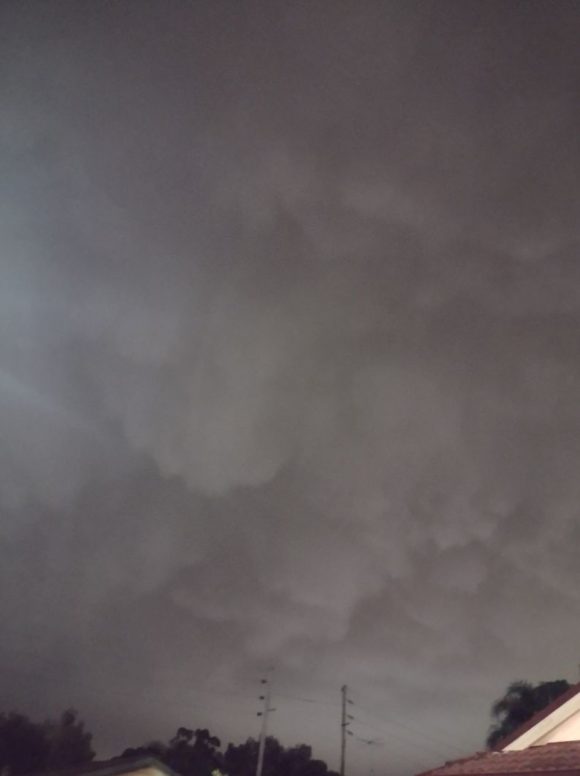 I have managed to take photos of the storm base with the lights of Blacktown reflecting off its features as it passed over. Had it been daylight, this would have been an interesting base and its features clearly visible and resulting in a greater number of photos.
The images provide some idea of its base as it passed over. It is evident that it was a low base feature.
Initially, there was no lightning visible as the lightning active core was further back within the rain core. After approximately 10 minutes and only after the rain core started passing over, the lightning region of the storm became more visible. A majority of its lightning was sheet and only 1 cloud to ground strike being observed. As such, this did not provide opportunities to take lightning images.
The storm had mostly passed over by 1.30 am Saturday morning.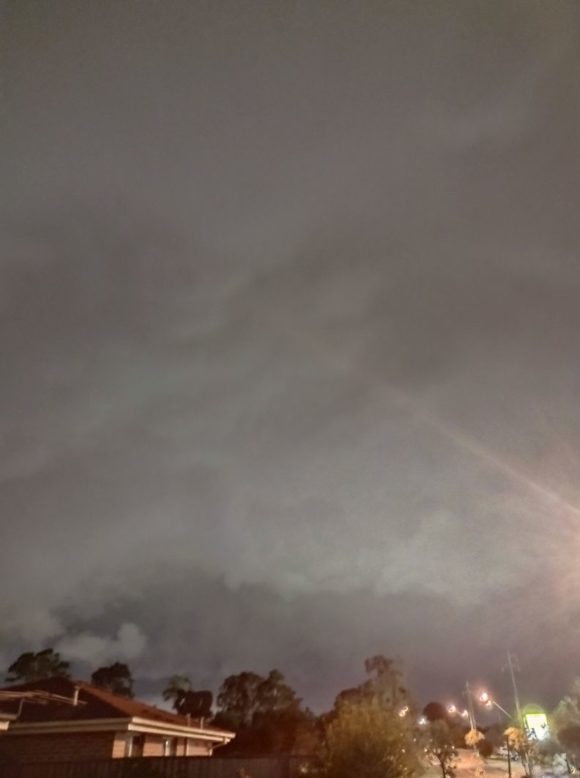 I attach the radar images of the storm as it approached Sydney including one image showing the new storm cell that formed just to the west of Blacktown City Centre and ahead of the main system. This is clearly visible in the 64 km radar image and it was this cell that may have brought brief but small hail to my local area at Doonside.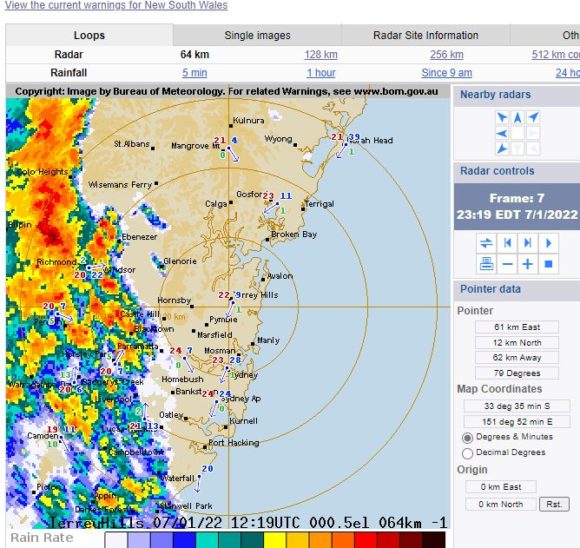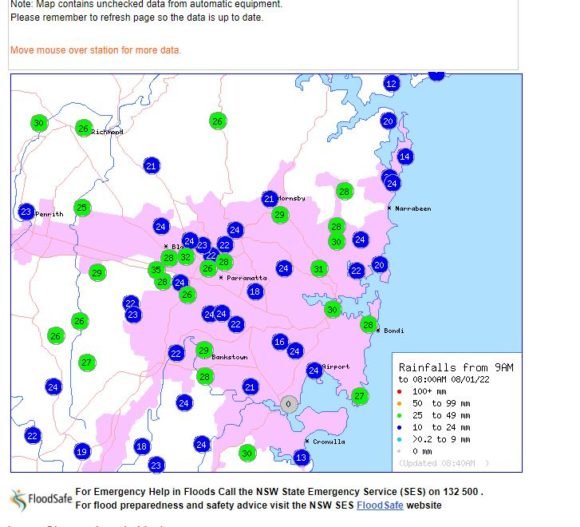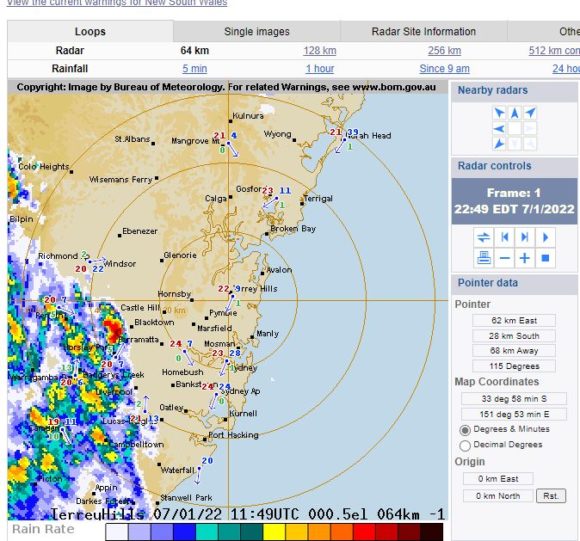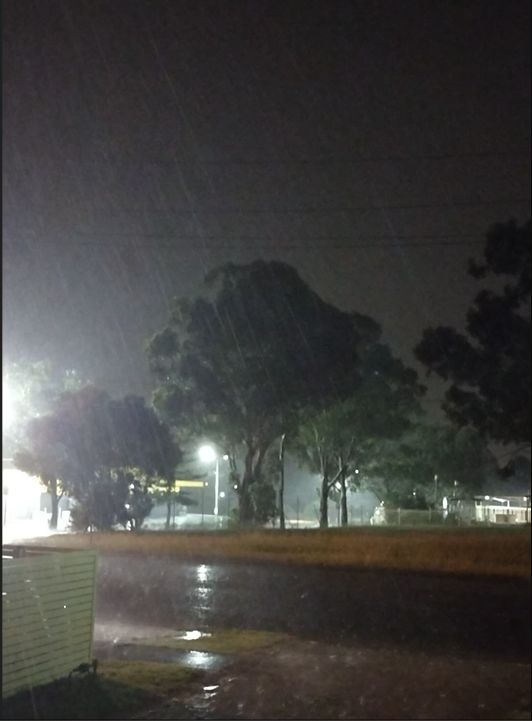 Related Terms: