Much of inland SE Australia has experienced a second day of significant rainfall, heavy showers and storm events. It is known that significant storm events have impacted the following towns or regions:-
Dubbo.
Griffith.
Gundagai.
Muttama.
Narrandera.
Snowy Mountains including areas west of Canberra.
Yass.
Young.
The list is too extensive. However, some of the more significant events include the storm that impacted Griffith on Thursday afternoon.
Griffith (Riverina) of NSW
The town of Griffith is not usually known for experiencing intense storms however, one particular storm event passed over the town at around 3.30 pm that brought peak wind gusts of 111 km/h and rainfall intensities of as much as 2.5 mm per minute. The storm brought 42.8 mm of rainfall here with a 24 hour total of 55 mm to 9 am 7/1/2021. Images have also surfaced of reasonable sized hail falling.
Other places to experience intense storms and rain include:-
Portable - 135 mm.
Muttama - 119 mm.
Jindalee - 102 mm.
Gundagai region - 74 to 99 mm with 99 mm falling at Adjungbilly (With hail falling within nearby areas).
Cootamundra - 97 mm.
Burrinjuck Dam - 96 mm (SW of Yass).
Berthong - 77 mm (Near Gundagai).
Young - 73.8 mm.
Murrumburrah - 73 mm.
Narranderra - 63.8 mm including 29 mm in 34 minutes between 4.26 pm and 5 pm.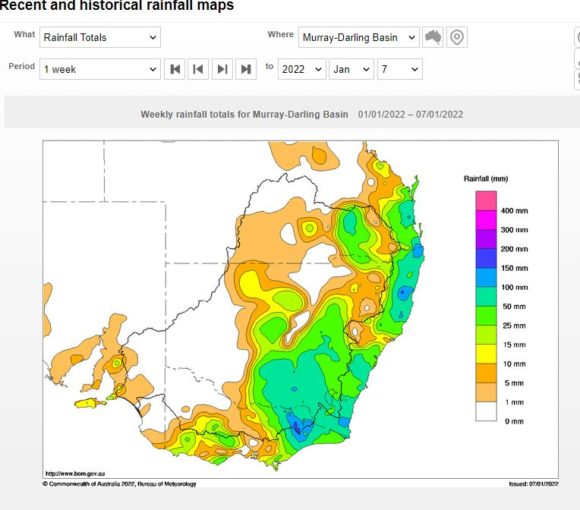 During Thursday, a narrow north to south band of rain and storms impacted much of inland New South Wales including the Albury region that brought falls of greater than 30 mm to large areas. The system then travelled slowly east throughout the day and reached the South Coast overnight or early Friday morning.
Interestingly, the system has missed Sydney at the time of writing. Given its behaviour and training over areas for hours, rainfall totals have been significant in regions that usually do not receive such high rainfall totals at any time of the year.
Cumulative totals for the 2 or 3 day event have topped 100 mm or more across many inland areas including portions of North East Victoria. By Friday evening, the system appears to have cleared north east Victoria and much of Western New South Wales.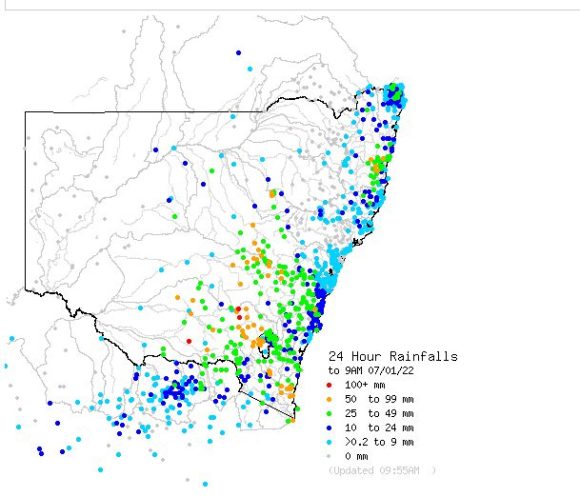 Related Terms: