During the morning of Wednesday 5 January 2021, a weather system intensified over Southern New South Wales resulting in a narrow band of showers / rain and storms which trained over the same areas for hours.
Initially this resulted in moderate falls of 20 to 25 mm falling around Rutherglen, Wangaratta and Yarrawonga. The training effect was sustained for many hours but for the most part, the system was barely 100 km in width.
However, as evening progressed the same system intensified and developed further and impacted areas further east. The system developed further to stretch from Wagga Wagga in the north to Gippsland in South East Victoria.
Given its duration and number of storm cells, it became evident that accumulative rainfall totals would be significant and even exceed initial weather forecasts.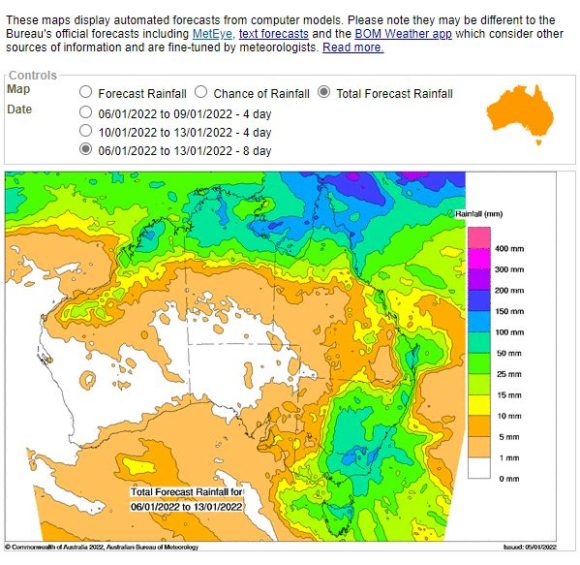 As a result, rainfall totals have topped 125 mm across the mountainous areas of North East Victoria with the heaviest totals being 125 mm at Victoria River (South of Mt Hotham), 114 mm at Omeo and 108.2 mm at Mt Hotham.
Other intense falls occurred at Albury Airport where 69.6 mm fell with much of that falling from a single storm cell between midnight and 1 am. At nearby Hume Weir Dam wall, 67 mm fell. Even in Gippsland, totals have topped 66 mm at Bairnsdale.
Higher totals of 83 mm fell at Portable and 74 mm fell at Kapooka south west of Wagga Wagga.
Separate to this system, a number of storm cells impacted Temora in the Riverina resulting in 95.2 mm falling.
Such totals are unusual for the area given the climate that prevails.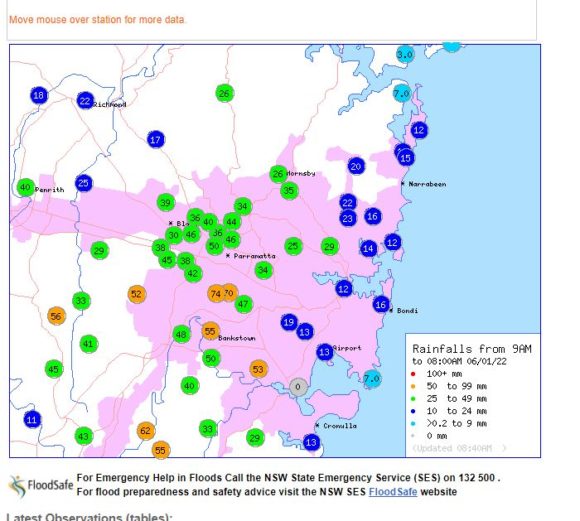 While this active system was occurring, a separate cluster of thunderstorms impacted the Ballarat region of South West Victoria where it is known that damage has occurred. Totals have topped 100 mm at two locations being Doctors Creek - 104 mm and Wilsons Reservoir - 102 mm. Both localities are to the north east and north west of Ballarat.
Overnight, intense showers and sometimes rain impacted areas closer to Sydney where for the 24 hours to 9 am Thursday 6 January 2021, the following totals were recorded:-
Macquarie Pass - 110 mm.
Robertson - 100 mm.
Hills and escarpment just West of Wollongong - 60 to 87 mm.
Nowra - 54.6 mm.
Sydney
Woodville Golf Course - 74 mm and nearby Lidcombe - 70 mm.
Bankstown - 55 mm.
Penrith - 40 mm.
The higher totals have generally occurred as a result of an intense rain cell or storm passing over individual areas. Also, these have been hit and miss as other areas have completely missed out or received lighter totals.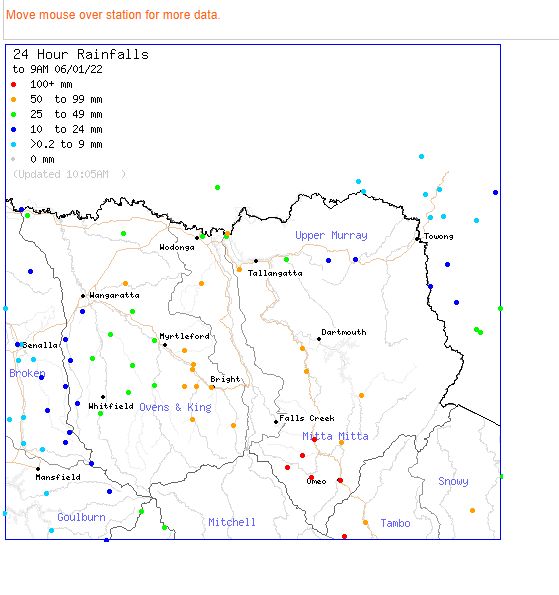 This is a dynamic weather system where some totals have exceeded initial expectations. This is likely to continue throughout Thursday and Friday. In particular, another burst of rain / showers and storms are evident across the Riverina in areas affected by the earlier events which will result in higher totals in coming hours.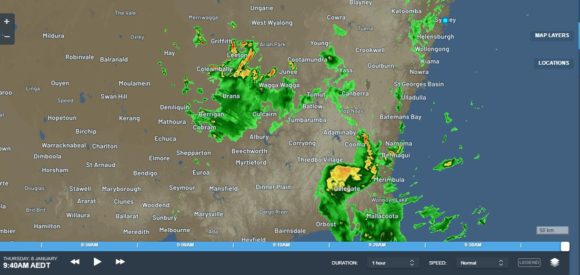 Related Terms: