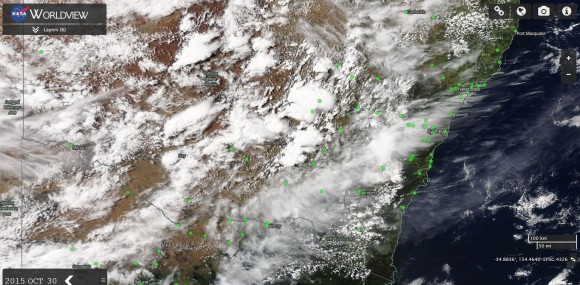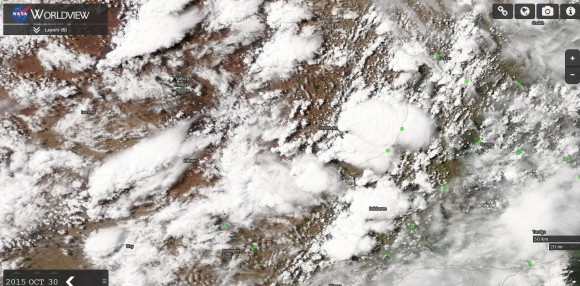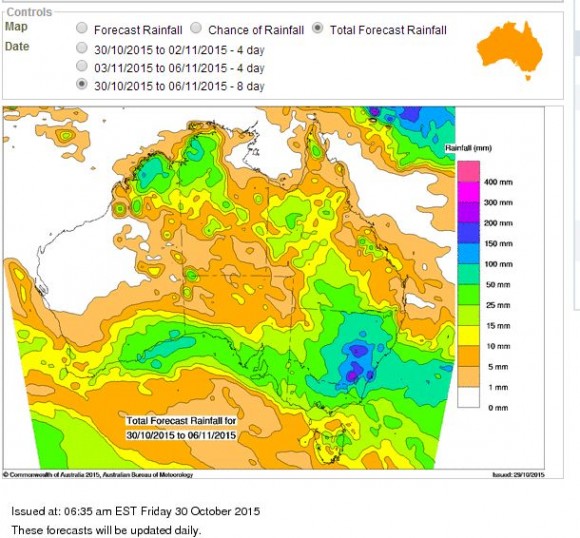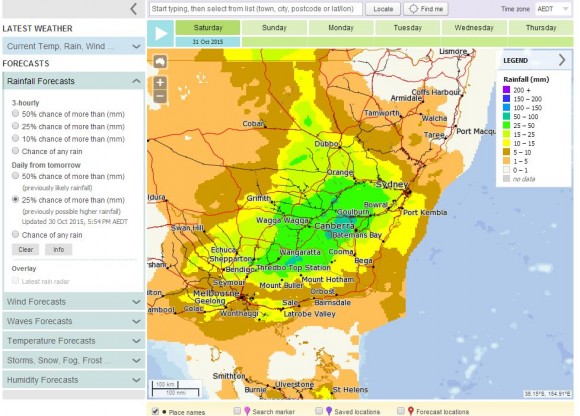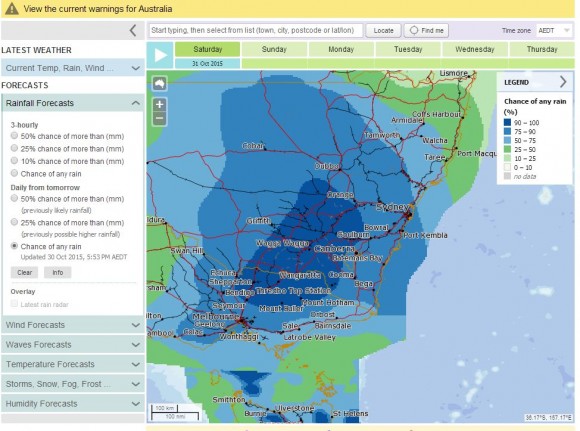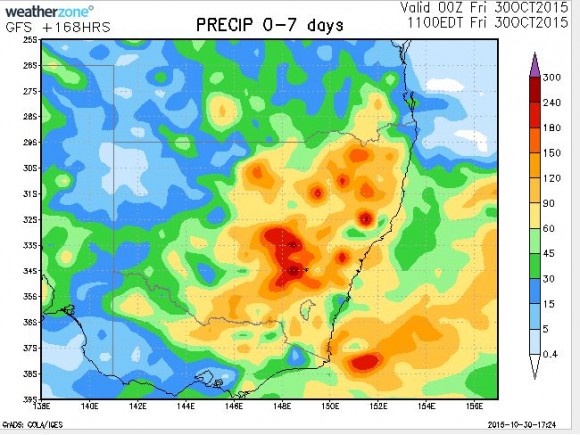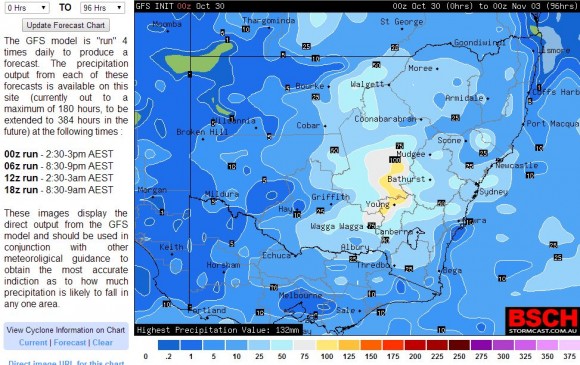 The past two months have been particularly dry for much of inland New South Wales, much of Victoria and Queensland and the effects of the El Nino drought is spreading and tightening its grip, especially for areas away from the coast.
October has seen maximum temperatures in many regions that are well above the average especially away from the coast.
A rain bearing system and a cut off low is developing over the inland New South Wales that according to weather models is expected to provide a break in the long dry spell.
Starting from Friday 30 October, a few inland places across New South Wales have seen reasonable rainfall such as 21.4 mm at Condobolin (To 6 pm 30/10/15) however this is only the start. Furthermore as seen on the MODIS Worldview image of Central New South Wales dated 30/10/2015, a number of thunderstorms are visible. The storms as shown on the image are near Forbes, Parkes, Hillston and Condobolin (Central West Slopes and plains).
Over the next few days especially Saturday and Sunday, the system is expected to intensify with rain, showers and even storm cells becoming more common. Weather models are predicting a significant rain event especially for eastern New South Wales all the way into Northern Victoria.
During the period 30/10/15 to 6/11/15, up to 200 mm is suggested within small locations. The heaviest falls are predicted for the Central West Slopes to the Northern Victoria region taking in centres such as Albury, Dubbo, Griffith and Wagga Wagga.
The Bureau of Meteorology "Water and The Land" is suggesting that much of New South Wales and Northern Victoria will receive some significant falls during the period with as much as 200 mm falling within a small area just north of the Snowy Mountains.
The rainfall model provided by Weatherzone is suggesting that the Central West Slopes will receive the heaviest totals of at least 100 to 180 mm, South West Slopes 60 to 120 mm and North West Slopes 90 to 180 mm. Should this eventuate, it would certainly ease the dry that is enveloping the region.
The BSCH is showing the heaviest totals to occur across the Central West slopes around the town of Young and areas to the north towards Dubbo.
Meteye is showing reasonable falls for Saturday across the region including a 90 to 100% chance of rain across the region.
There are chances of thunderstorms occurring with this system across a wide area and a storm is being forecast for Sydney during Sunday afternoon. It will be interesting to see what occurs over coming days in terms of rainfall and storm activity.
Weather models also hint at another rain event following this one which explains why high rainfall totals are being forecast for some areas.
Credits
Bureau of Meteorology – Rainfall plots (Various) acquired 30/10/15.
NASA (Worldview image of New South Wales acquired 30/10/15 showing storm activity across New South Wales.
Weatherzone (Rainfall plots acquired 30/10/15).
Related Terms: