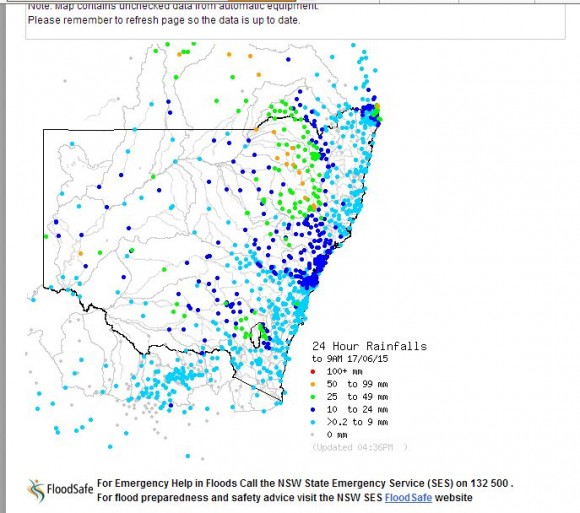 For the 24 hours till 9 am 17 June, a large swathe of Eastern inland Australia has received much needed rainfall with some reasonably large totals occurring. There are regions that have been dry and in drought but the regions are receiving worth while falls. This is not an event that will break any drought but it is significant as cropping lands are benefiting the most. The best falls for the period are:-
Far west New South Wales;
Broken Hill - 21 mm.
Burta - 30 mm.
Darlington Point - 36 mm.
Coleambally and Hillston - 37 mm.
Morundah - 38 mm.
Pooncarie - 71 mm (Highest in NSW).
A large area across the north west slopes and plains received falls ranging from 25 mm to 49 mm with the best falls occurring at:-
Caroda - 61 mm.
Nundle - 59 mm.
Terry Hie Hie - 55 mm.
Garah - 54 mm.
Mungindi - 52 mm.
Similar falls also occurred across the southern and south central inland of Queensland with the better falls occurring around Roma and Mitchell. The best falls include:-
Havelock - 63 mm.
Mictchell - 62 mm.
Southwood - 55 mm.
Roma - 53 mm.
Widespread falls of 25 to 49 mm occurred in this area.
During the period 9 am to 6 pm 17 June, further rainfall has occurred. A large area of cloud lingering across the south west slopes of New South Wales and North East Victoria has delivered worthwhile falls to the northern areas of North East Victoria including 30 mm at Hunters Hill, 15 mm at Albury while Wagga Wagga (NSW) collected 20 mm during this period. Most areas within this region collected at least 10 to 20 mm from the cloud mass during the period.
The rainfall plot from the Bureau of Meteorology (Water and the Land) is provided and dated 17/6/2015.