As Southern Australia transitions to a more spring and summer like weather pattern, the first of the season's rain and storm event for spring / summer 2021 is developing according to several weather models.
This is still early but as the days progress towards Wednesday and Thursday, models should become more accurate.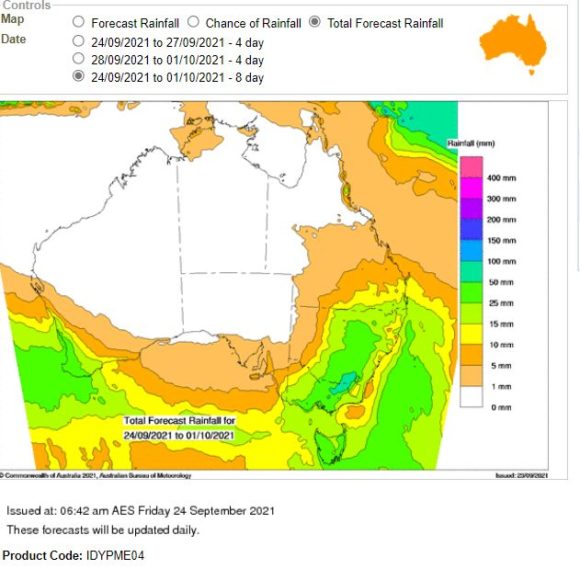 The first weather models identify a low pressure cell tracking south east and interacting with moisture as it crosses through New South Wales, Southern Queensland and much of Victoria. Models indicate a rain and probable thunderstorm event especially for the inland regions and it is currently suggested that the most significant events will occur within the Central West region, South West Slopes, Riverina and parts of Western New South Wales, North East and Northern Victoria.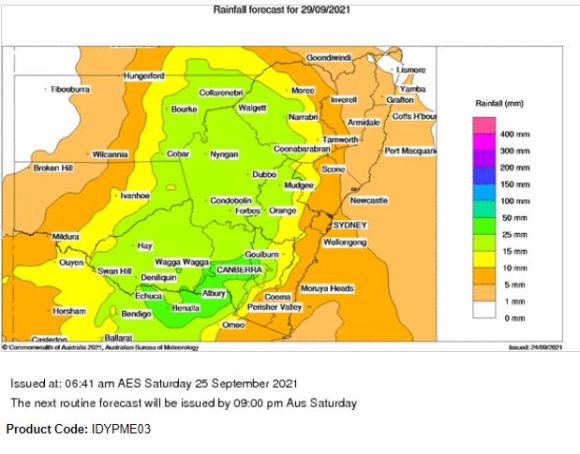 This would take in the wheat / sheep belt of South East Australia west of the Great Dividing Range.
A closer review of this does suggest that at this stage, some of the rain would reach the coast including Sydney by Thursday 30 September and it is even suggested that Western Sydney could experience its first spring like / summerlike thunderstorm for the spring / summer season. The accuracy should become better as the days progress.
The BSCH, The Bureau of Meteorology Rain models and Weatherzone models are identifying a multi day rain and storm event and early models suggests the following:
• 25 to 50 mm of rain in Southern New South Wales centred on Albury / Wodonga / Wagga Wagga and Wangaratta regions.
• A broad swathe of the state outside the above mentioned regions expecting 15 to 25 mm encompassing towns and cities such as Dubbo, Forbes, Hay, Griffith and Swan Hill.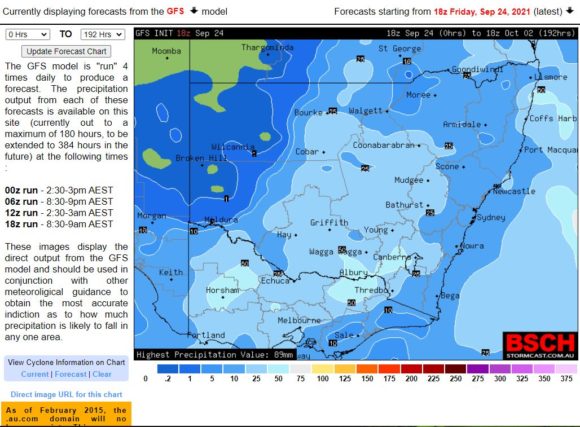 If Friday is factored into this, then there are models showing even higher rainfalls of 50 to 100 mm primarily in the Albury Wodonga / Wagga Wagga region and North East Victoria with a broad swath of the state mainly within the Sheep Wheat belt expecting 25 to 50 mm of rain.
Such higher totals should they eventuate would have potential to create a flood risk upon the Murray, King, Ovens and Kiewa Rivers. All have experienced recent minor flooding but the risk would be heightened again due to snow melt accompanying such high rainfall totals.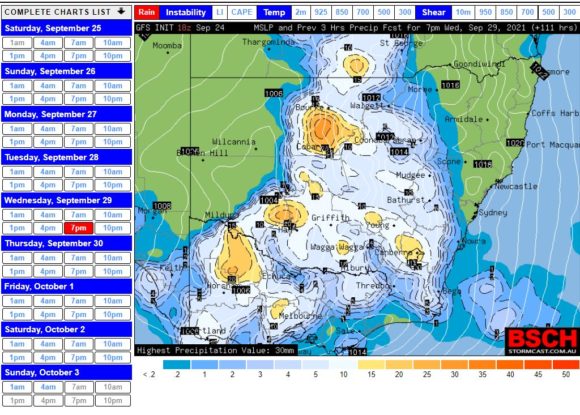 As such, this appears to be a dynamic event and being the first for the season, it appears that it will be widespread with the potential to impact three states.
Related Terms: