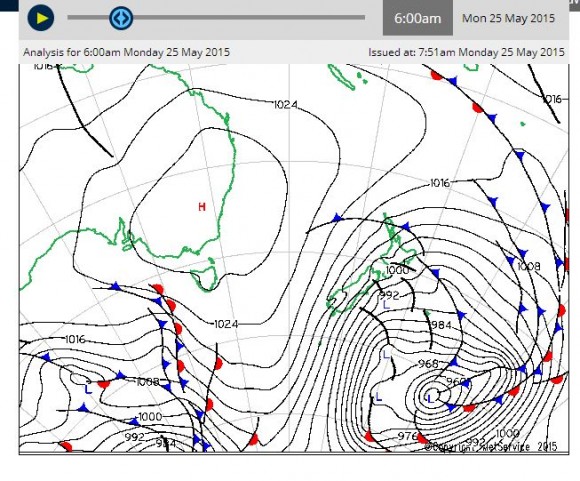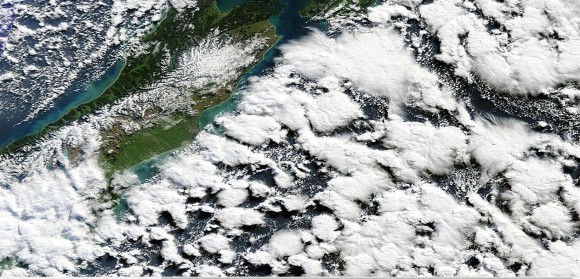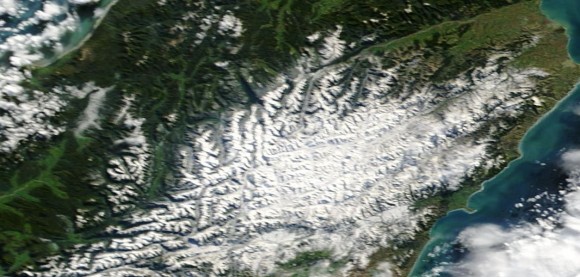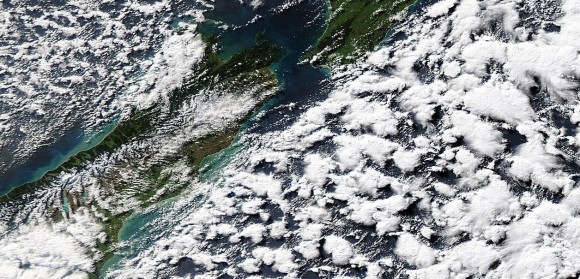 The synoptic chart and satellite photos taken from MODIS 25 May 2015 identifies a powerful polar low pressure cell passing close to New Zealand, especially the south island where snowfalls have fallen to very low levels. In some cases, snowfall has fallen as low as 200 metres above sea level.
Bitter cold conditions have swept much of the South Island where some areas have recorded heavy snow. This includes 25 cm at Clarkes Junction. Snow has also been recorded near Christchurch across Banks Peninsular commonly known as the Port Hills.
This is the first polar low or major cold outbreak this season for the country. In cities like Dunedin the maximum temperature reached 5 degrees Celsius and the temperature still hovered at 3 degrees Celsius at 12 noon. Sleet showers were occurring throughout the day and this was accompanied with wind gusts of up to 69 km/h.
The city of Invercargill had a maximum temperature of 6 degrees Celsius but experienced gales of up to 100 km/h from the south.
Queenstown had a maximum temperature of 3 degrees Celsius accompanied with wind gusts reaching 81 km/h.
One of the satellite photos shows snowfall across the Kaikoura Range (North of Christchurch). Only two days ago this range had little snowfall but this weather system has delivered heavy snow across the range to low levels.
Another satellite photo shows spectacular cold weather cumulonimbus clouds off the east coast of the South Island most likely containing snow showers or sleet showers as the weather system begins to clear.
Conditions will begin to settle as the system moves away but it will leave in its wake, some very cold conditions for large areas of the South Island.
Related Terms: