An East Coast Low developed overnight off the Mid North Coast of NSW. Already significant rainfalls have occured with a flood watch for the Bellinger and Nambucca Rivers.
This morning the low is east of Coffs Harbour and expected to move N then NE. The shear profile later today supports a possible tornado mainly in the coastal area. The BoM warning reflects the threat: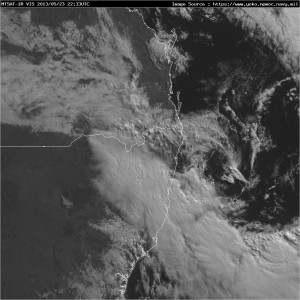 for destructive winds, heavy rain and damaging surf
for people in the Northern Rivers and Mid North Coast forecast districts
Issued at 6:43 am EST on Friday 24 May 2013.
RAIN, WIND AND SURF INCREASING ON THE NORTH COAST TODAY.
Weather Situation
A low pressure centre off the Mid North Coast is deepening. Rain, wind and surf will increase along the Mid North Coast and Northern Rivers during Friday, with destructive wind gusts possible from intense periods of rain along the coastal fringe.
Destructive wind gusts of up to 125 km/h are forecast for the Mid North Coast forecast district during Friday, extending to the Northern Rivers forecast district during late afternoon or evening.
Very heavy surf which may lead to localised damage and coastal erosion is forecast for the Mid North Coast forecast district. Beach conditions in these areas could be dangerous and people should stay well away from the surf and surf exposed areas.
Heavy rain which may lead to flash flooding is forecast for the Mid North Coast forecast district and southern parts of the Northern Rivers forecast district.
The State Emergency Service advises that people should:
Move vehicles under cover or away from trees.
Secure or put away loose items around your house, yard and balcony.
Keep clear of fallen power lines.
Don't drive, ride or walk through flood water.
Keep clear of creeks and storm drains.
If you are trapped by flash flooding, seek refuge in the highest available place and ring 000 if you need rescue.
For emergency help in floods and storms, ring your local SES Unit on 132 500.
Related Terms: